One of Denham Springs' beloved local businesses plans to make a comeback after the flood, but the challenges are daunting

"Big" Mike O'Neal and his wife, Jocelyn, inside the gutted Big Mike's Sports Bar and Grill. Photography by Collin Richie
---
Big Mike's Sports Bar and Grill in Denham Springs is something of an institution in Livingston Parish. Though it has only been at its current location off Range Avenue since 2010, its roots go back to the late 1980s, when "Big" Mike O'Neal opened his original establishment on Florida Boulevard just across the parish line in Baton Rouge.
"Denham Springs was dry in those days, so we were the first place on your right as you cross back into Baton Rouge," he says. "But our clientele was a hundred percent Denham Springs."
That clientele was young and a little crazy back then, like O'Neal. Today, they're the people who make things happen in the community—the lawyers, judges, politicians and business owners. They're among the legions of Livingston Parish regulars who head to Big Mike's for lunch or dinner, to grab a beer after work and get the inside scoop on what's going on around town.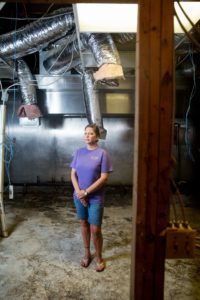 Big Mike's is more than just a popular hangout spot, though. It's also the kind of small business that's known for giving back to the community—sponsoring local football teams, donating proceeds to needy causes and hosting fundraisers when someone's kid gets cancer.
So when Big Mike's went under in the flood last month, Denham Springs lost more than just a burger and beer joint. It lost the nucleus of a network that has helped thousands of locals over the years.
"My wife and I are huge believers in karma," O'Neal says. "We believe the community can walk in our doors, 500 or 600 people a day, so we have to give back or they're going to stop coming. We give back quite a bit. If you receive you have to give. It's our way of thinking."
To be clear, Big Mike's is planning to make a comeback. Unlike so many other small businesses that don't have the financial wherewithal to rebuild, O'Neal is in a position to start over. But it won't be easy.
One of his biggest concerns is the future of his 35 employees. He estimates he will lose as many as 70% of them, especially the ones who worked for him full time. A few have already moved on to other things. One guy is going back to school. Another is leaving the area. Some have gotten new jobs.
O'Neal is trying to keep as many as he can busy with cleanup work, not only at the restaurant but at his home—and at the homes and businesses of other people he knows in the area.
"There are a lot of employees I'm trying to help by throwing them as many little jobs as I can," he says. "I have one manager who dates one of my cooks. They lost both of their incomes. I'm trying to keep them afloat."
Also making it difficult to rebuild is the challenge of tending to the bookkeeping of the business. The bills are still coming in, even though Big Mike's has been closed since Aug. 12. At the same time, O'Neal is dealing with the mess that is his flooded house and he still needs to replace the three vehicles he lost in the flood.
"We had too good a thing going not to bring it back." —"Big" Mike O'Neal, owner, Big Mike's Sports Bar and Grill
For now, O'Neal is living in a FEMA-style trailer—the old kind—that his brother lent him. He's driving a borrowed truck. Two of his three kids are staying with friends. It's a lot to juggle.
What's more, he lost all his paperwork in the flood. All his files. His computer system. The only thing he could save were the restaurant's laminated recipe cards, and in the process of cleaning up he slipped on one of them and busted his knee. For days he couldn't even walk.
For a big, street-savvy guy who's accustomed to being at the center of the action, it's unsettling to be so helpless and to have lost so much control.
"It's scary right now to look at where we are," he says. "To lose our home, our income and all three of our cars, it's a triple whammy. It's kind of overwhelming."
If there's any silver lining for O'Neal, it's that—unlike the majority of small business owners affected by the flood—Big Mike's has flood insurance. To be more precise, the owner of the building in which it's located has flood insurance. O'Neal has been leasing the space and contents, and he says much of the losses should be covered.
Before the flood, O'Neal had a deal in the works with his landlord to buy an ownership stake in the building and expand Big Mike's. Those plans are still moving forward, so there's an opportunity for the neighborhood institution to come back bigger and stronger.
But O'Neal will have huge out-of-pocket expenses that he cannot even begin to estimate. There's no income coming in, and whatever insurance ends up covering, it won't possibly be enough. O'Neal may have to go into debt, though he says it would be worth it.
"We had too good a thing going not to bring it back," he says.
As for when Big Mike's will reopen, O'Neal really can't say. He's hoping it will only be a couple of months, but he doesn't have a feel yet for how long the process will take. He has a contractor lined up, but the availability of building materials could slow things down. Already he has heard stories about a shortage of materials and supplies.
What's killing O'Neal more than anything is that in times of crisis in the community, people would typically gather at Big Mike's. His was the place they'd come to talk through their problems, network and figure out how to help the less fortunate.
Now, Big Mike's is one of those in need, and there's no one to help him. Everyone O'Neal knows is facing the same predicament, or worse.
"People are texting every day asking when we're going to reopen," he says. "They're telling me they need a boudin ball or a club sandwich. Everybody is trying to figure out how to get together. Our regulars, we used see each other every day, and now it's stopped—just like that."
---
RELATED STORIES