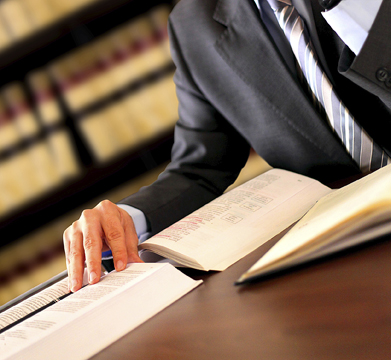 When a need for legal assistance suddenly arises, the first thought that often comes to a business owner's mind is: What is it going to cost me?
When people who rarely seek legal help find themselves in this position, some fret nearly as much about the cost of hiring a lawyer as about the matter that sparked the need. Even for large firms that regularly tap legal services, pricing is often a concern, mainly because the need for such help can be unpredictable and budgeting for unforeseen costs is difficult.
In recent years, law firms around the country have begun to address these issues in more practical ways, and some local firms are among those that are scrutinizing their fees and developing alternative methods of charging for their services.
"One of the most important communications attorneys send to their clients is the bill," says Steve Boutwell, client services director at Kean Miller LLP in Baton Rouge. If a law firm's invoices fail to properly describe the services rendered, he says, "then you're not communicating what you've done for your client's money."
Lawyers traditionally have established a fixed hourly fee for their services and kept a simple log of the hours they spent on a particular client's business. But the vague nature of the process sometimes has led to billing disputes and damaged attorney-client relationships.
Over time, growing competition among law firms has given clients more leverage in negotiating the pricing of legal services. Some of the country's largest firms have responded by creating new staff positions known as "pricing directors"—individuals who analyze how lawyers interact with clients and help figure out how much a firm should charge for the services rendered. Pricing directors help design customized fee structures that reflect greater sensitivity to each client's needs.
MEETING CLIENT DEMAND
In a 2011 survey by international legal consulting firm Altman Weil Inc., 95% of participating firms reported using alternative fee arrangements, and 100% of firms with 250 or more lawyers said they do so. Two-thirds of the reporting firms said they adopted such arrangements primarily in response to client demand.
Boutwell, who has been with Kean Miller since 2002, says one strategy his firm has adopted involves "partnering" with a client, reviewing the client's history of using legal services and arriving at a mutually agreed-upon fee arrangement for the future.
As an example, if a client has spent $120,000 annually on legal services for several years, the firm might agree to perform whatever legal work the client may need in the coming year for a flat monthly fee of $10,000. Boutwell says a "cuff-and-collar" provision might specify an over-under margin, wherein if the firm's work for the full year exceeds the agreed-upon fees by up to 5%, the firm absorbs the cost, and if the work falls short by as much as 5%, the client absorbs it.
Boutwell says such arrangements offer benefits that are important to both firm and client—the ability to budget for monthly legal revenues or costs, and the opportunity to adjust the arrangement as needs change.
"We began the partnering model because one of our larger energy clients wanted more flexibility and predictability in how their legal expenses were accounted for each month," he says.
Boutwell says while some clients prefer to be billed at a regular hourly rate, others want a different pricing structure based on the size and scope of a particular corporate transaction or anticipated litigation.
If a client wants a specific project done and wishes to set a "do not exceed" cost, the firm will look at how to achieve the desired result within that fee.
Or, say a client has been sued and believes the claim has no merit. The client comes to the law firm and says, "If you can get the case dismissed within 120 days, I'll pay your hourly rate plus a bonus."
Boutwell says the array of potential arrangements also includes discounted fees, "busted deal" rates and "success" fees, wherein a client might pay the attorney 80% of an hourly rate for a certain transaction, and if the deal is consummated, then the lawyer gets the additional 20%.
While much of the client push for alternative fee arrangements came about during the economic recession of 2008-09, Boutwell says the trend is surviving beyond those times because it works for all parties.
Clients like to know that their law firm "has some skin in the game," he says, and holding upfront discussions about fees makes for a more comfortable attorney-client relationship.
"The practice of law has changed, and part of that change involves how legal services are rendered and priced," he says. "This is a healthy conversation to have with a client."
OPEN TO INNOVATION
Being willing to innovate when it comes to pricing also can be a plus in a law firm's efforts to garner new business.
Scott Hensgens, managing partner at Breazeale, Sachse & Wilson LLP, says that when businesses these days issue requests for proposals from law firms, they nearly always insist that alternative fee arrangements be addressed by any firm that responds.
"Clients are starting to expect and request it," he says.
Hensgens says that while some clients still prefer the traditional billing based on hourly fees, interest in alternative arrangements has grown steadily.
He says his firm responds with pricing that ranges from discounted fees and flat fees per project to retainer agreements with fixed monthly fees and more complex "risk-sharing" structures that set a budget and reward the firm with bonuses based on any savings it achieves.
"My suspicion is, there are as many potential alternative fee arrangements as there are clients and law firms," Hensgens says. He adds that creative pricing generally works best with clients that generate enough legal business to make the arrangement profitable.
"What really makes this work for both a client and the law firm is volume," he says.
While the new era of flexible pricing seems an appealing development for clients, some clients have expressed concern that the arrangements resulted in their legal work being shuffled off to less-experienced lawyers than they thought they were hiring. In some cases, law firms, too, have pulled back from flexible pricing because they believe it carries too much risk.
Nevertheless, given the increasingly competitive legal landscape, alternative fee arrangements likely are here to stay. In a survey released last year by Altman Weil, 94% of law firms said they expect more price competition in the coming year. The figure was up from 42% five years earlier.