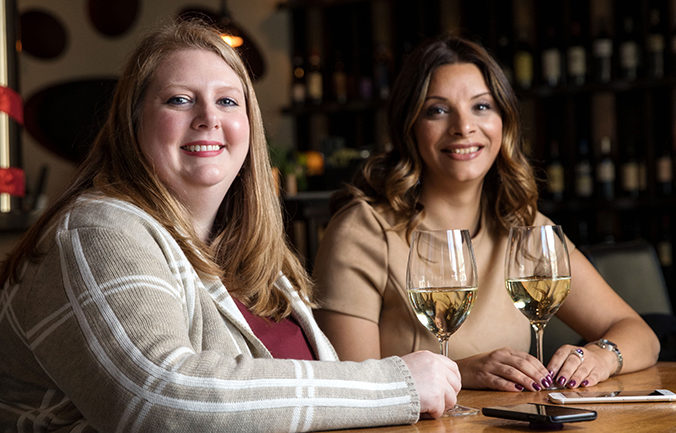 ---
Go ahead. Say what you will about millennials.
They love small group discussions, yoga and farm-to-table menus. They want their work to matter, but they also want to be well-compensated. They whine when they see cubicles or feel confined by fixed work hours. They've flocked in droves to the Bay Area and Brooklyn, and they don't understand why the rest of the country can't be as livable. By now, cliché after cliché has been written about the members of this idealistic, tech savvy and idiosyncratic generation, but one thing is certain: Cities can't be successful without them.
Now the largest adult generation, millennials are firmly embedded in the American workforce, and in 2019, they become the generational cohort with the most buying power. Their official birth years vary, but the Pew Research Center, which has studied this group extensively, considers millennials to be those born between 1981 and 1996. (This year, that means anyone between the ages of 22 and 37.) It's a generation made up of young professionals hitting their stride, twenty-somethings trying to make their mark and newly-minted graduates entering the workforce. Some millennials are single and some have families, but universally, their participation in the local economies in which they live is becoming more and more influential.
The story in Baton Rouge is no different, where millennials are increasingly making an impact on life and work here. The flexible work schedules and co-worker bonding they crave is no longer considered time-wasting nonsense. Rather, they're seen as essential workplace components in a tight labor market. Elsewhere, the city's food and drink culture now seems aimed squarely at young adults, with a flurry of new chef-driven eateries serving trendy, changing menus. And while traffic remains a thorny problem, millennials will likely push Baton Rouge to support multi-modal transportation in the future.
Baton Rouge has the nation's 10th highest percentage of millennials at 26.1%—according to a study conducted by the Brookings Institution on American cities with the largest and smallest percentages of millennials—driven largely by enrollment at LSU, Southern University and Baton Rouge Community College.
Number inflation aside, the percentage does give the city a legitimate head start. The trick—and it's been a tough one for city and economic development officials to solve—is getting these millennials to remain here after graduation, becoming long-term participants in the local economy.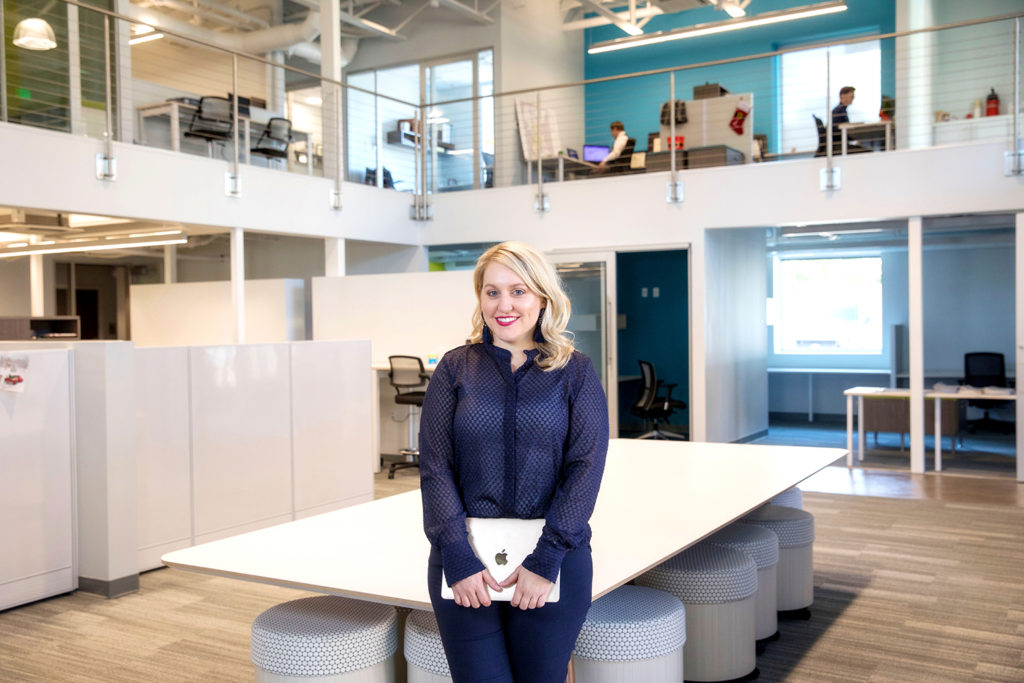 "Young people are looking to be in a community that is vibrant, and offers job growth and quality of life amenities, and we want to show that we have all that."

—MELISSA THOMPSON, director of talent development, BRAC
---
Whatever retention and attraction strategies Baton Rouge comes up with will have to be different than those used in the effort to retain Gen Xers, says Stephen Barnes, director of the economics and policy research group at the LSU EJ Ourso College of Business, adding millennials are less tied to place than preceding generations.
"We know in Louisiana that we've had a long history of outmigration, in particular among people who are finishing college and looking for that first job," Barnes says. "Generally speaking, we see people—a lot of people—today looking to larger markets. It's part of a larger trend of young people wanting to move to big cities."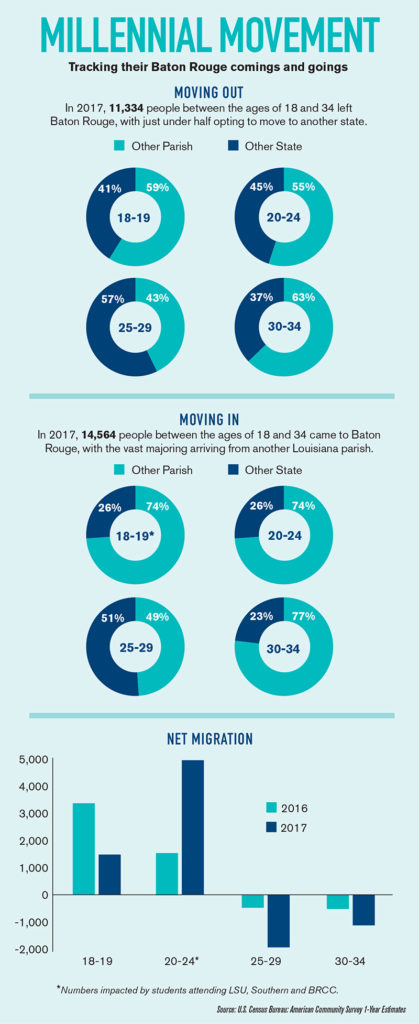 Not only are millennials more nomadic and looking to cluster, says Barnes, but they also tend to have different expectations about where and how they look for jobs, and when they choose to buy homes.
"They're more willing to go off on an adventure, rather than follow a traditional pattern of getting a job and a mortgage," he says.
Consequently, Baton Rouge needs to bring its A game in retaining recent college graduates, as well as those already in the workforce, says Baton Rouge Area Chamber Director of Talent Development Melissa Thompson, since the number of young, educated professionals signals the economic vitality of a community.
BRAC data shows East Baton Rouge Parish is a particularly weak magnet when it comes to attracting those between the ages of 25 to 34, while more glamorized cities like Nashville, Denver and Austin continue to see high numbers of inbound young professionals.
The reasons behind Baton Rouge's struggles vary, says Thompson, but BRAC is making a concerted effort to improve the Capital Region's ability to keep and attract young professionals.
"It's a huge focus of ours, trying to hone in on that market," she says. "Young people are looking to be in a community that is vibrant, and offers job growth and quality of life amenities, and we want to show that we have all that."
Currency of community engagement
One of Baton Rouge's greatest assets, Thompson suggests, may be the ability of young people to make a difference in the community.
"It's a place where you can have access to leaders and causes," she says, "and where you can really help bring about change."
Forum 35 President Jessica Keasler, 36, an environmental department manager at Terracon, says community involvement has played a big role in keeping her in Baton Rouge. "Initially, I came down here for my job, but then I got involved in the community. It's helped me stay, and now I'm not going anywhere else."
A New York native, Keasler attended college at the University of Alabama and graduate school at LSU. What's made the Baton Rouge community stick, she says, has been her involvement in Forum 35, the 400-member young professionals organization. She began volunteering with the organization on its annual downtown 5K Reindeer Run and is now the group's president.
Keasler and other members of the Forum 35 board of directors see the organization as a critical component in making young professionals feel connected and comfortable in Baton Rouge.
"The interesting thing about Baton Rouge is that there are so many people who already know each other. Nowhere else in the country do people ask you, 'Where'd you go to high school?'" says Keasler. "But once you get past that, you find it to be a really open place where you can get involved in just about anything. You definitely get out of it what you put into it."
Leland Moss, 29, a research scientist at the Water Institute of the Gulf, says the opportunity to work on large-scale research projects at the seven-year-old institute drew him to Baton Rouge after finishing graduate school at Duke University.
Moss says he didn't know much about Baton Rouge before moving here. That lack of perception is a common issue, says Thompson.
"What we know is that around the country, many young professionals have no impression of what life is like in Baton Rouge," she says. "We're trying to change that and show that you can have a great career and work-life balance here."
What's made Moss remain in Baton Rouge, he says, has been meeting other young professionals through volunteering.
"If you'd asked me six-a-half-years ago that I'd still be here, I wouldn't have believed it," says the Connecticut native. "I credit Forum 35 a lot for why I've stuck around."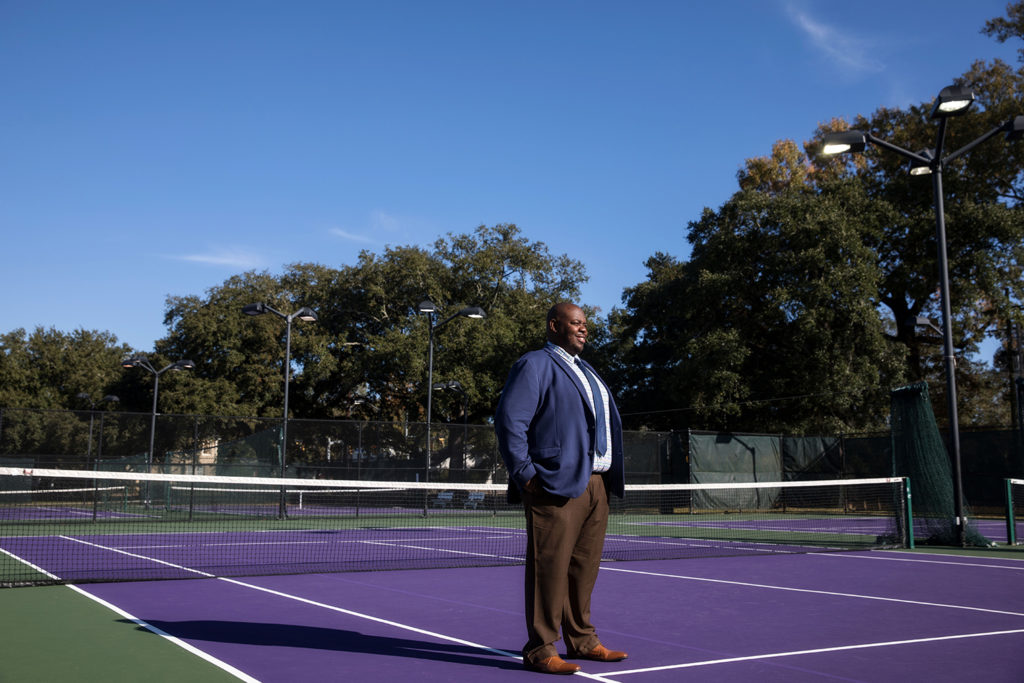 ---
To buy, or not to buy?
The assumption is that Baton Rouge millennials are clamoring to live in the city's older, in-town neighborhoods, like Mid City, so they can enjoy the kind of lifestyle they're known for—one rich in hip nightlife, local businesses and walkability. The "smart streets" improvements underway on Government Street are also considered a millennial magnet.
Those trappings notwithstanding, local millennials aren't necessarily diving into homeownership, says Locations Real Estate owner-agent Vicki Spurlock.
"They're not in a rush, and they're comfortable waiting until the perfect thing comes along," says Spurlock. "They're not as anxious about getting into the market as other generations. They're taking longer to contemplate and looking at all their options."
Currently, the average price-per-square-foot for renovated property in the Garden District is $200, says Spurlock, leaving fixer-uppers as the only affordable option for many young professionals in this popular part of Mid City. But, she adds, many millennial buyers are less interested in buying to renovate than preceding generations, who welcomed below-market properties as an entry into enviable neighborhoods.
Moreover, many single, young professionals find the average housing prices in the neighborhoods they like out of their price range.
"Housing is definitely my biggest area of frustration in Baton Rouge," says Monique Harris, 29, a corporate relationship manager at the Capital Area United Way who grew up in New Orleans and Dallas. Harris cites both high rent as well as crippling housing prices in Baton Rouge, especially for single-income young professionals. "I feel pressure to buy because I see what I pay in rent, but I'm not able to do that at the moment."
J.E. Dubois, 29, a Plaquemine native, says he recently began renting in the Garden District while saving money and juggling two jobs, one as a tennis instructor at BREC's City-Brooks Park, and the other as an emerging real estate agent with Keller Williams. Dubois had been commuting from his hometown until tiring of fighting traffic on the Mississippi River bridge.
"I think we, as millennials, want to set up our daily lives to have as few inconveniences and impediments as possible," he says.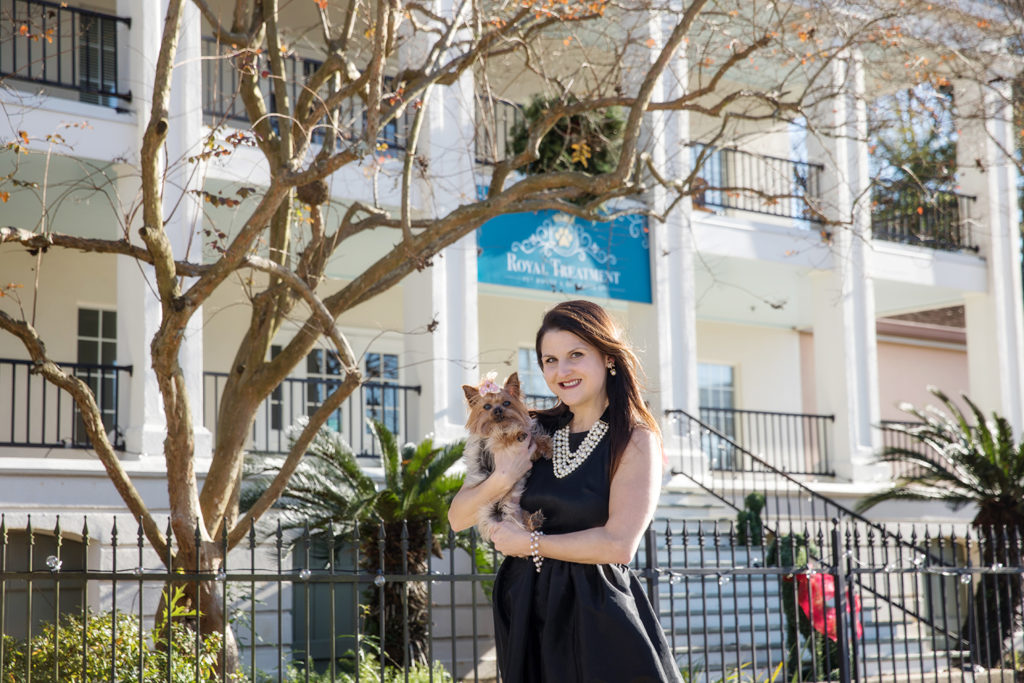 ---
Red light, green light
When it comes to traffic, millennials are like every other generation in Baton Rouge—they loathe it, and see it as an issue that negatively impacts their professional and personal lives.
"I'm in fundraising, and I'm constantly checking my traffic app to see how long it's going to take me to get around the parish—and then leaving extra early to get there," says Meredith Laborde, 28. Like Harris, she works as a corporate relationship manager at CAUW. "And in my personal life, sometimes if there's something going on and it's not near me or doesn't have good parking, I'm just not going to go."
The growing interest among millennials in easing transportation woes follows a national trend. This preference fortifies the appeal of major cities that already offer extensive transit systems, but it's also being revealed in midsized cities thanks to millennial residents. According to a Brookings Institution study, Tucson ranked first in transit growth across the country because of millennial users, while the percentages of younger workers who are walking to work is up in cities like Syracuse, New Haven and Austin.
One of the reasons millennials embrace public transportation may be because they spend a lot of time traveling.
"We're a generation that's traveled a lot and used public transportation in other cities," says Jessica Trepagnier, 32, marketing and communications manager for Aetna Better Health, and president-elect of Forum 35. "I can definitely see myself using alternative transportation if we have good options in Baton Rouge in my lifetime."
The perfect job, or bust
It's no joke that the workplace has adjusted considerably to millennial preferences. To recruit and retain this generation, employers have to demonstrate a sincere commitment to community, allow for flexibility and help workers grow professionally, says Gena Champagne, 2019 state director for the Louisiana chapter of the Society of Human Resource Managers.
"Employees want to know the company they're working for is walking the walk, and making a difference in the community," Champagne says. "They want to spend time on volunteer projects."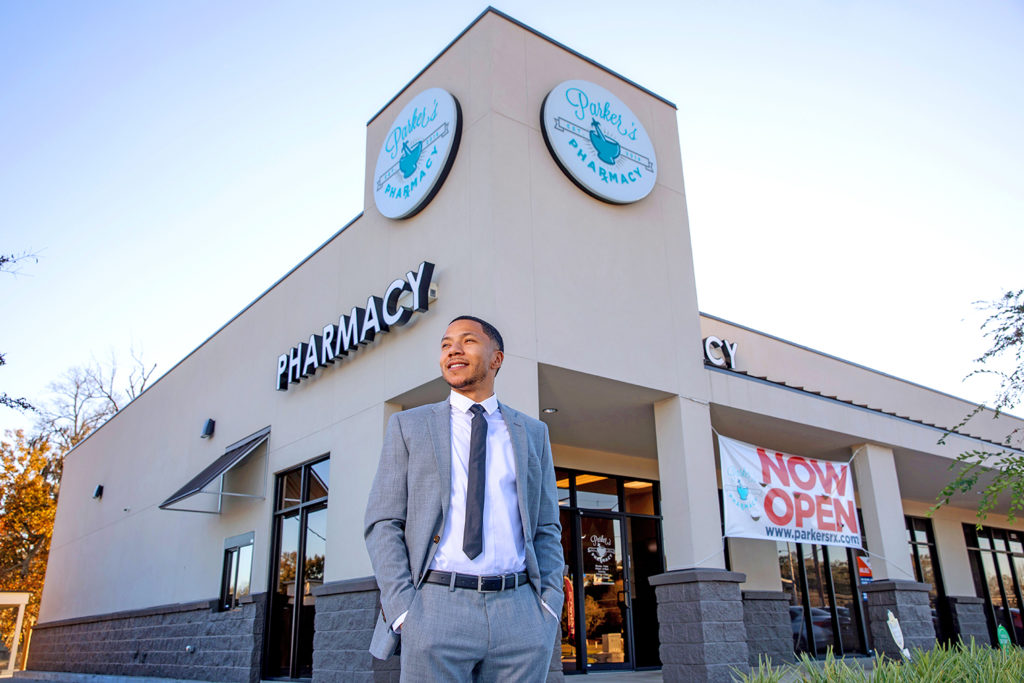 "Home was where we wanted to do it. We were born and raised in north Baton Rouge, had the opportunity to leave Baton Rouge and come back home and we wanted to be part of the change. We see this as a place with a lot of possibilities."

—KYLE PALMER

, who returned to Baton Rouge from Montana to open Parker's Pharmacy with his brother, Orlando.
---
Moreover, says Champagne, employees want the freedom to take time off during the day to attend children's events or make personal appointments. Champagne says employers aren't necessarily giving more in personal time off, but they have a better job of creating relaxed environments.
"Millennials want to work for an employer who trusts them to get their work done," she says.
Champagne says this generation is also less interested in remaining with one employer over the course of their career.
"They're not sitting back and waiting for their 25-year watch," says Champagne. "If they're not feeling it, they're going to move on. They don't want to be static."
That will prompt some to start their own businesses. Baton Rouge entrepreneur Amanda Floyd, 31, hatched the idea for a high-end pet grooming and boarding business while an LSU student. She used the services of the Student Incubator at LSU Innovation Park to help her create a business plan. Since opening in 2011, the Royal Treatment has grown from two employees to 18, and has expanded from an original location of 2,000 square feet off Essen Lane to a fully renovated 7,000-square-foot facility on Lee Drive.
"Baton Rouge has been a great place to do business," Floyd says. "I've had a lot of support from mentors, former bosses and my customers. I also feel like it's a great time to open a business like this because the trend for luxury pet services is growing."
For Baton Rouge native Kyle Palmer, 33, the Capital City proved the right market for Parker's Pharmacy, which he and his brother, Orlando, opened this year on Florida Boulevard near Monterrey Boulevard. Kyle had spent several years working in marketing in Billings, Montana, and Orlando had been a pharmacist in Atlanta. Seeing the nationwide need for independent pharmacies, the brothers considered opening their venture in several cities, but ultimately settled on Baton Rouge because of their hometown connections.
"Home was where we wanted to do it," says Kyle Palmer, who directs the pharmacy's marketing. "We were born and raised in north Baton Rouge, had the opportunity to leave Baton Rouge and come back home and we wanted to be part of the change. We see this as a place with a lot of possibilities."
Indeed, branding Baton Rouge as a city ripe for new ideas and receptive to young idealists is exactly what BRAC hopes to get across.
"We want to be a place for big ideas and open doors, which means everything to this generation," says Thompson. "One of my favorite things that's been said about Baton Rouge is that you don't need a pot of money or a title to have great life or make a big difference here."