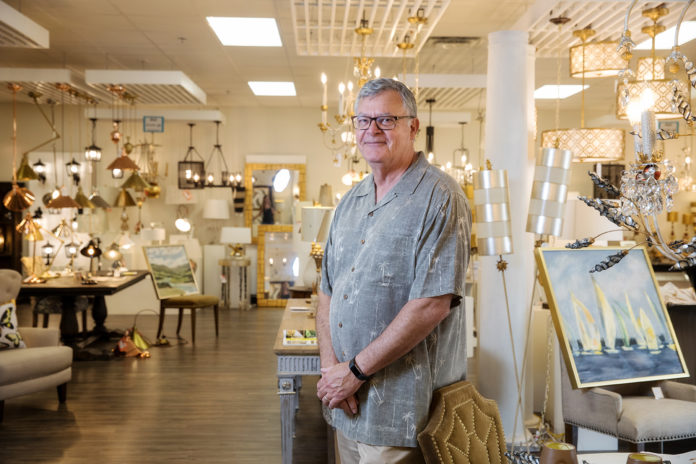 SHOWROOM WITH VIEWS: Joe McKearn's Lucas+McKearn is tucked away in small Baton Rouge store on Bluebonnet Boulevard but the business, thanks to a partnership with Jonathan Lucas, has an international audience. (Photo by Collin Richie)
---
At first glance, Lucas+McKearn looks like nothing more than a small, stylish lighting store tucked obscurely between an Ethan Allen gallery and a Habitat for Humanity ReStore at the corner of Bluebonnet Boulevard and Perkins Road.
In reality, the 3,000-square-foot storefront is but a small part of a much larger and more complex business—a Baton Rouge-based lighting manufacturer and distributor, formerly called Flambeau Lighting, that merged with a British company in early 2017, rebranded itself and is now selling its signature products worldwide.
In the nearly two years since, the company has grown to include new products, new price points, a local warehouse and shipping facility, and the Perkins storefront, which serves as both a retail outlet and a showroom for wholesale customers.
While the merger has opened up all sorts of new possibilities for the company, it has also posed some unexpected challenges. Longtime customers were confused by the rebrand. Sales, though up, have not grown as rapidly as company founder and co-owner Joe McKearn had expected. That's starting to change but it has been slow to come.
"We had 18 years name recognition as Flambeau Lighting and it didn't matter how many emails we've sent out," says McKearn. "Two years later, people still come up to me and say, 'I didn't know you were still in business.' It makes you want to pull your hair out."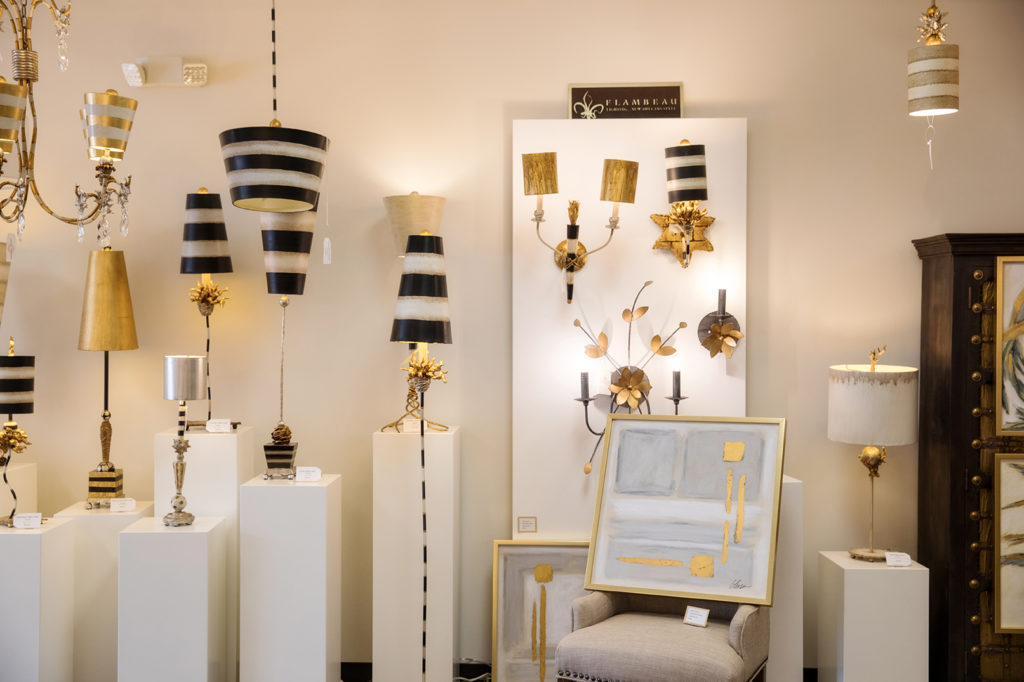 ---
McKearn's lighting company, call it what you want, is still very much in business. It has three product lines today—not only the Flambeau brand, for which it was once named and is best known, but also Gilded Nola and Elstead Lighting. Annual revenues are somewhere in the range of $5 million. It's not a big company compared to the major lighting manufacturers in the U.S., but it's a good place for Lucas+McKearn to be.
"Our approach has always been, let's make it fun and let's make it doable," says McKearn. "You can be profitable at $3 million or $4 million and become very unprofitable at $20 million. It just depends on what you're willing to do to get to that next level."
McKearn didn't set out to launch a company that manufactures and distributes posh light fixtures and lamps. He started his career in the 1980s as a maritime attorney with an old line New Orleans law firm. But interesting opportunities kept presenting themselves and McKearn followed the leads where they would take them.
The first came in the early 1990s, when his brother approached him about helping finance a venture importing furniture from Indonesia to the U.S. It turned out to be a good investment so McKearn got into the business himself and eventually it became a full-time gig.
The next opportunity came on one of his buying trips to Indonesia, when he met an artisan making huge, exotic mirror frames. McKearn added them to his inventory and they ended up selling so well—gracing the halls of Las Vegas casinos and the pages of interiors magazines—he formed a separate company called Dauphine Mirrors.
Then, in 1999, he spotted the creative talent of New Orleans artist Paul Gruer, who was creating beautiful light fixtures and selling them in the French Quarter. McKearn liked them and sensed their potential on a larger scale, so he created Flambeau Lighting, which quickly became known in the industry for its whimsical, gilded designs and signature painted shades.
"Our lighting was art disguised as lighting," McKearn says.
A few years later, he expanded the company, bringing in two other designers, Elaine Gleason and Baton Rouge sculptor Benjamin Burts, and moved Flambeau's corporate headquarters to Baton Rouge, his wife's hometown.
Then, in 2012 he was approached at the Dallas Market Center by Jonathan Lucas, who runs the biggest and oldest lighting company in England, Elstead Lighting. Lucas wanted to put together a deal with several American lighting manufacturers, whose products he would covert from the 110 voltage to the 220 used in Europe then sell internationally.
Lucas wanted Flambeau Lighting in the deal because there was nothing else like it anywhere in the world, says McKearn, who jumped at the chance. For the next three years, Elstead sold Flambeau Lighting's products to a growing international market.
Then, in late 2016, Lucas approached McKearn with an offer to buy half of Flambeau Lighting and form a new company that would be the exclusive distributor for Elstead products in North America. Lucas+McKearn was born. Today, it sells Elstead, Flambeau and Gilded Nola products to designers and showrooms across the continent. Elstead Lighting in England, meanwhile, continues to sell Flambeau and Gilded Nola elsewhere around the world.
The deal was attractive to McKearn for several reasons. For one, it enabled McKearn to add a third brand to his existing product lines. Though Flambeau, with its artistic stylized look, and Gilded Nola, which is upscale and "uptown" as McKearn puts it, have carved out a niche for themselves, their market is limited. Elstead Lighting, with its clean lines and neo-Mid Century Modern style, appeals to a potentially broader clientele.
The deal has also has enabled McKearn to turn over the design and production of all marketing and promotional material to Elstead, which is a much bigger company with some 150 employees and an estimated $75 million in annual sales. The result has been cost savings and greater efficiency.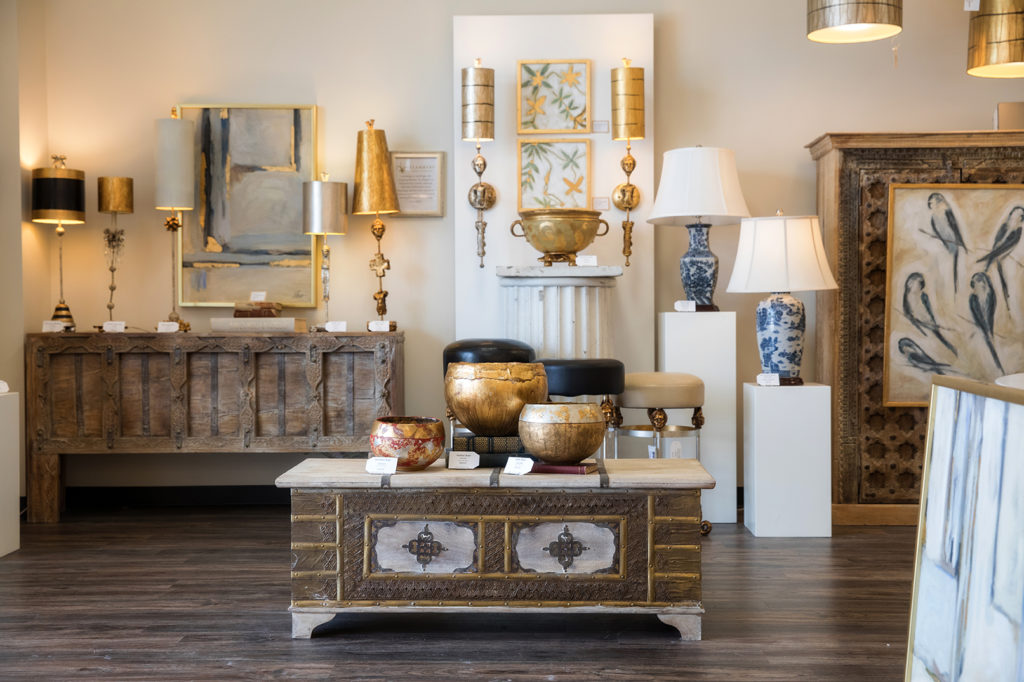 ---
With the merger also came a new warehouse. Prior to the deal, Flambeau Lighting shipped all its products through a third-party fulfillment center, whose warehouse was based in Georgia. Now, Lucas+McKearn has a 60,000-square-foot warehouse in Baton Rouge, directly behind the showroom on Bluebonnet. Not only has it made life easier, but it has improved quality control. Before, when a product was shipped, McKearn had to take it on faith that it met all the buyer's specs. Now, he can go out back and inspect the product himself before sending it out.
The company also opened the showroom, which is located in front of the warehouse, as a way to promote the brand both to designers and also to the general public.
"We ship all over the country but people don't see that," he says. "They just see this showroom and think that's what our business is. This isn't what our business is, but it is very useful to us."
Despite the many advantages of the merger, McKearn says the name change totally threw even longtime customers and growth has not been as brisk as anticipated. To help increase sales, the company is stepping up its product development and hopes to increase the number of unique products it sells from 250 to 400 in the next year or two.
At the same time, the company has lowered its price point, just slightly, to attract a broader market, while still staying well above the price point of big box stores. The average retail price for a lamp is typically between $275 and $395, compared to $50 or so at Home Depot and Lowe's.
"So we're not inexpensive and we're never going to sell to Lowe's or Home Depot," he says. "But other high-end brands might sell for between $900 and $1,200 so we have tried to be very competitive for what we are."
See also:
As for more long-term growth, Lucas+McKearn is looking to develop a new high-end division with product lines that would target a more upscale market. McKearn believes there's a lot of untapped potential in the high-end market. Lucas+McKearn doesn't want to be the most expensive—it just wants to look like it is.
"There is a high-end design market out there so we are developing and looking at products that can hit that mid-point to high-end price point and not miss a beat," he says.
McKearn is also keeping a close eye on developments related to international trade and tariffs. All the company's products are made in Chinese factories, and tariffs threatened by the Trump administration could force Lucas+McKearn as well as other lighting manufacturers to raise prices as much as 25%. The lighting industry's trade association has been lobbying the Trump administration to exempt light fixtures from the growing list of products that could be hit with steep tariffs come Jan. 1.
"If we're hit with 25 percent, we're going to have to raise prices a lot and that would be devastating," he says. "I don't understand how people don't get what's happening. This should be in the news 24-7."