LSU going holistic in its admissions process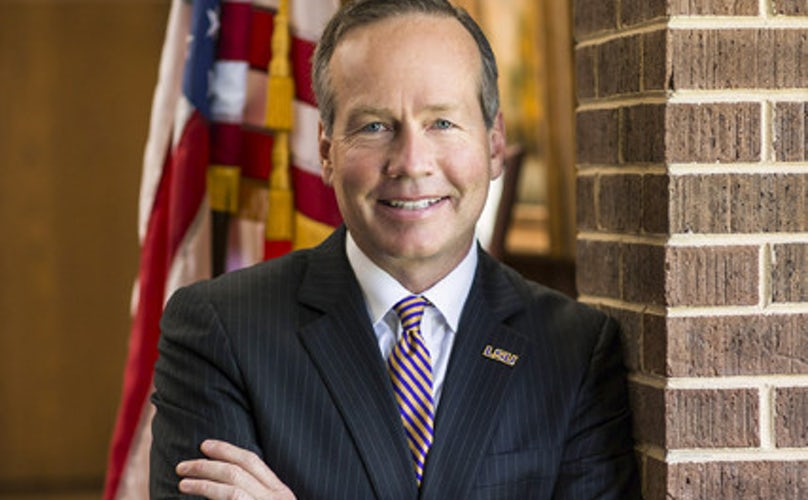 HOLISTIC REVIEW: While academic standards remain, LSU is putting increased emphasis on letters of recommendation when making student admission decisions. (Photo by Don Kadair)
---
If your high school junior or senior wants to attend LSU but got a 21 on the ACT or has a grade-point average a tad below 3.0, then you might be able to save the money you were thinking about spending on hiring a tutor. Your child still has a shot at getting admitted to the state's flagship university, thanks to LSU's transition to a fully holistic evaluation process—a move hinging on the university's adoption of the Common Application, set to take effect next fall.
Dana Schlotterer, the junior and senior high assistant principal for student services at Runnels Independent School, was surprised to come across a June 22 email from Daniel Barrow, LSU's director of admissions, in which the university outlines "needed changes to the upcoming admissions cycle."
Among the changes: requiring applicants to submit at least one letter of recommendation from an academic source, such as a counselor, teacher, school administrator or club advisor. And, of course, a complete transition to the Common App, first offered last year as an alternative option for applicants who did not fill out a university-specific application.
Used by more than 800 partner colleges and universities across the United States, the undergraduate college admission application works well for students applying to multiple colleges. Otherwise?
"If the student is only applying to LSU, it creates a barrier," Schlotterer says.
But for other incoming students—especially those from out of state—it opens a door. For in-state students, the move comes on the heels of a recent 5% student fee hike, which campus officials have said will generate an additional $14 million needed for pay raises and other expenses. And it comes not long after the the most recent legislative session, when state legislators grappled over whether to cut some $233 million from TOPS, or the Taylor Opportunity Program for Students.
It also comes at a time when LSU is projected to welcome its largest and most diverse freshman class, with an estimated 5,800 freshmen, breaking the record set in 2013 of 5,725. So if the university is attracting applicants, what does the change mean for students?
Getting people to speak on-the-record about LSU's changes and the impact of the holistic evaluation process was challenging. Apparently, it's a subject many are hesitant to broach.
Inquiries to the state Board of Regents were deferred to LSU. Interview requests for President F. King Alexander and other LSU officials were deferred to Jason Droddy, the university's vice president of public affairs. And counselors at most of the university's top feeder high schools remained tight-lipped.
Those who did speak are in agreement on one point: LSU will become more accessible to students, both from in- and out-of-state.
WHAT'S HOLISTIC REVIEW?
Say a student's parents got divorced their senior year of high school, and their GPA dipped to a 2.9 that year. Or a student coming from a foreign country hasn't taken a standardized test equivalent to the ACT or SAT. Or a student takes a rigorous high school course load and comes out with a GPA slightly lower than a 3.0. What happens when one of those students applies to LSU?
Currently, the university has an over-the-bar approach to admissions, meaning any student who fulfills all the course requirements and has an ACT score of 22 and GPA of 3.0 is automatically admitted. Unbeknownst to that student, however, is that they may have already gone through a holistic review process, which the university began using lightly in 2008 but, says Droddy, is now "moving up in its priority list." Essentially, admissions staff culls through the applications and determines who will be accepted based on various quantitative predictive measures.
What's new—and critical—to the process is the mandated letter of recommendation, which, supporters say, gives guidance counselors or other academic mentors the chance to provide more qualitative information about the student applying. This so-called holistic evaluation works in favor of students whose GPAs or ACT scores were lower due to extenuating life circumstances.
"Statistically, the difference between them and the student who's one-tenth of a GPA point higher isn't a whole lot different," Droddy says.
And, as he notes, holistic review isn't a new concept nationally.
Of U.S. News & World Report's top 50 public U.S. universities, only two—the universities of Iowa and Alabama—don't utilize holistic review.
Tirza Fernandez-Brazier, director of counseling and guidance for the East Baton Rouge Parish School System, sees the holistic evaluation as a "more personalized admissions process."
"Some students might have hit a rough patch, and students go to different types of schools," Fernandez-Brazier says.
One of those feeders is The Dunham School, where 50% of the 64-person graduating senior class attended LSU this fall. Dunham counselor Deidra Johnson says she's looking forward to personalizing the dozens of the letters she has to write for her students. She already goes to soccer games, school plays and debates to try to get a better sense of each student—what kind of person they are and in what kind of environment they shine.
"My undergraduate degree is in English, so I like to write and I like to write specifically," Johnson says. "At Dunham, that's one of the benefits you get—it's not a stock letter of recommendation."
And at larger schools the workload of writing a letter can be spread to other academic sources, notes Johnson, who believes LSU's move indicates they are trying to attract "the cream of the crop."
Still, others remain either skeptical or quiet. If attracting "the cream of the crop" is the goal, then why is LSU softening its admissions standards?
MORE QUESTIONS
LSU's total adoption of holistic review raises several questions, chief among them: Is LSU lowering its standards after fighting so hard to enact them in the 1980s? The university officially installed its minimum GPA and ACT requirements in 1989, the first Louisiana college to do so.
While Droddy maintains the GPA and ACT requirements are still in place, they certainly won't hold as much weight. How will this affect the quality of applicants and the selectivity of the flagship?
"We're all pretty frustrated with it," says Schlotterer, adding, "Are they really going to read all these letters of recommendation?"
Also, what about community colleges? Students not meeting the requirements are probably not prepared for a four-year university and would likely be better served attending a two-year school, says Cathy Smith, a former state counselor of the year and past president of the Louisiana School Counselor Association.
"The classes are smaller, and they'd have more attention," says Smith, who currently works at Jennings High School. "The criteria is there for a reason."
Droddy doesn't think the counselors need to worry, saying it's more likely the concern will come from other in-state public universities who believe LSU "should continue a process that we know excludes qualified Louisiana students."
The University of Louisiana at Lafayette and DeWayne Bowie, vice president of enrollment, is not among that group. He says ULL is also moving to the Common App, looking to have it in place by October. The university, he says, is doing it to boost out-of-state recruitment efforts.
There are also those who privately question if using holistic review is a way for LSU to increase enrollment at a time when, due to a decade of state funding cuts, there's a growing financial reliance on tuition and fees, which, last academic year, accounted for 72% of the university's operating budget. This year, LSU accepted 74% of its applicants, offering admission to more than 18,000 of its 24,300 applicants, well above the 17,817 who applied a year ago.
"By virtue of expanding the review process, we are opening the door for more students to attend," Droddy says, "but it's unlikely to be among the primary reasons."
Any enrollment gains, he says, won't be strictly tied to the adoption of a holistic evaluation process. Among other moves LSU has made: the hiring of a new admissions leadership team, an overhaul of the way the university communicates with prospective students and parents, stronger out-of-state recruiting efforts, adoption of the Common App, and an expansion of scholarship programs.
"Bringing students in is less important than getting students out," says Droddy. "We're going to be as successful—or more successful—than we've been in the past."