Fresh or bust?

To compete, regional supermarkets
are beginning to act a lot more like restaurants.
When it opens in downtown Baton Rouge in 2015, Matherne's Supermarket—the first full-service grocery store in the neighborhood in 50 years—will look to draw large crowds with a well- researched set of boutique and basic offerings.
The 16,000-square-foot store will combine grocery staples that appeal to residents with a sushi kiosk, salad bar, juice bar, coffee shop and fresh to-go items aimed at downtown workers. Craft beers, wines and liquors are targeted at everyday patrons and hotel guests.
"It's got all the basics, but it's also going to be a completely new experience," says Matherne's Highland Road General Manager Bill Hounshell, who participated in the downtown store's development. The store also will stock international cheeses and will offer a full-service deli and indoor and outdoor seating.
But while the supermarket will garner attention for betting on downtown, its composition also suggests a clear direction for new and retooled supermarkets throughout the Capital Region.
The trend toward fresh, healthy, convenient and even interactive components in grocery stores has been building over the last several years. In greater Baton Rouge, behavior and expectations have changed dramatically, forcing retailers to get creative about how they keep business, says Associated Grocers President J.H. Campbell Jr.
Today, shoppers can source common goods, or what the industry calls "me too" items, over several different retail channels, including e-commerce, pharmacies and dollar stores. That's forced many regional independent grocers to begin offering a larger selection of fresh and local foods, take-away meals, café seating and creative beverages to hang on to customers.
"Whole Foods taught us all a lesson," Campbell says, about the national gourmet and health food chain that opened in Baton Rouge in 2005. "What we're seeing now from independents is a focus on how you make things more exciting and innovative, from making your own peanut butter to your own juice. Consumers want a place where it's fun and interesting to shop. They want a level of theater."
Associated Grocers represents about 220 independent retailers in Mississippi, Texas and Louisiana, including local grocers in greater Baton Rouge. To help its members maintain an edge, the supplier offers competitive pricing and financing on new equipment, including items such as juice bars, hot food lines and salad bars. It also subcontracts with a California-based sushi retailer, Advanced Fresh Concepts, to help local stores staff and stock sushi counters.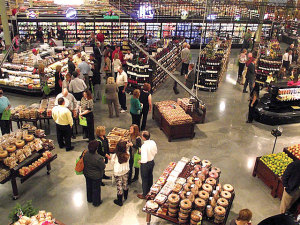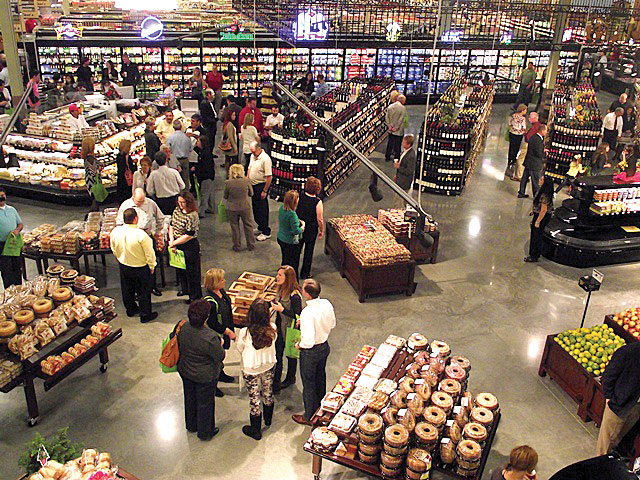 CANNING THE CANS
The largest independent grocer in the area, LeBlanc's Supermarket, has taken the fresh foods trend so seriously it rebranded several of its stores as LeBlanc's Frais Marché, a "fresh market" concept that stocks lots of healthy, gourmet and takeout foods, while also appealing to price-conscious shoppers who just want everyday items.
The company's first new ground-up store in Duplessis, which opened in 2013, was designed as a Frais Marché. Another will open early next year in the spot formerly occupied by Hi Nabor in Drusilla Shopping Center. LeBlanc's is expected to hit the $140 million mark in sales by the end of this year, according to co-owner Randy LeBlanc.
LeBlanc says the Frais Marché idea was "a natural evolution and it comes from us watching the industry in general and countrywide. We see a consumer push for health and wellness and better eating, organic and gluten-free. Those parts of the business previously were handled by specialty stores, and now we're seeing them mainstreamed into single stores. We wanted a piece of that action."
LeBlanc says he believes the new frontier in the grocery business is home delivery, and the chain has begun to test-market the concept through one of its stores.
To create a Frais Marché, LeBlanc says, the strategy was to shift or downsize many of the so-called center store items, including canned and packaged goods, in order to make room for take-home meals prepared by an on-site culinary team.
"One of the things we know is that a consumer wants to come in and maybe buy a main course with different side dishes that appeal to different members of the family," LeBlanc says.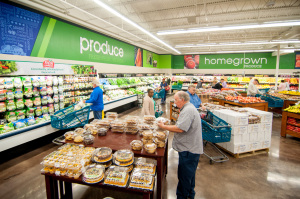 The grocer spent about $2.5 million to renovate the Drusilla site. Former tenant Hi Nabor opened a new location in Broadmoor on Nov. 6, where it also expanded its produce and deli offerings.
Limiting the center store shelf items was a strategy also deployed by the new Matherne's, Hounshell says. "Consumers are just not buying cans of green beans like they used to," Hounshell says. "They want them fresh or frozen."
Open since April 2013, Alexander's Highland Market on Highland Road designed its floor plan to merge a Whole Foods-like experience with everyday shopping, says co-owner Lathan Alexander. Along with grocery staples, the 37,000-square-foot store has in-house boiled seafood, smoked meats and fish, a large wine selection and an extensive selection of take-away meals.
The store also hosts monthly pop-up farmers markets. The events aren't a revenue generator, Alexander says, but they further the store's brand as a hub for locally grown and produced items.
"It's a growing movement in our area to get to know local farmers and artisans," Alexander says. "People are also wanting to have more of a sense of community. They get jazzed about meeting the guys growing that tomato or making that salad dressing."
Alexander says the demand for taste, the desire for community and the interest in local foods have created a perfect storm influencing how regional supermarkets do business.
Both LeBlanc's, currently located outside East Baton Rouge Parish, and Alexander's, located near the parish line, say they have attempted to capture customers who drive  out of their way to to Whole Foods by offering a wide selection of healthy and specialty items.
Independent grocers see higher gross profit margins on fresh and prepared items than on center store goods, though margins are still tight, Campbell says, in part because of the investment they must make to offer those extras. Supermarkets now must recruit culinary professionals with experience in both food safety and flavor development to stay competitive. Consumers have higher expectations on the taste and quality of to-go meals, Campbell says.
 THE SATURATION POINT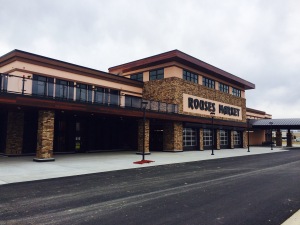 Rouses, a chain based in Thibodaux that also is known for stocking specialty, local and basic fare, soon will open its first supermarket in the region at Juban Crossing, a mixed-use development in Livingston Parish. The company also has bought land in the Long Farm Village traditional neighborhood development at Airline and Jefferson highways, where it will open its first Baton Rouge store sometime next year.
In October, the regional chain opened its 48th store in Lafayette, where it's incorporating a new open floor plan concept that allows consumers to see employees at work in each department. Rouses is not a member of Associated Grocers.
Despite recent store openings in the region by other retailers, including Trader Joe's, Wal-Mart and Costco, the Associated Grocers' Campbell doesn't think the Capital Region has reached saturation.
"The consumer has a lot of choices, and you've got to pick your niche and be really good at it," he says. "But there's still a lot of expansion going on among independents in the region."