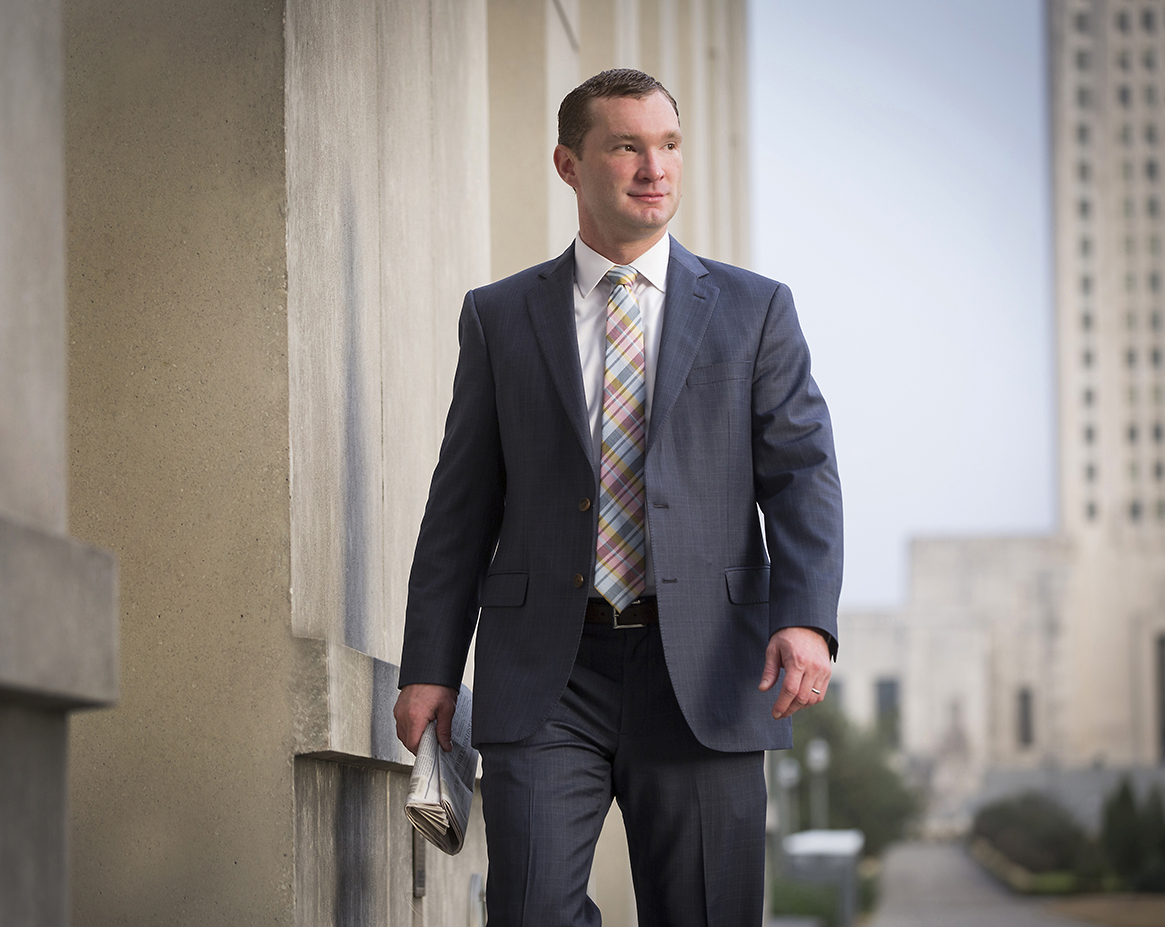 Emergent Method founder and President Nick Speyrer. Photography by Marie Constantin
---
2017 Baton Rouge Business Awards and Hall of Fame
COMPANY OF THE YEAR [Fewer than 100 Employees] • EMERGENT METHOD
---
Housed in a former loft apartment on top of Aztecas Mexican Cuisine in downtown Baton Rouge, Emergent Method's office feels like ground zero for the Capital City's millennial class. Open and freeform, the main room features tight rows of black Ikea desks. The windows overlook a flurry of progress at Lafayette and Main streets below. Upstairs on the third floor, the conference room and its accompanying patio have a rare view of the Mississippi River.
These days, the company's organizational chart is plenty full, but its desks are often empty. That's because most of the business consulting firm's employees spend less time in the office than they do in the field working side-by-side with clients, says founder and president Nick Speyrer.
"We're really not here much during the week," says the 34-year-old Opelousas native and former business consultant for PricewaterhouseCoopers in Atlanta. "Our work is out there. We really work hard to understand our clients. We try to blend in and get to know their culture. That's how can we add value."
First launched in the summer of 2012, Emergent Method began with Speyrer as the sole consultant, with support from his wife, Abbie, a CPA. In less than five years, the business has grown into a 15-person firm. Speyrer brought on organizational communications strategist John Snow in 2013, with whom he had previously worked at SSA Consultants in Baton Rouge. In 2014, Speyrer and Snow recruited Phillip LaFargue, former vice president of communications for the Baton Rouge Area Chamber and an organizational design expert. LaFargue led the fledgling company's rebranding from its past identity as Nick Speyrer Consulting to Emergent Method, a name that gets at the company's ethos, Speyrer says.
"Our perspective is, 'Don't hire us to tell you what to do,'" he says. "Let us work with you to ask the right questions, and the best ideas will emerge."
That's the "emergent" part of the name. "Method" comes from the belief that getting ideas to bubble to the surface requires a methodical approach tailored to each type of client. And because the company comprises team members with different areas of expertise—including design, organizational development, marketing, finance, training and technology—tailoring happens fast.
Speyrer says the goal is to place an appropriate consultant on each job or pull from the team to deliver targeted expertise. Other top brass includes vice president Anthony Napolitano, an IT expert and a former director with CGI Group who joined the company in 2015, and director of training Julie Laperouse, a motivational speaker and training expert who was formerly director of talent development for BRAC.
Exclusively through word-of-mouth marketing, the company's client list has grown quickly and spans the public, private and nonprofit sectors. Revenue increased 29% from 2014 to 2015, and then doubled from 2015 to 2016.
The firm has developed a reputation for taking on projects that yield tangible community benefits, including creating an economic and community impact study for sustained growth for the Baton Rouge Metropolitan Airport, and helping to strategically position the Water Institute for the Gulf as an international conservation research center based on the Mississippi River in Baton Rouge.
"We really enjoy being part of these teams," says Speyrer. "We get to work on some awesome stuff."
Giving back is a big part of the company's culture. About the half the staff are native south Louisianans who spent the early parts of their careers outside of the state. Armed with experience and a fresh perspective, they returned home later to find new energy in Baton Rouge. Speyrer says donating time to work on projects for the betterment of the Capital Region is part of Emergent Method's DNA.
"Helping a nonprofit with a strategic plan scratches our altruistic itch, but it also gives us a chance to learn something and to gain that cross-industry knowledge," he says. "We want to understand the world that nonprofits—and that all our clients—are playing in."
With dozens of projects underway and its staff constantly out of the office, the company has instituted internal strategies for encouraging collaboration among employees. Snow, a perpetual student of IT trends, recently implemented the companywide use of Slack, an app and desktop program that encourages team communication through instant messaging on channels set by the organization. Emergent Method's channels include general news, large client projects, business development, a collaboration channel where team members can get feedback on ideas, and a "Quote of the Day" channel for inspiration and inside humor.
"It's truly a connectivity tool for us," says Snow. "Like some of our clients, we're relying on technology to help us build culture."
Moreover, the team uses Friday afternoons for meeting face-to-face and learning about projects underway.
"We don't want a bunch of disconnected people," says Snow. "We get folks to share what they're working on, tell why a certain client hired us and show the team the best principles to use to help solve a client's problem. It's important for all of us to self-train, cross-train, and stay fresh and creative."