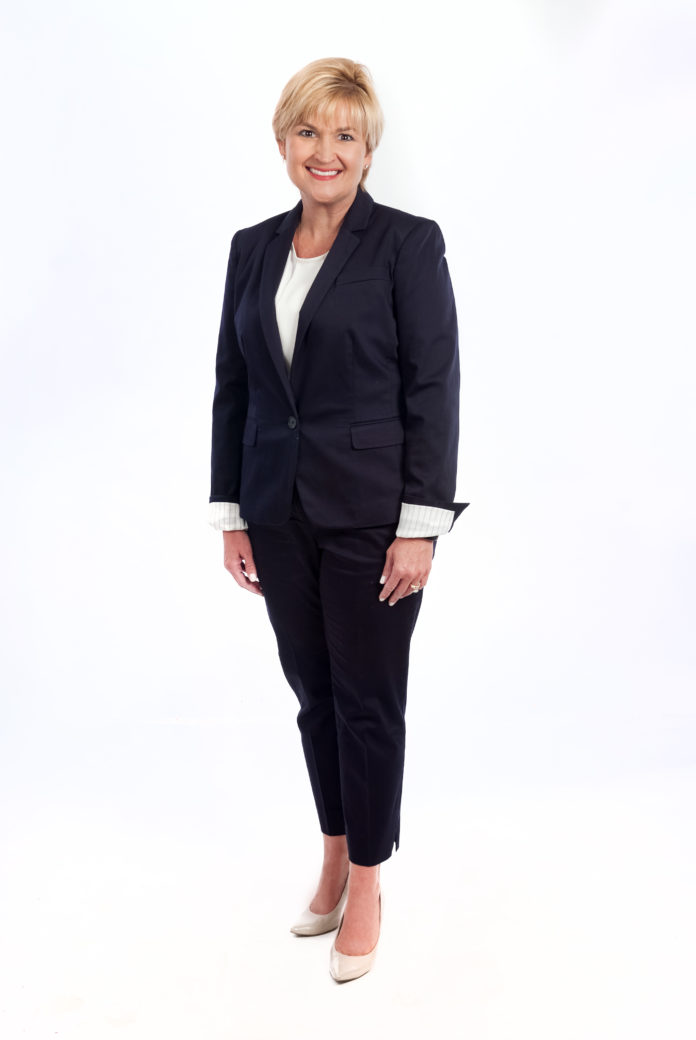 Photography by Don Kadair
---
Jane Verret
Position: Chief Administrative Officer (incoming president & CEO, effective Jan. 1)
Company: Campus Federal Credit Union
Age: 48
Family: Married with two daughters who are in college
Hometown: Petal, Mississippi
Education: University of Southern Mississippi, Bachelor of Science, Accounting
---
Where did you grow up, and how did your upbringing shape your work ethic?
I grew up in a wonderful small town in southern Mississippi. My dad was a small business owner and my mom was a homemaker. My parents' expectations for my brother and me were very high and I always wanted to live up to those expectations—and I still do.
You are set to take over as president and CEO of Campus Federal Credit Union at the end of this year, following Dawn Harris' retirement. Tell us about the succession plan and how it's preparing you for the new role.
Since being selected as CEO, there have been a series of strategic planning meetings with current CEO Dawn Harris, the Executive Team and Senior Management to assess where we are as an organization and to refine and develop plans for the future. Our primary goal is to continue to grow in order to make a difference in our members' lives and the communities we serve.
You've been with Campus Federal for about 21 years now. How has the company and credit unions at large evolved over that time?
Campus Federal had just over $150 million in assets when I started in 1997. Today, we serve over 54,000 people in Baton Rouge, Shreveport and New Orleans with over $620 million in assets. Our mission of "people helping people" has guided our technological improvements. We were the first credit union in the nation to offer online banking and one of the first in the state to introduce video teller machines. Members can bank online 24/7, send money directly to others, apply for loans from mobile devices and more. What has not changed is the importance of listening to the needs of individual members and offering the best solutions for their changing lifestyles.
What's the biggest challenge facing credit unions right now, and how is Campus Federal addressing it?
The competition from non-traditional sources including online payment options has increased dramatically in our industry. The rise in competition coupled with the risk associated with the high cost of investing in technology is one of our biggest challenges. We strive to exceed the expectations of our members on a daily basis.
What's your approach to ensuring your employees are engaged with their work each day?
Most important is ensuring all levels of the organization understand our goals, the "why" behind them and their role in helping us continue to be successful. Our culture is one of a work family. We share professional and personal achievements, challenges, and even, unfortunately, losses at times.
What's a leadership skill you've learned the hard way?
Delegation is probably the most difficult for me since I have always had a tendency to be somewhat of a perfectionist. However, I am very fortunate to be surrounded by talented staff and continually remind myself to let them do what they are best at.
What's something about your job that might surprise people?
I have the opportunity to interact and work with all departments in the organization. It gives me a unique perspective and allows me to get to know more of our team better.
We hear you are an avid volunteer. Tell us about some of the organizations you support and why you're involved with them.
As a working mom, I wanted to spend as much of my free time as possible with my children. However, giving back and being involved in the community was also very important to me. I joined the local chapter of National Charity League. NCL is a mother/daughter philanthropy and leadership organization that allows mothers and daughters to serve the community together. I was able to serve incredible organizations like St. Vincent de Paul, Volunteers of America, CASA, and the American Cancer Society. I had the honor of serving as vice president of membership on the NCL Board from 2013-2015.
Outside of volunteering, what are your hobbies or your favorite things to do in your free time?
I enjoy spending time with my family and occasional dinners with friends. I am an active member of Istrouma Baptist Church.
What's your ideal morning routine to get your workday off to a great start? 
I am an early-bird and love to be the first one up at my house. Having a "quiet time" ensures my day is off to a good start.
You're taking me out to a business lunch in the Capital Region. Where are we going and what do you recommend I order?
One of my favorite restaurants is Mansurs on the Boulevard. It's locally owned and has exceptional food and service. Since we love our seafood in south Louisiana, I typically recommend the "visiting fish of the day." There are usually several options, a variety of preparations to choose from and it's always delicious.
What's the best vacation you've ever taken and what's the next vacation you're planning or hoping to take?
Family beach trips that are schedule-free are my favorite vacations and my favorite way to re-charge.
Is there a local event you look forward to supporting each year?
The LSU football season, without a doubt! The entire city is electric with the anticipation of a winning season, we get one or two weeks of near perfect weather and I get to spend time with my family and friends at tailgates.
What's the greatest personal or professional obstacle you've had to overcome, and how did you do it?
Balancing a career with motherhood was definitely challenging at times. However, with the support of my husband and family, we found creative ways to make it work.
Can you name someone who has had a great impact on you as a leader, or someone who has been a mentor to you in your life or career? How have they changed your outlook?
The person who had the most impact on my life and career was my dad. He worked full time to put himself through college and became the first member of his family to graduate. He was always positive and encouraging and made me believe I could accomplish anything. Even after suffering a debilitating stroke at a very young age, he remained positive and full of gratitude for the blessings in his life. Through his example, I learned to count my blessings and look for the positive side of any situation.