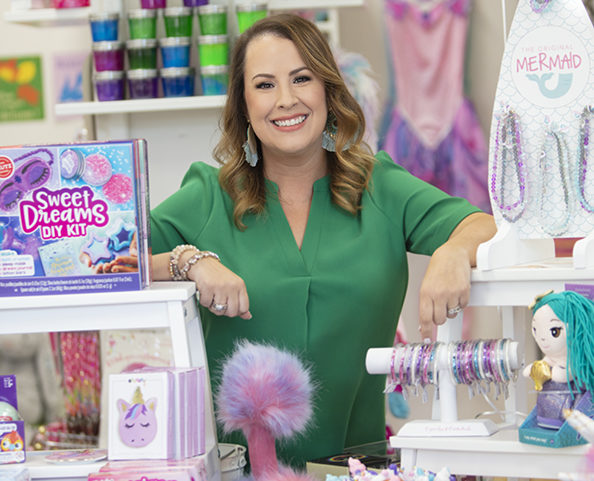 Photography by Brian Baiamonte
---
COMPANY

 Giggles
POSITION

 

Owner
WHAT THEY DO

 

Specialty toys and candy 
ADDRESS 

8201 Village Plaza Court, suite 1
NEXT GOALS 
Continue elevating the customer experience and open additional locations
---
LEARNING CURVE
For the past three years, Emily Guidroz has seen her boutique toy store in Willow Grove thrive despite the dramatic decline in traditional retail across the U.S. While majoring in marketing and communications at LSU, Guidroz knew that she eventually wanted to open a business of some kind, maybe a boutique or a stationary store. But rather than rush into a concept right out of college, she resarched a number of markets and looked for voids to fill. It wasn't until her daughter entered elementary school and started getting invitations on the "birthday party circuit" that Guidroz got the idea for a specialty toy store catering to busy parents.
MAKE IT EASY 
Giggles aims to make gift giving easier. In today's era of click-and-ship online shopping, that's a tall order, but Guidroz is uniquely equipped for the challenge with 16 years of marketing experience. "Service and creating a concierge shopping experience is at our core, and we try to build everything around that." As a busy mom, she's able to design the customer experience around what she needs during a Saturday full of errands: ease and convenience. Giggles provides that through its unique call or text ahead service with curbside pickup and free gift wrapping.
FUN AND GAMES
Incorporating modern day conveniences like placing an order through Facebook comments, email or Instagram is only part of Guidroz's recipe for success. The knowledge and experience of her six-person team and carrying the hottest products are equally critical. "We hand pick everything. We open the toys and play with them to learn how they work. That way, when someone needs a gift for a certain age at a certain price, we can recommend the perfect item." Guidroz's daughter loves being the resident toy tester. In addition to toys and candy, Giggles has a custom boutique ballon bar. In August it launched a loyalty rewards program.
MORE IN STORE
For Guidroz, the biggest surprise in her first entrepreneurial venture is how well it's doing. "Giggles has become the coolest, hottest place for kids to buy toys in Baton Rouge. It's become part of who I am." Guidroz and her husband regularly discuss opening additional locations in Lafayette and her hometown of New Orleans. According to Guidroz, Giggles is thriving because it has become integrated into the community by hosting free neighborhood toy events with product demos, and by giving back by donating gift baskets for fundraisers as well as through Giggles Giving, which donates a portion of Thanksgiving week profits to a local children's nonprofit.