More than eight years on, victims of the Stanford Ponzi scheme continue fighting to recoup their money—with little luck
Retired refinery worker Blaine Smith and his wife, Carolyn, lost more than $1 million in the Stanford Ponzi scheme. Blaine leads the Louisiana chapter of the Stanford Victims Coalition USA, which continues to work to recoup lost money for victims. Photography by Don Kadair
---
Blaine Smith says he and his wife sunk more than $1 million in fraudulent Stanford Group CDs. Dallas resident Angela Shaw says she and her husband lost $2 million.
Since Feb. 17, 2009, when federal investigators stormed the Stanford Group offices, Shaw— the founder of Stanford Victims Coalition USA—and Smith, who leads the Louisiana chapter, have been trying to get their money back. A high-powered, highly paid Dallas law firm has been working on their behalf, as have a bipartisan range of elected officials.
After eight years, what do investors like Shaw and Smith have to show for their efforts? About 2% of what they put in, if they're lucky. But victims in Louisiana and across the country are still finding hope in courtrooms and in the halls of Congress.
Baton Rouge lawyer Phil Preis represents many of those victims. He cites three legal issues cheated Stanford investors are watching: Class actions, settlements and clawbacks.
Much of the money Robert Allen Stanford stole is long gone, possibly spent on his jet-set, politician-hobnobbing lifestyle, and will never be recovered by victims. But some investors are suing SEI, a multibillion-dollar international firm that handled the Stanford Trust's back office functions, for enabling the fraud.
A federal judge certified Preis' class action suit last year. Notices to about 1,500 people who bought certificates of deposit from the trust went out in October, and about 90% of them declined to opt out, Preis says. The class doesn't include every Stanford victim; only people who bought CDs from the Baton Rouge-based trust are eligible.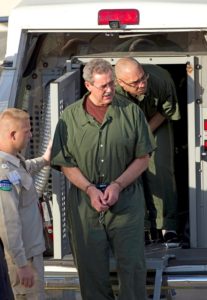 "SEI has the ability to pay any judgment that is involved in the litigation," Preis says, adding the total claim could be worth about $500 million.
The Stanford Financial Receivership, led by Dallas attorney Ralph Janvey, and the Official Stanford Investors Committee recently settled a suit against insurance broker Willis Towers Watson for $120 million. Overall settlements total more than $300 million, with more lawsuits pending.
As of Oct. 31, the receiver had collected $345.4 million, according to its most recent report filed Dec. 2. That sounds like a big number, until you compare it to a worldwide total loss said to be as much as $7 billion. Minus legal fees and expenses, the receiver only had $171.7 million, and had distributed just $91.9 million.
The receiver has sued a number of former investors—including many Exxon retirees—to get back some of the money they got from Stanford.
"They were among the lucky ones that got out," Preis says of the clawback targets.
Preis says it's reasonable to ask his clients to pay back the interest they received. But they should keep the principal, he says, because it isn't their fault they were lured into a Ponzi scheme.
A January court decision may set an encouraging precedent for those investors. The Dallas-based 5th Circuit court blocked the receiver's $88.2 million clawback claim against billionaire Gary Magness, ruling that Magness acted in good faith and probably would not have been able to uncover the fraud. If that's true of a well-connected investor like Magness, Preis argues, surely the receiver shouldn't claim a relatively unsophisticated plant retiree was wise to the scheme.
SIPC'S ROLE
Stanford's investors watched in frustration as victims of Bernard Madoff's Ponzi scheme amassed more than $9.7 billion in pending repayments. That includes a $4 billion fund set up by the U.S. Department of Justice. Once the distribution is finished, 1,335 Madoff accounts with valid claims reportedly will be fully paid off, including all claims of $1.25 million or less.
Stanford investors say they deserve compensation from the industry-backed Securities Investor Protection Corporation. When a brokerage firm is liquidated, SIPC works to restore to customers the securities and cash in their accounts up to $500,000, which Shaw says would be enough to make about 80% of Stanford victims whole.
The Securities and Exchange Commission tried to force SIPC to pay Stanford investors. SIPC successfully argued in court that the Antiguan bank that issued the fraudulent Stanford Group CDs was not an SIPC member and therefore not SIPC's problem.
Fraud victims have for several years been asking Congress to establish the SEC's authority over SIPC. A bill to that effect co-sponsored by Baton Rouge's U.S. Rep. Garret Graves died last year, but advocates plan to revive the effort. Attempts to reach Graves for comment were unsuccessful.
The SEC would be empowered to force SIPC to liquidate the Stanford Group Company in bankruptcy court. SIPC could still argue it doesn't have to pay, Shaw says, but at least victims would have their day in court after—in her view—the SEC bungled the case.
And if there aren't enough assets to pay back the victims, SIPC should have to dip into its own fund, she says, which held $2.42 billion at the end of 2015, according to the latest publicly available report.
The Stanford brokers' SIPC membership suggests SIPC backing, Shaw says.
"There's no fine print that says, 'If they [steal] in a creative way, we're not going to pay you,'" she adds.
But SIPC wasn't designed to insure against Ponzi schemes, says Onnig Dombalagian, a Tulane University Law School professor whose expertise includes securities regulation. SIPC got involved in the Madoff liquidation because the scheme was affiliated with a U.S. broker-dealer, but Dombalagian says the corporation could have decided not to.
Making SIPC liable for fraud might encourage more fraud, he says, because investors would have less incentive to investigate opportunities that are too good to be true. The corporation would need access to more money than it has now, and there would be "no way for SIPC to know how much to put in that fund," Dombalagian says.
And an SIPC dealing with multibillion-dollar claims might not be able to support the efficient liquidation of the next Lehman Brothers or MF Global, a function Dombalagian says it performs pretty well.
"It's a tragic situation," he says of the Stanford victims' plight. But it may be wiser for Congress to appropriate compensation and have SIPC administer the program, he suggests, rather than create moral hazard for future frauds.