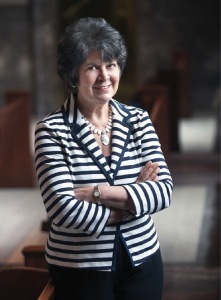 One might say politics is in Phyllis Perron's blood. But she tried her best to resist it.
She grew up on a farm in a small rural community in Evangeline Parish outside of Ville Platte, where her father grew cotton, rice, sweet potatoes and soybeans. Perron frequently excelled in 4-H competitions.
Evangeline Parish being what it is, politics was a natural part of Perron's life. There were many barbecues and fish fries for the assessor, the clerk of court, the sheriff and other local politicos at her daddy's camp. Her mother clerked at the polls on election days, and a great uncle served in the Legislature.
Of the 32 graduates in her class at Sacred Heart High School, three have since served in the Legislature, two are sitting judges, and two others were elected to school boards.
"I came from an area that was very political," Perron says. "I grew up around that. We were just politically active."
But while Perron was always curious about affairs of state, she wanted no part of it as a young adult. She enrolled in what was then the LSU School of Home Economics, where she studied fashion and interior design.
Her first jobs were as a home service representative for CLECO and DEMCO, working with home builders to encourage all-electric living, promoting modern-day appliances—like self-cleaning ovens—in school home economics classes, aiding local chambers of commerce and Girl Scout troops, and chaperoning beauty queens.
It wasn't long, though, before she felt the pull of the political realm as executive director of the Louisiana Egg Commission. That led to an appointment to the newly formed Governor's Office of Consumer Protection, where she fielded complaints from the public and acted as a liaison to the Louisiana Legislature.
Says Perron: "That's where I learned all about the legislative process and the rulemaking process."
In 1977, the Louisiana Association of Life Underwriters was in search of an executive director who could also lobby on behalf of its 3,000 members, and it recruited Perron.
Seven years later, Perron wanted to represent more than just one entity. So she formed Phyllis Perron and Associates, which has developed into a major political and governmental relations and association management firm. The firm lobbies legislators and performs regulatory duties on behalf of clients—most of them in the insurance industry—as well as provides management services to professional organizations, such as the Louisiana Pharmacists Association.
One of her proudest accomplishments is her work on legislation that created the Louisiana Life & Health Insurance Guaranty Association. Formed in 1991, it's a safety net for policyholders of an insurer that may become insolvent.
In her decades of observing Louisiana politics, Perron has witnessed dramatic transformations—some favorable, some not so much. She's particularly pleased with new ethics laws and with technology that makes it possible for citizens to stay abreast of government activities, including the Legislature.
She's not such a fan of term limits.
"We've lost a lot of knowledge, and I don't think it's been beneficial," Perron says. "We always had a turnover every term—between 30 percent and 35 percent, consistently. So you had a natural turnover. And I do believe the electorate, if they didn't think that person is doing a good job, would dismiss them by not voting for them."
But the biggest change she has witnessed by far is the growing divide in Louisiana politics. "There is a division and diminishment of the camaraderie that we used to see at all levels," she says. "What I have seen is the partisanship come about that I never expected."