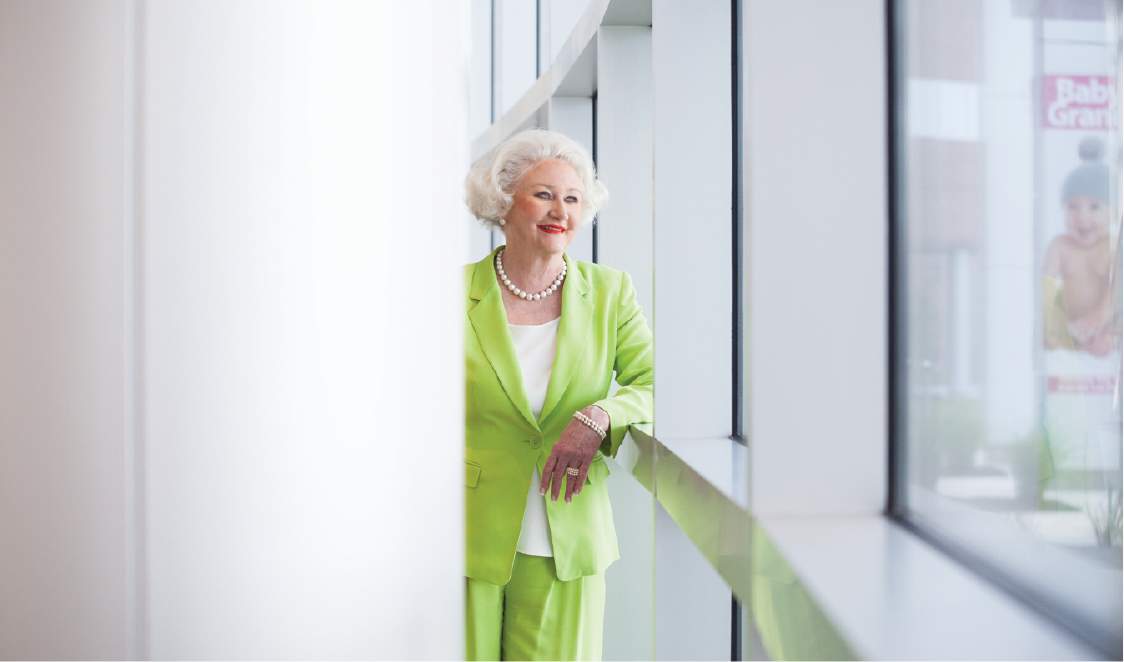 A lot has happened over the course of Nancy Crawford's 37-year career at Woman's Hospital. The health care institution has become the largest birthing and neonatal intensive care facility in Louisiana and has what's needed to take on the region's most urgent cases. Two major hurricanes—Katrina and Gustav—brought significant challenges to the hospital and its staff, which they met with impressive composure. After numerous expansions at its original site on Airline Highway and Goodwood Boulevard, Woman's opened a landmark $340 million replacement campus last year. And among a sea of national conglomerates, Woman's remains the only independent, community-owned women's and children's hospital in the country.
Crawford has spent her entire career in health care administration and has welcomed its challenges and relished its intellectual stimulation. Today she leads Woman's Hospital's Medical Staff Services division, working closely with staff physicians who work directly for the hospital as well as with dozens of other physicians who have private practices but provide care at Woman's. She's known as a high performer who has created an environment where clinicians can excel.
"It's critical we have good, strong working relationships with physicians, and Nancy has made sure of that," says Stephanie Anderson, Woman's senior vice president of finance and administration. "She is highly intuitive, analytical and results-oriented. She constantly innovates. And if she says she's going to do something, you can consider it done."
Crawford was born in Shreveport, but her family moved to Lafayette when she was a child as a result of her father's career as a petroleum engineer. After high school, she enrolled at the University of Louisiana at Lafayette, and became interested in one of its new curriculum programs: health information services. It played to her strong organizational skills and her facility with math and science. She was one of the university's early graduates in the emerging field.
Crawford started at the Baton Rouge General Medical Center as the assistant director of medical records. After six years there, she heard from a friend about a job opening at Woman's—a director of medical records position. It was an opportunity to advance in a field that was small at the time. Hospitals generally only had one or two staff people overseeing records management. Crawford got the job and began working at Woman's in 1976.
"I've sort of grown up with the hospital," she says.
Throughout her tenure at Woman's, Crawford has risen through its ranks and taken on significantly more responsibility, including the transition to electronic medical records and the oversight of medical staff services. Crawford is the interface between the hospital and the physicians who practice there.
"Nancy achieves critical goals related to physician relationships and performance," says Woman's President and CEO Teri Fontenot. "The clinical quality has been highly influenced by her efforts."
In addition to her work with physicians, Crawford is the point person at Woman's for the OB/GYN residency program with LSU, the Tulane University Medical School program and the pediatric residency program with Our Lady of the Lake. Recently, she oversaw the transition of the LSU women's clinic at Earl K. Long Memorial Hospital to the Woman's campus.
Crawford is currently at work on a major overhaul of the coding system used for billing purposes, part of a national transition that must be completed by October 2014. The current system is 20 years old and does not include many procedures used today. It's a major undertaking with serious financial implications.
Despite her busy schedule, Crawford takes community involvement seriously. She has served on the boards of several local nonprofits, including the Capital Area United Way; and she remains active in two high-profile leadership development programs, Leadership Louisiana and Leadership Baton Rouge.
"People make time for the things that matter," she says. "If something matters to me, like service to the community, I'm going to find the time to do it."