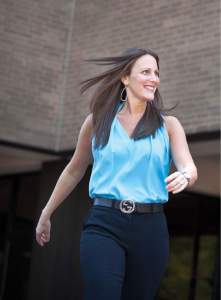 One of the most salient moments of nationally respected philanthropy executive Lori Bertman's career came while she was pursuing a master's degree in social work at LSU in the early 1990s. Idealistic and intent on helping families, Bertman had drafted health plans for Louisiana communities as part of her role as a graduate research assistant. She felt good about her work and its ability to make a difference, but that changed quickly when she saw the plans shelved because of a lack of funding.
'I thought to myself, That's where things are always going to sit—on a shelf—unless I make them actionable,' Bertman says. 'And what makes them actionable? Cash.'
Bertman made a commitment to better understand how money flowed into social causes, investigating what motivated donors and what nonprofits needed to do to earn their trust and investment. She approached local development experts and asked if they could share advice. And she jumped in and started raising money for charitable organizations with which she was involved.
'Very quickly, I fell in love with fundraising,' Bertman recalls. 'It's exponential. If you can do it, you can help a lot of people accomplish their goals and objectives.'
Over the last two decades, Bertman has soared in the philanthropy field, developing a reputation for strategic thinking and for helping nonprofits use single donations to attract a multitude of others. Social problems won't be solved through scattershot fundraising, she believes. To truly make a difference, it takes eliminating silos, forging partnerships, and figuring out how one issue connects to another.
'It's really important that we see how childhood obesity, education, health care, natural disasters and other issues are related,' Bertman says. 'We can't look at things in isolation.'
Since 2007, Bertman has served as president and CEO of the Irene W. and C.B. Pennington Foundation, Louisiana's largest private family foundation.
'Lori has been an outstanding partner to my family,' says trustee Paula Pennington de la Bretonne. 'From the time she started to where our foundation is today, the difference is incredible. She has helped it evolve and focused our mission. She's an asset we can't live without.'
De la Bretonne credits Bertman with focusing much of the foundation's work directly on health and disease prevention, thus reflecting the goals of the Pennington Biomedical Research Center. De la Bretonne says Bertman sees the big picture in a manner rare among philanthropy leaders.
'Lori's brain works in a different way,' de la Bretonne adds. 'She looks at things broadly to see how we can really make an impact.'
Bertman spends a lot of time ensuring the foundation's financial investment in a particular cause isn't working alone. She helps grant recipients use their Pennington donation to attract additional resources and create a bigger impact.
'It's very important to me to preserve the legacy of this foundation and help us to make wise investments,' Bertman says. 'I want to make sure the money is well spent, and that if we give a gift, it's going to help bring in additional gifts.'
Bertman is a leader in the emerging field of disaster philanthropy, work that began for her in earnest in 2005 when she helped Louisiana multiply $1 million in donations for Hurricane Katrina relief into $45 million. In 2010, Bertman co-founded the Center for Disaster Philanthropy, a Washington, D.C.-based nonprofit that helps donors and funders make informed decisions about giving to charities after national and international disasters. Today she serves on the CDP board as well as on the boards of the Center for Strategic & International Studies, the Stephenson Disaster Management Institute at LSU, the National Center for Disaster Preparedness at Columbia University, and the Children's Health Fund.
Her work with the Pennington family foundation, she says, is particularly rewarding.
'It's the greatest joy in the world, to be able to work with a family to perpetuate Doc Pennington's legacy,' Bertman says. 'Our goal is transformational change.'