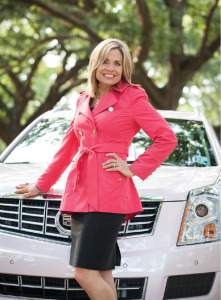 Having just emerged from her pale pink Cadillac SUV, smartly dressed LaRonda Daigle takes a seat, smiles broadly and begins to describe her first experience with Mary Kay. In 1993 her aunt, a Baton Rouge beauty consultant with the company, asked Daigle to join her for a local recruitment meeting. Daigle went along but reluctantly.
"I sat in that room with my arms crossed," recalls Daigle. "I was thinking, I don't want to be here. I will never, ever sell Mary Kay. Never."
Daigle listened as a succession of women shared stories about how they had become beauty consultants with Mary Kay simply to make extra money but had discovered it was possible to earn impressive incomes. Instead of just paying for school uniforms, some were quitting their day jobs and earning six figures. Daigle was intrigued. An LSU marketing graduate, she was outgoing and liked sales. In fact, she was already working as a sales representative for a medical waste company and had experience in the cosmetics industry. The more she listened, the more Mary Kay seemed like a reasonable way to make some additional cash.
"At the time, I was about to get married, and I said, 'OK, I'll do this for six months so that I can buy some new furniture,' " she says.
Most of her family and friends scoffed at her side job, and sales were tougher than she expected. In the early days, Daigle felt inclined to quit. But things turned around within a few months. She became comfortable approaching women she met around town about Mary Kay products, and discovered she had a knack for working with clients. She also began recruiting women to join her team as beauty consultants. She told them how Mary Kay was helping her feel empowered and that they could experience something similar.
"The more I got into Mary Kay, the more it got into me, and I saw the possibilities," she says.
By the end of six months, Daigle had earned her first car. By the end of her first year, she had recruited 24 women to her sales unit, enough for her to become a Mary Kay sales director.
Since then, her ascent has been fast and steady. She is a top seller in the nationwide company; her sales unit now includes more than 500 consultants, and it has reached or surpassed $1 million in annual sales 11 times. She has earned 10 pink Cadillacs since 1994 along with scads of other incentive prizes, including diamond jewelry and 18 different trips. Her annual income is more than $200,000, and she still manages to keep the afternoons free to spend with her husband and two daughters.
Mary Kay was founded in 1963 by Texan Mary Kay Ash with a pledge to live by the Golden Rule and place "God first, family second, career third." Daigle is quick to point out two things about the company.
First, says Daigle, Mary Kay is not a multilevel marketing company. She earns a percentage of sales from the women in her unit but not from consultants whom they subsequently recruit.
Second, she asserts that Mary Kay is about more than cosmetics. "We say it over and over again. It's not about the product," she says. "It's what we can do for women."
Indeed, the company's ethos is all about girl power: women mentoring and encouraging each other to achieve their personal and financial dreams. A lot of Daigle's time is spent developing her sales force through high-energy sales meetings, technical assistance phone calls, recognition awards and positive reinforcement.
"The best part of my job is seeing women who didn't think they could do this be successful," she says. "I've seen lives change. If you stay focused, it's amazing what happens."