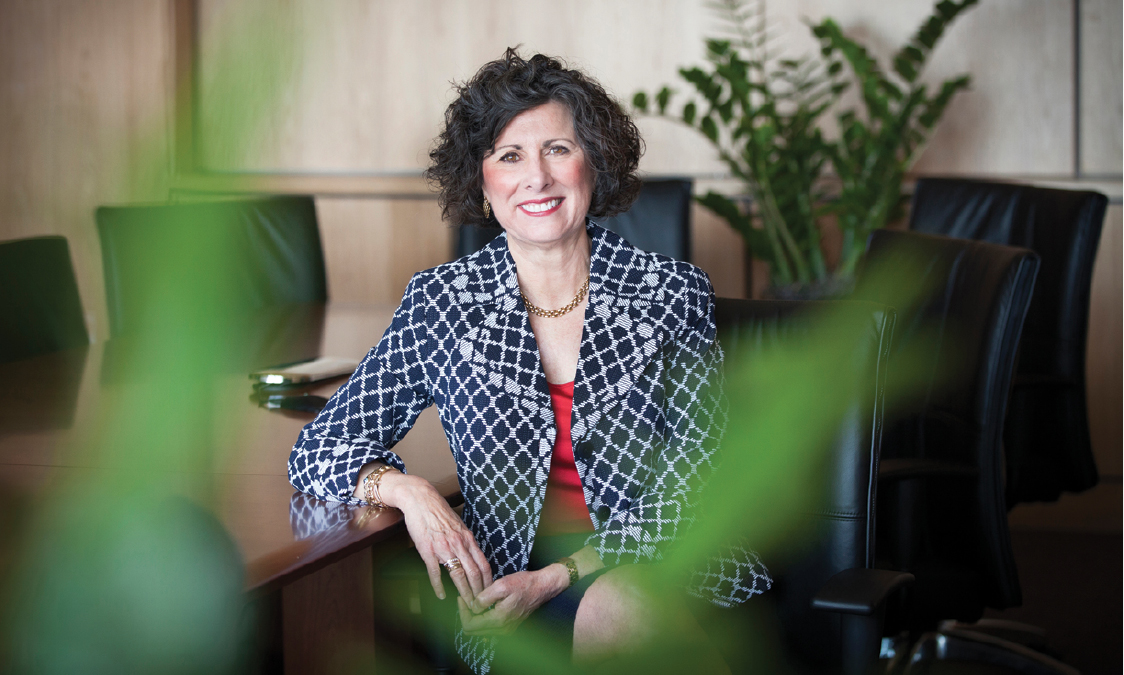 Karen Deville has a spring in her step as she walks the halls and grounds of the LSU Business Education Complex, an arrangement of sleek, modern buildings that the E. J. Ourso College of Business occupies. Inside the rotunda, a suspended electronic stock ticker scrolls the daily market report. Conference rooms in adjacent undergraduate and graduate wings are filled with young men and women poring over laptops and discussing group projects. Students pass through a serene quad, some of them fresh from interviews and dressed in business suits. In the SMART Lab financial trading room, students make investment decisions using real-time financial analytics. The complex looks and feels like a slice of corporate America—and that's intentional.
"The goal was to create a place that reflected the dynamism of the business world itself," says Deville. "Going to school in a place like this will help our students take on any challenge and be able to compete globally."
Formerly, the College of Business was housed next door on Nicholson Extension in Patrick F. Taylor Hall, the building it shared with the College of Engineering. But thanks to a pioneering $60 million capital campaign, the business school now has its own 156,000-square-foot complex. Deville was the campaign's point person. She spent more than a decade working with a team of forward-thinking board members to raise $30 million from private sources, which was matched by the state of Louisiana. The complex was the first building at LSU to be built in this manner.
Deville's passion for her job stems from two sources: She is an educator at heart, and she believes in the entrepreneurial spirit. She saw the importance of education as a small child in the town of Iota. Her brother, born deaf, had few opportunities for learning; deaf education was unheard of in rural areas. Deville's parents were both teachers, and they made a life-changing decision to move the family to Baton Rouge so her brother could attend the Louisiana School for the Deaf as one of its first commuter students. Her father supported the family by launching an industrial landscaping business.
Deville's mother was instrumental in advancing deaf education in Louisiana. The work could be hard and frustrating, but watching her mother persist showed Deville the patience required to see big projects through. Deville also became a deaf educator at the School for the Deaf, and later helped promote early intervention for deaf children in rural communities.
After working for a few years in marketing and communications, Deville decided to pursue an MBA at LSU. She was older than almost everyone else in her class, but says that worked to her advantage. She had been out in the world, and she embraced learning. The college's dean at the time, Thomas Clark, offered Deville a new position focused on developing relationships between the college and the corporate community. She was one of the first staff people at the E. J. Ourso College of Business to focus on development.
Since then, Deville has helped grow the college's fundraising capacity, working tirelessly with donors, board members and administrators to expand private investment. "When I walk through this building, I see every major gift and I see the people who helped make it happen," she says.
One of the most compelling aspects of her job is working with graduate assistants, she says. She loves watching students reach their full potential and use what they have learned at LSU to embark on exciting new careers.
"I have the best job in the world," Deville says. "I truly believe that this university has the power to transform lives."