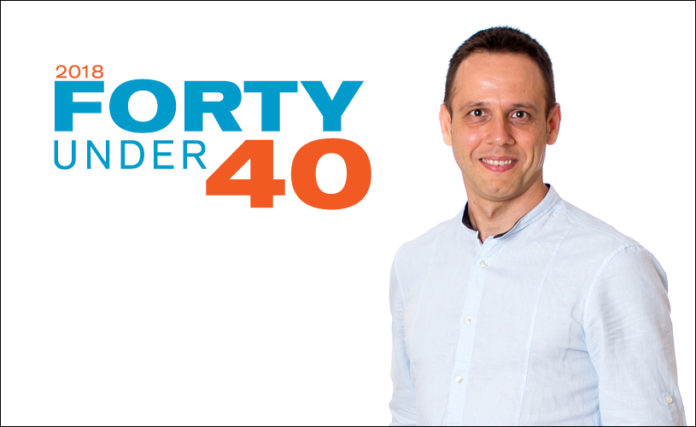 ---
Ivan Agullo,

38
Assistant Professor of Physics, LSU
PROFESSIONAL ACHIEVEMENTS:
Winning first place in the Gravity Research Foundation 2017 essay competition.

Winning the Young Scientist Award from the International Society of General Relativity and Gravitation in 2016.

Earning a CAREER Award by the National Science Foundation.
COMMUNITY:
Active in programs and events with the LSU College of Science, including hosting a colloquium on Gravity and the Handedness of Protons.
WHAT IS YOUR BIRTHDATE?
October 17 
NAME ONE BOOK THAT HAS INSPIRED YOU PROFESSIONALLY
Quantum theory in curved spacetimes and black holes thermodynamics, R. Wald, Chicago Lectures in Physics.
WHEN YOU WERE A CHILD, WHAT DID YOU WANT TO BE WHEN YOU GREW UP?
Mathematician.
WHAT WAS YOUR FIRST JOB, HOW OLD WERE YOU AND WHAT DID YOU LEARN FROM IT?
Shoemaker. 15 years old. I learned that I did not want to be a shoemaker and I that wanted to go to college.
WHAT IS THE STRANGEST JOB YOU'VE EVER HAD?
Gardener. It is not really a strange job, but it is complete different from what I do now.
WHAT IS YOUR FAVORITE PLACE FOR A BUSINESS LUNCH IN BATON ROUGE, AND WHAT IS YOUR FAVORITE DISH THERE?
Tsunami. Baked Salmon.

WHAT DO YOU CONSIDER YOUR GREATEST ACHIEVEMENT?
My family.
WHAT HAS BEEN THE MOST FULFILLING MOMENT IN YOUR CAREER SO FAR?
When I received a job offer from LSU.
WHAT WAS YOUR PROFESSIONAL "AHA" MOMENT?
I had many, since I work in science. It is difficult to choose one.
WHAT GIVES YOU PROFESSIONAL INSPIRATION?
Some of the great "brains" in science: A. Einstein, P. Dirac, etc., and some of my colleagues.
ARE YOU ACTIVE ON SOCIAL MEDIA? IF SO, ON WHICH PLATFORMS ARE YOU MOST ACTIVE?
Facebook.
HOW MANY TEXTS DO YOU SEND ON AN AVERAGE DAY? HOW MANY EMAILS?
Texts, around 20; Emails, around 15
HOW LOW WILL YOU ALLOW YOUR REMAINING PHONE OR COMPUTER BATTERY LIFE GET (IN %) BEFORE YOU HAVE AN ANXIETY ATTACK?
No anxiety at all.
HOW MANY UNREAD MESSAGES ARE IN YOUR INBOX RIGHT NOW?
Zero.
WHAT'S YOUR FAVORITE APP AT THE MOMENT?
Difficult to choose one.
WHAT IS YOUR FAVORITE TECHNOLOGICAL ADVANCEMENT OF THE PAST DECADE?
LIGO (a detector of gravitational waves, located in Livingston Louisiana, and where the 2017 Nobel Prize in physics was "cooked").
WHAT TECHNOLOGY DO YOU WISH WAS NEVER INVENTED?
Nuclear and chemical weapons.
WHAT TIME DO YOU GET UP ON WORKDAY MORNINGS?
5:30 a.m.
BREAKFAST AT HOME? BREAKFAST ON THE GO? BREAKFAST AT YOUR DESK? NO BREAKFAST AT ALL?
At home.
THE SAYING GOES: "BE THE CHANGE YOU WANT TO SEE IN THE WORLD." SPECIFICALLY, WHAT ARE YOU "BEING" TO MAKE BATON ROUGE BETTER?
I have passion for science and intellectual and critical thinking. I believe  they are most important aspects of humans. I transmit this idea to dozens of  students every day.
WHEN DID YOU REALIZE YOU WERE "GROWN UP"?
When my daughter was born.
WHAT WAS THE BEST VACATION YOU HAVE EVER TAKEN?
A trip to India
WHICH TALENT OR SUPERPOWER WOULD YOU MOST LIKE TO HAVE AND WHY?
Einstein's brains, for obvious reasons.
WHAT ARE YOU SUPERSTITIOUS ABOUT?
Nothing. I don't believe in superstitions.
WHO FASCINATES YOU?
Einstein.
FAVORITE DRINK?
Red wine.
WHAT IS YOUR FAVORITE BAND OR SONG?
Difficult to choose one.
WHAT IS YOUR FAVORITE MOVIE?
Life is Beautiful.
PETS?
None.
HOBBIES?
Traveling, hiking. 
TELL US ABOUT A MOMENT THAT CHANGED YOUR LIFE.
When I was  a teenager I decided to abandon high school and work as a shoemaker. That quickly helped me to understand how important education is, and made me come back to school full of passion and energy. Since then, I have not stopped learning .
WHAT'S THE NEXT BIG PERSONAL OR CAREER CHALLENGE YOU PLAN TO TAKE ON?
Write a book.
WHAT CONCERNS YOU MOST ABOUT THE FUTURE?
Wars. Climate change. Social inequalities.
DO YOU PLAN TO BE IN THE CAPITAL REGION FIVE YEARS FROM NOW? WHY OR WHY NOT?
Yes. I love my work in LSU, I love the weather, food and friends here.
IF NAMED KING FOR A DAY, WHAT IS ONE CHANGE YOU WOULD MAKE IN BATON ROUGE?
Invest in roads to reduce traffic!
HOW WOULD YOU DESCRIBE THE QUALITY OF LIFE IN BATON ROUGE; WHAT WORKS AND WHAT NEEDS IMPROVEMENT?
Quality of life is quite high for a part of the population, but quite low for another. Traffic needs improvement. The risk of flooding should be decreased. I like the large number of family and social activities in the capital. I like how friendly people are here in general.
DO YOU HAVE A BUCKET LIST? IF SO, WHAT ARE THE TOP 3 THINGS ON IT?
No I don't have. I try to meet my goals now… you never know.