Forty Under 40: Hunter Territo

Hunter Territo, 29
Creative Director, Xdesign Inc.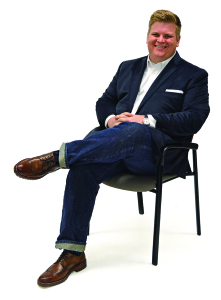 In addition to his full-time role managing Xdesign's creative/production department, Hunter Territo is an adjunct instructor at LSU and has helped overhaul the university's digital curriculum. Under his leadership, the American Advertising Federation in Baton Rouge was named Club of the Year, and Territo, President of the Year in the southeast district, which spans five states.
Inspiring book: Chasing Daylight
Former KPMG CEO Eugene O'Kelly wrote this during his last three and half months, between being diagnosed with brain cancer and his eventual passing. It puts business in perspective.
Major professional accomplishments: American Advertising Federation of Baton Rouge Rising Star, Sales and Marketing Executives Marketer of the Year and American Advertising Federation President of the Year/ District 7 (Southeast United States)
Volunteer and community involvement: American Advertising Federation Past president and member, Alzheimer's Services Public Relations Committee, LSU Communications Across the Curriculum Advisory Board and LSU Manship School of Mass Communications adjunct instructor
PROFESSIONAL
When you were a child, what did you want to be when you grew up? Artist
What was your first job, and what did you learn from it? Working at a snowball stand on Highland Road. It taught me the fundamentals of business: Showing up on time, doing what you're supposed to do, and treating people (customers) well.
What is your favorite place for a business lunch in Baton Rouge? Depends on the Day (not kidding) Mondays are always at Albasha on Bluebonnet with the CEO of Xdesign, Jamey Crump. Walk On's Tuesday to Thursday (great place to take employees for a casual lunch), Ruffino's on Friday to celebrate the end of the week.
What do you consider your greatest achievement? Being creative director of Xdesign, Inc.
The old saying goes, "Be the change you want to see in the world." Specifically, what are you "being" to make Baton Rouge better? Every semester when I begin my class at LSU I ask all of the advertising students to raise their hand if they plan on leaving this city after graduation. Far too many hands get raised. I believe in Baton Rouge and I'm proud to call it home. Even at the age of 29, I feel like I've seen Baton Rouge make tremendous strides. I'd rather be part of building something great, than show up after all of the work is done.
What ritual do you do to get pumped up before a big meeting, presentation or pitch? I get really quiet and pace in my office or our creative room with the door closed running through my talking points.
What has been the most fulfilling moment in your career so far? Martin Flanagan trusting me with his desk, his office, and his title of Creative Director when he retired.
What does your job entail that would shock customers or clients if they knew about it? Yes, we're an advertising agency, but it's nothing like Mad Men. We'll film web videos at Fluker's Farms highlighting crickets, mealworms, and hissing cockroaches in the morning, I'll put on some slacks and a button down and photograph attorneys at Kean Miller that afternoon, then discuss molecular gastronomy and wine with Chef Peter Sclafani. It's why I love this business, everyday is different.
TECHNOLOGY
Mac or PC? Mac
What's your preferred mode of communication: text or phone call? Text
How low will you allow your remaining battery life to get (in %) before you have an anxiety attack? 5%, that last 5% goes by so fast.
How many unread messages are in your inbox right now? 0
What app gets you through the day? Spotify when I'm decisive, Pandora when I'm not.
Are you quick to adapt to new tech, or did you hang on to that flip phone way after it became obsolete? Very quick
PERSONALITY
How many times do you hit the snooze button? 5-6 (at least)
Breakfast at home? Breakfast on the go? Breakfast at your desk? No breakfast at all? Breakfast on the go, or none.
Is the glass half empty or half full? What's in the glass? Always half full. Bourbon.
When did you realize you had grown up? When I bought my first house.
Which living person do you most admire? My parents
What is your greatest extravagance? Dinner with my wife, Ashley and our friends Peter, Michelle, Paul, and Candi at The French Laundry in Napa Valley.
Which talent or superpower would you most like to have and why? Since I'm in advertising I'd like to be able to see the future. Not for my personal life, just for business. It would make telling a client "This idea is definitely going to work" much easier.
If you could change one thing about yourself, what would it be? I have the classic fear of missing out on something whether it's an opportunity or an experience, I'd take it easier. It's just not in my DNA.
What's your most treasured possession? Milton Glaser's print of Bob Dylan that came folded up in Bob Dylan's Greatest Hits original vinyl pressing in 1967. I have an original of the print and vinyl.
What do you most value in your friends? Honesty and support
What do you miss most about the '90s? Saved by the Bell
If you had to be a teacher of something, what would you teach? I do teach, Creative Advertising Strategy at LSU, every Monday and Wednesday afternoon.
What is your theme song? Otis Redding, "Try a Little Tenderness." I always turn it up. M83 "Midnight City" to get focused.
If you could go back in time 20 years, what advice would you give yourself? Relax, it's going to be better than you ever expected.
LOOKING AHEAD
What's the next challenge you have planned? Jamey Crump and Martin Flanagan founded the company almost 25 years ago. Martin always said that his goal was to see Xdesign make it to a second generation. No other advertising agency in the city has done so. It's my goal to continue to see that through and ensure it sees a third generation.
Three things on your bucket list: Visit Italy, grinks at Aviary followed by dinner at Alinea in Chicago (there will always be a restaurant and bar on my list), see the Northern Lights
If you have children, what concerns you most about the future they will inherit? Addiction to technology, and entitlement
What would be your advice for future Forty Under 40 honorees? Don't cheat yourself or this great city of the gift God gave you. Give it everything you've got.
Do you plan to be in the Capital Region five years from now? Yes
Why have you chosen to make your home in the Capital Region? All of my family and friends are nearby, it's a great city, there's no place better than the south, and as mentioned above I'd rather be part of building something great, than show up after all of the work is done.
Have you peaked, or do you think you'll still have it when we launch our hypothetical "Forty Over 40" awards years from now? The ride is far from over.