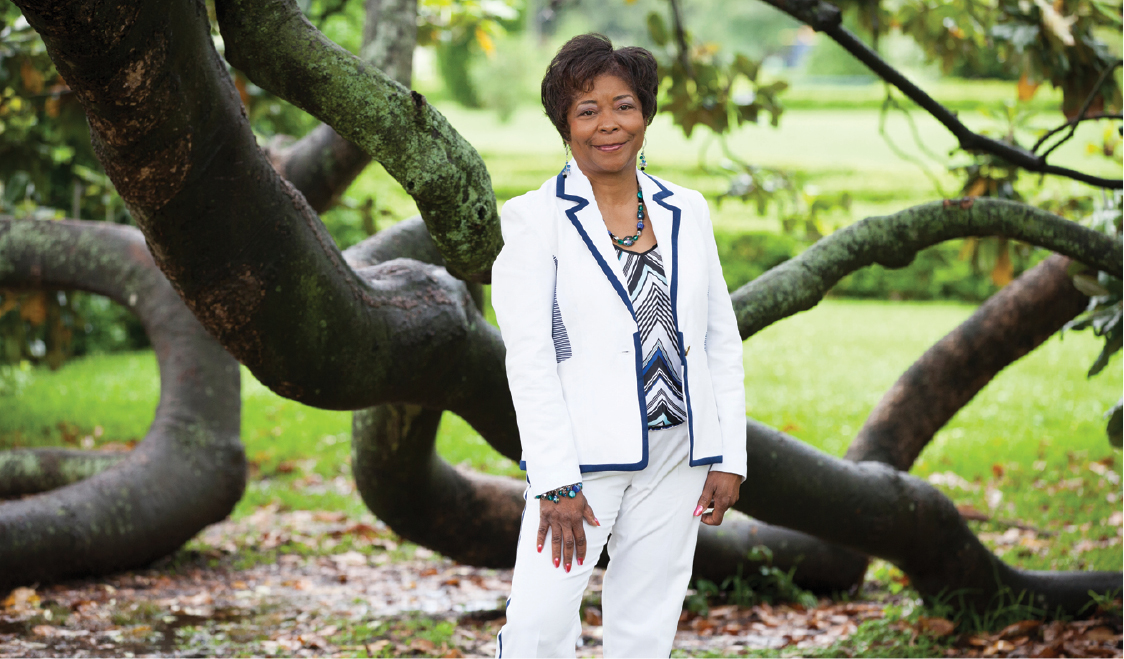 In her first days as BREC superintendent, Carolyn McKnight attended a meeting at which the growing epidemic of hypertension in children was described. The revelation startled her, and more than a year later she still chokes up when talking about it.
"It broke my heart," she says, clearly struggling with emotion as she speaks. "And I thought, I have an answer to that. That's crazy. That should not be."
The solution, she believes, is as simple as a robust park system. Such a system, she says, can give people opportunities for exercise that can combat chronic conditions like hypertension, obesity and diabetes, and can decrease the area's high crime rate.
"We can impact those numbers," she asserts. "We have the answer, and it's less costly than the other alternative."
The 57-year-old devotes herself to that cause, believing wholeheartedly that, through programs that promote physical activity, she can improve the quality of life in Baton Rouge. With that vision, she works to build trails, teach kids to swim, and get as many as possible involved in sports leagues, classes and camps.
She dispenses ideas faster than her staff can keep up with them: ballroom dance lessons, parents' nights out, zoo exhibits—anything to get people outdoors and moving.
McKnight dreams of being able to offer a thriving trail system throughout the parish and calls the Capital Area Pathways Project "the greatest initiative that we have on the books." It's a 2.2-mile stretch of trails under construction with a 12-foot-wide pathway to give bikers, runners and walkers a route connecting the Mall of Louisiana to Picardy Bridge and Siegen Lane. Eventually, the pathway will become a 7.4-mile loop.
"We're looking for creative and innovative ways to make recreation a priority and help people get healthy and … increase or enhance the quality of their lives," she says.
Still a newlywed, McKnight spends her weekends visiting the 184 parks she oversees, picnicking, golfing and strolling with her new groom. While she's been to them all, she acknowledges she "wouldn't pass a test."
"It takes a while to learn a system this big. So I'm just taking my time. … We'll go and play golf at one of the courses, and then we'll stop and pick up a snack and then, wherever we are, we'll find the nearest park and we have a picnic in the park, my husband and I," she says, still lighting up at the mention of the "incredible man" she married last June.
Her path to overseeing BREC started in Montgomery, Ala., where she grew up playing outdoors with her siblings.
"We would go to my grandmother's house and … she had so much land," she recalls. "We would play ball and we would race each other and we would play different types of games."
McKnight enrolled in ROTC at Alabama State University with plans to teach special needs children. She soon realized that teaching wasn't for her and chose a career path that began with the Air Force.
Her résumé includes some surprises. "I programmed nuclear weapons," she says, pausing to let the weight of it sink in.
She retired as a colonel after eight years and settled in Dallas to raise her family. She joined the Air National Guard as a reservist and began working for the Dallas Parks and Recreation Department while raising two sons as a single mother.
"I stopped everything but my jobs, and I turned my heart and my attention and my focus towards my sons, to make sure that they were strong and healthy. And I made absolutely no excuse," she says. "I did what I believed was the right thing to do to make sure that my children would not just survive but thrive."
She says the experience of raising her sons—now a financial manager and an electrical engineer, respectively—gives her the motivation to impact lives.
"I feel it, it's in my heart," she says. "For me this is not a job, this is a purpose.
"I don't get up in the morning thinking I'm coming to work. I get up in the morning knowing that I can make a difference in somebody's life."