2015 Best Places to Work in Baton Rouge: No. 1 Small/Medium-Sized Company

Envoc
10000 Perkins Rowe, No. 220 | envoc.com
PRODUCTS & SERVICES
A full-service digital agency headquartered in Baton Rouge, with a second location in the Louisiana Small Business Development Center on Southeastern Louisiana University's campus. Services include custom software development, mobile applications, advertising and branding campaigns, web design, web applications, intranets, and portals.
NUMBER OF EMPLOYEES
27
STANDOUT BONUS OR BENEFIT
Discretionary year-end cash bonuses based on company performance and personal contribution, as well as discretionary cash and gift bonuses for stellar work.
WHAT EMPLOYEES LOVE
Endless drinks and snacks of employees' choosing. Just write it on the list, and it's available.
Birthday cake, cupcakes or cookies of each employee's choice on their birthday.
Breaks during the day, including walking or hacky sack time.
Weekly Burger Crawl, regular steak nights at the CEO's home and celebratory drinks after work.
Rewriting the rules of the workplace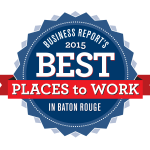 The hip, playful vibe at Envoc, the Baton Rouge-based digital agency, is palpable.
Dogs and cats are welcome to join their owners at work on (separate) designated days. Employees gather regularly for steaks and cigars at the home of company founder Calvin Fabre. They ride go-carts as a group, and they apply their well-honed data analysis skills to citywide burger critiques. The walls of the company's headquarters are splashed in signature colors: lime green, purple and blue. And when they get the munchies, Envoc staff members hit their diner-style break room for limitless snacks, coffee and sodas.
These independent elements establish an environment of lighthearted whimsy, but they're girded by a larger, purposeful strategy. Since Fabre founded Envoc in 1997, he has been intent on rewriting rules of the American workplace.
It's reflected in Envoc's mission: "To create a better reality for both clients and staff through radical creativity and productivity." To elicit that radical creativity and productivity, Fabre is constantly finding new ways to delight and inspire his team.
A former corporate software engineer, he recalls being told "no" routinely while working for a large oil company, especially when it came to purchasing new software or other products he believed would increase innovation. Envoc, on the other hand, takes great pride in equipping employees with anything that will help them do their jobs better, from unlimited Pop-Tarts to the latest software and equipment to edgy inventions found on kickstarter.com.
Envoc's new Baton Rouge offices, completed in July and situated over Voodoo Barbecue in Perkins Rowe, reflect the dual focus of creativity and productivity. The space was designed by Hammond firm Holly and Smith, which Fabre credits for channeling Envoc's culture. "They looked at our website, and saw our banners, 'work, play and think,' and they took our color scheme and they really got into our heads," says Fabre.
The modern design features natural light, sliding glass doors, bold colors and a feeling of openness. In a key central location, there's a Swedish Cacoon swing where an employee can tuck in and work on a laptop. A two-person room, called the Nook, gives employees an alternative space for reading, thinking, making phone calls or taking small meetings. Generous lime green booths in the break room are a place to eat lunch or collaborate with a co-worker. Everywhere you look, there are interesting places to do your job.
But it's not all about spontaneous collaboration and funky furniture. The space, which was designed with employee input, also has numerous individual offices equipped with sliding glass doors. The glass maintains the suite's overall sense of community, but the doors mean employees can work in uninterrupted quiet. This is especially important for the technical staff members who spend a large part their time writing software. It's important for these team members to stay focused, says Chief Operating Officer Jason Lasseigne.
"It really can impact their productivity when they're interrupted," says Lasseigne. "They need to be able to stay in the zone."
While the technical staff likes the option of closing its glass doors, the creative team prefers shared space.
"The right brainers are very collaborative," Fabre says. "They requested it that way."
Lasseigne says the new office layout is increasing productivity substantially, sometimes as much as eightfold, while also allowing the team to generally work a normal 40-hour week.
Fabre jokes that the goal was to create an office "nicer than your apartment, so you'd want to come to work."
"Two things show us the space is working," he says. "Our clients tell us they want to meet here rather than their own offices, and other companies are coming to us for advice on culture."
Meanwhile, business is growing. The company is expanding into more mobile app work and developing new business relationships outside Louisiana. Profitability has increased, and Envoc has paid off all debt from the office build-out, Fabre says.
"We like zero debt," he says.
That attention to the bottom line has helped Envoc maintain a tradition of "R&D Fridays," in which half the day is spent learning and researching anything you want, provided the end goal is to benefit current or future clients or add to the company culture.
The freedom to think, play and grow is a big part of Envoc's ethos. Fabre says it's not enough to just give raises.
"What I've found is that a lot of technical people are not motivated by cash," he says. "They're motivated by liberty."
Related stories: