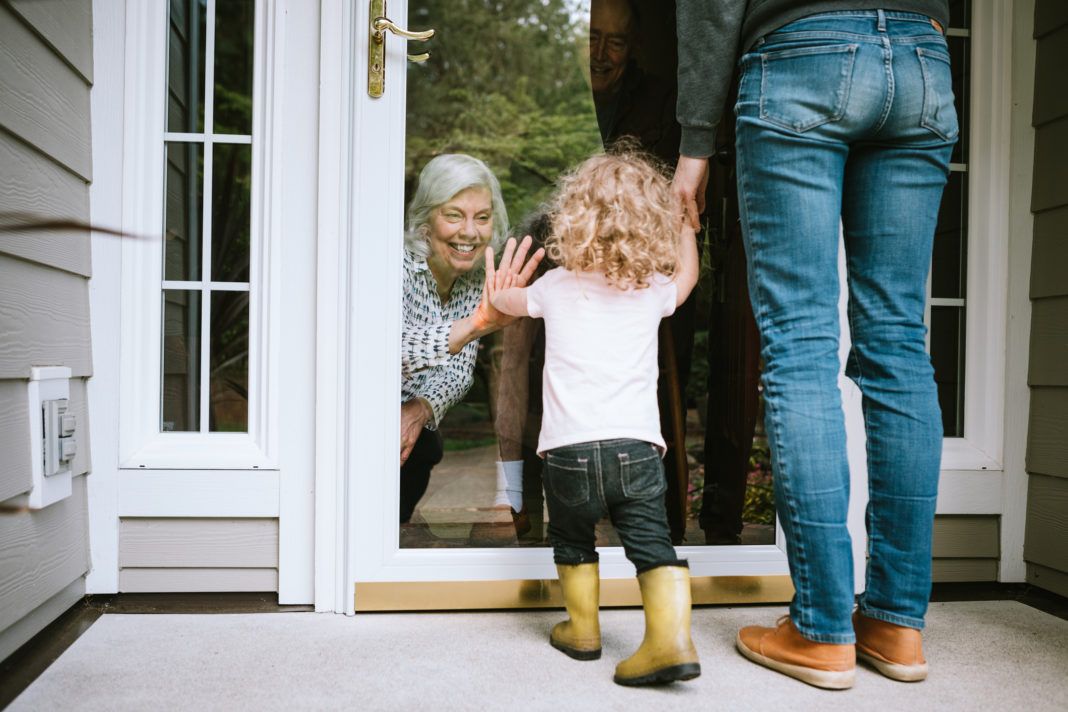 Sponsored by

By Emily Flanagan, PhD and
Leanne Redman, PhD, Professor and Associate Executive Director
As the novel coronavirus pandemic took hold across the globe, stay-at-home orders were rolled out to lessen the outbreak. This forced some people to work remotely, some out of jobs completely, and others to balance work with childcare, home schooling and increased household duties. On March 23, it was Louisiana's turn to close the doors to its restaurants and gyms, imposing sudden changes to our normal lifestyles. As researchers at Pennington Biomedical Research Center, we saw an opportunity to evaluate the inadvertent changes in health behaviors because of the widespread global restrictions.
Researchers with expertise in nutrition, physical activity, behavioral psychology, and obesity designed an online survey study to capture how the abrupt changes to employment, food security, and mental health impacted changes to lifestyle behaviors such as eating habits, physical activity, and sedentary time.
The study, which ran for a month, caught the attention of over 12,000 people across the globe and 7,754 contributed complete information for our analysis. The majority of the respondents were in the United States, yet we also captured data from Australia, Canada, the United Kingdom, and over 50 other countries. Half of the participants in the United States were from Louisiana, making results from this study applicable to many of us.

Changes to eating habits
Arguably the most pronounced result of the study was the shift toward healthier eating behaviors. People reported less eating out, including fast foods, and those meals were replaced with cooking inside the home. People who cooked dinner six or more times per week increased from 39% before the outbreak to 65%. Prior to the COVID-19 outbreak, 13% of people reported eating at fast-food restaurants more than twice per week, and this was reduced by approximately half during the outbreak. People reported that they were eating fewer fried foods and more fruit. While the study cannot determine what people chose to cook, grocery trends have shown price increases on meat, poultry, and eggs, and we can all attest to the shortages in many of the grocery store aisles.
Probably to no one's surprise, we also observed an increase in snacking. Over 40% of people reported an increase in snacking on unhealthy foods like chips, crackers, and bagged snacks and one in four increased the number of healthy snacks they ate. Despite these somewhat positive changes to eating, about one in four people reported weight gain.
Changes to physical activity
As we abruptly left our normal daily routines, a decline in physical activity and an increase in sedentary activities occurred. Despite almost one out of every six people reporting that they purchased equipment to help keep them and their families active during this time, the study showed that people experienced robust declines in overall physical activity.
The study measured physical activity in a unit known as metabolic minutes. This is a way to quantify the time spent in various activities while considering the intensity of the activity at the same time. For example, running has a higher metabolic equivalent than household chores or walking. People reported reductions in aerobic-type exercises, weight training, and sports but increases in exercise from online workout videos and household chores including gardening.
Despite these changes to activity patterns, the study showed that metabolic minutes dropped an average of 80 minutes per week, which is equivalent to 20 minutes of walking, pick-up sports, or yard work per week. The time normally spent in physical activity was likely replaced with leisure sedentary activities, such as watching television, playing video games, or being on the computer.
Mental health 
The COVID-19 survey study revealed universal increases in stress and anxiety. We found that general anxiety scores nearly doubled with one in five people reporting it was affecting their work and daily life tasks. Over 75% of people were at least moderately concerned for their own health and 87% were concerned for the health of a family member or friend. And if you were having sleepless nights, you were not alone. About one-third of the study participants reported waking up in the middle of the night with fear or worry of the virus, sometimes checking the news or their own temperature.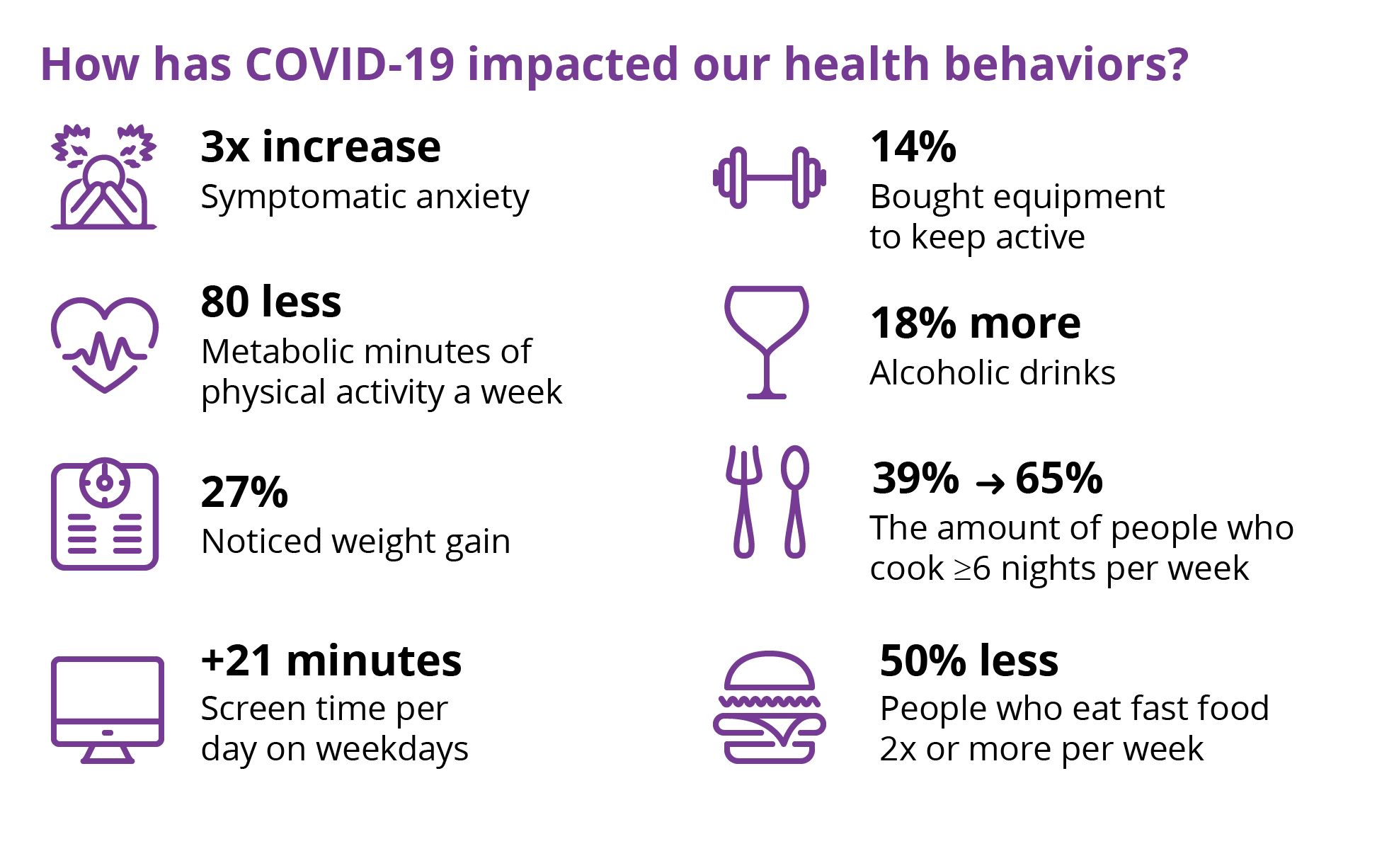 COVID-19 and obesity
In Louisiana we are no strangers to obesity and its associated health complications, and by now we are all familiar with the link between COVID-19 risk, virus severity and obesity. Our study showed that individuals with obesity have a heightened fear of the virus and they showed declines in mental health that were much higher compared to people without obesity. We observed that 90% of people with obesity were worried about their own health as well as the health of others. One in four people with obesity reported that their anxiety was affecting their daily life tasks.
We must remember that as stay-at-home orders are lifted and restaurants and fitness facilities begin to open their doors, normalcy remains in the distant future. We must remain diligent to protect our health, including nourishing our bodies with plentiful exercise, nutrient-rich foods, and mental awareness. As we look beyond the fear of the virus itself, perhaps the COVID-19 pandemic has become a teachable moment for many.
It has (re)taught us the value of home cooking, the importance of staying active, and that we must continue to find ways to improve the lives of those most at risk. The future of this pandemic is truly unknown, and we are only starting to unravel the dramatic lifestyle changes in response to this unprecedented situation.
What we have learned is that the effects on health behaviors such as eating, physical activity and mental well-being were universal. And despite being confined to their homes, people remain more connected than ever before. As online medicine continues to grow, we must not overlook the opportunity to engage people in programs that teach how to adopt a healthy lifestyle and enhance mental health.
---
Click here to learn more about Pennington's role in understanding the critical link between obesity and Covid-19. To support Pennington Biomedical's important work, please click here.