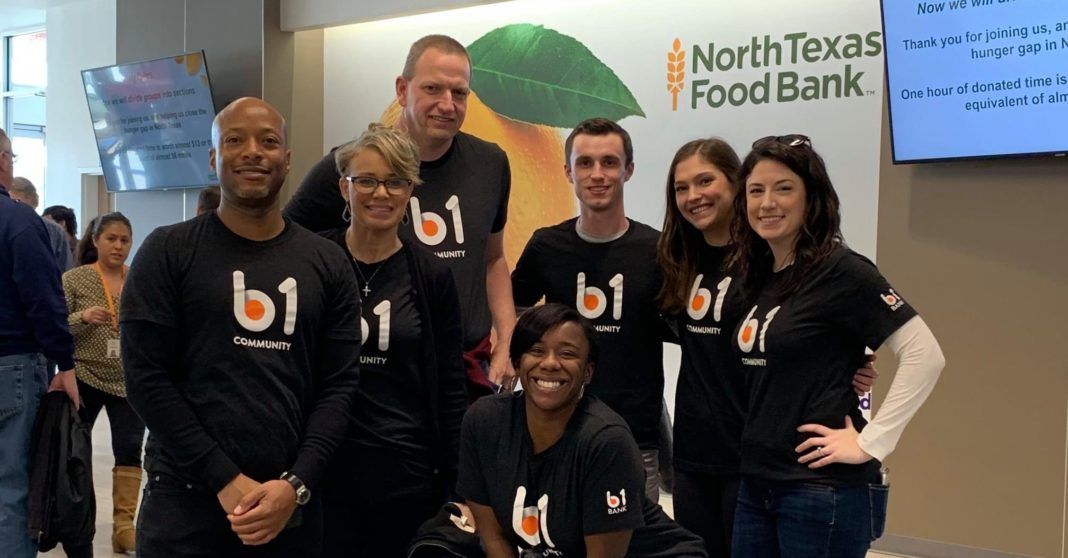 Sponsored by b1BANK
Returning to normal is easier said than done. Employees may feel disconnected and your company culture a bit splintered after the extended remote work conditions. Reconnecting your team will help get things back on track and can even generate some positive brand recognition for your business.
It's important for volunteerism to continue with appropriate safety considerations, of course. Many nonprofit organizations are still trying to fulfill their missions and are dealing with the lack of volunteer help. b1BANK builds culture through their b1COMMUNITY employee outreach initiative and Tracy Campbell leads the charge.
---

b1BANK launched b1COMMUNITY in September of 2019. In the first four months, their staff logged 292 volunteer hours
.
As Vice President of Business Development and Chair of b1COMMUNITY, Tracy Campbell builds relationship-driven teams. "It's one thing to give our money to support various causes," Tracy says. "But it takes it to an entirely different level when we give our time. I'm proud to work for a bank that supports and encourages community volunteerism."
---
Where to begin?
Volunteering your time alongside nonprofit organizations actively demonstrates that your company cares about its community. Here are a few ideas Tracy shared:
—Food pantries
—Mentorship programs
—Tutoring programs
—Providing financial literacy presentations to community and civic groups
—Local schools
—Councils on aging
—Foster care programs
—United Way agencies
—Local festivals
—Clothes closets
—Scouts
—Animal shelters
—Homeless shelters
—Women's shelters
—Hospice care groups
—Veterans homes
—Zoo educational programs
—Nursing homes
Companies can also show support simply by providing an organization with lunch or some other token of appreciation. A little kindness always goes a long way. b1BANK's Minden locations did this for the local post office carriers and clerks, and also for a hospice care group. The b1BANK Shreveport banking center provided breakfast for a local company that provides COVID-19 disinfectant services and storm restoration assistance.
---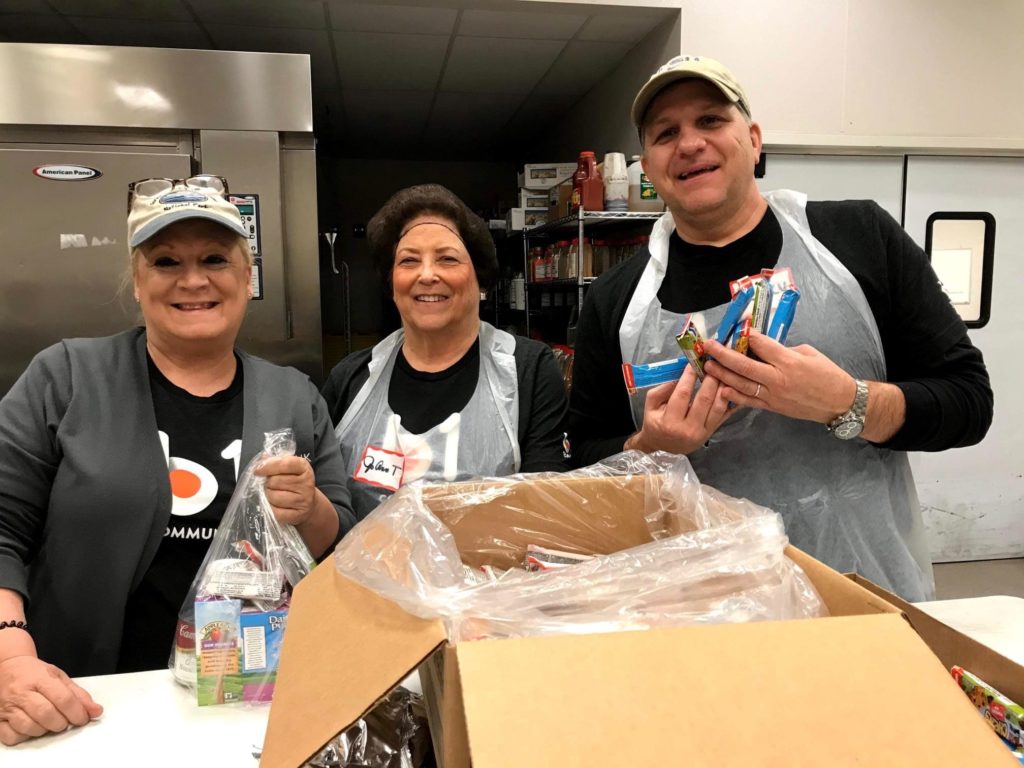 Lend a hand. Click the links below to learn more about these organizations b1BANK supports across all markets.
Autism Speaks: Autism Speaks is dedicated to promoting solutions, across the spectrum and throughout the life span, for the needs of individuals with autism and their families through advocacy and support; increasing understanding and acceptance of people with autism spectrum disorder; and advancing research into causes and better interventions for autism spectrum disorder and related conditions.
---
Big Buddy Program: Big Buddy's mission is to build a community of mentoring relationships that advance and inspire our youth. Big Buddy's vision is that every child has a positive role model leading him/her to make good choices, resulting in a healthy and rewarding life.
---
Habitat for Humanity: Habitat for Humanity partners with people in your community and all over the world, to help them build or improve a place they can call home. Habitat homeowners help build their own homes alongside volunteers and pay an affordable mortgage. With your support, Habitat homeowners achieve the strength, stability and independence they need to build a better life for themselves and for their families.
---
Jack and Jill of America, Inc.: Jack and Jill of America, Inc. is a membership organization of mothers with children ages 2-19. It is dedicated to nurturing future African American leaders by strengthening children through leadership development, volunteer service, philanthropic giving and civic duty. Today, Jack and Jill boasts more than 245 chapters nationwide, representing more than 40,000 family members.
---
Junior Achievement USA: Junior Achievement USA is the nation's largest organization dedicated to giving young people the knowledge and skills they need to own their economic success, plan for their futures, and make smart academic and economic choices. Junior Achievement reaches nearly 4.9 million students per year in 212,101 classrooms and after-school locations. JA programs in the areas of work readiness, entrepreneurship and financial literacy are taught by volunteers in inner cities, suburbs, and rural areas, by 106 area offices in all 50 states.
---
St. Jude Children's Research Hospital: The mission of St. Jude Children's Research Hospital is to advance cures and means of prevention for pediatric catastrophic diseases through research and treatment. Consistent with the vision of its founder Danny Thomas, no child is denied treatment based on race, religion or a family's ability to pay. Fundraising events for St. Jude are held throughout the U.S., and volunteers are always needed.
---
Susan G. Komen: Susan G. Komen is one of the most impactful breast cancer organizations functioning in the U.S. Its mission is to save lives by meeting the most critical needs in our communities and investing in breakthrough research to prevent and cure breast cancer.
---
United Way: United Way improves lives by mobilizing the caring power of communities around the world to advance the common good. United Way fights for the health, education and financial stability of every person in every community. When you volunteer through United Way, you're joining 2.8 million people who are giving back so others can get ahead.
---
Volunteers In Public Schools (VIPS): Volunteers In Public Schools was established in 1981 after court-ordered busing left the East Baton Rouge Parish school district deplete of community confidence and public involvement. VIPS' founders understood that public education is community work and knew that in order for our students to excel, they needed the support and participation from citizens. VIPS recruits, trains, screens, and places individuals, groups, and business representatives into public schools to assist underperforming students.
---
Tracy encourages businesses to reach out to organizations to identify their needs. "You may discover that there's a food pantry that needs a helping hand, or a meal delivery program that needs help, or a tutoring or mentorship program that needs adults to work with students this summer."
Click here for more information about b1BANK.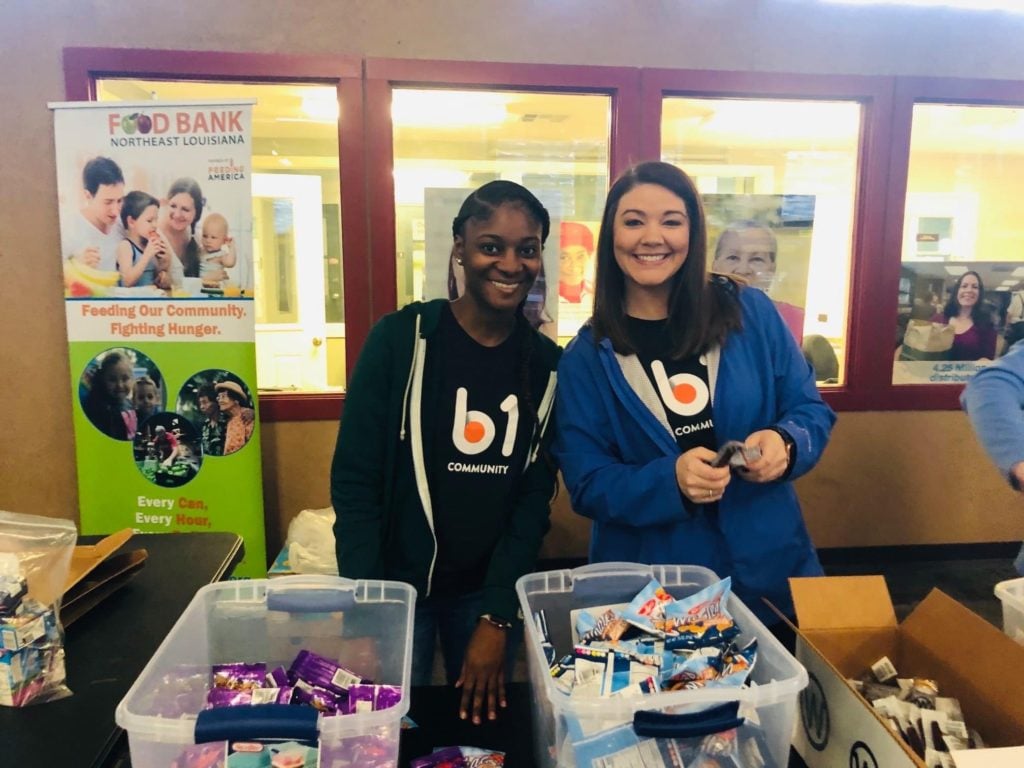 ---