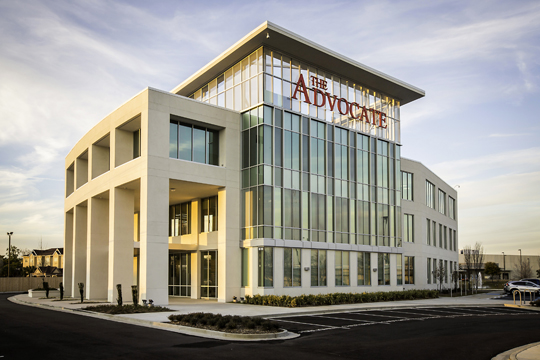 (Photography by Tim Mueller)
THE ADVOCATE BATON ROUGE HEADQUARTERS
10705 Reiger Road
Owner/Developer: Capital City Press (owned by Georges Enterprises)
Architect: Remson Haley Herpin
Contractor: The Lemoine Co.
Cost: $11.3 million
Year completed: November 2015
Use: Two and a half years after buying Baton Rouge's venerable old newspaper, New Orleans businessman John Georges has moved The Advocate's headquarters from an aging six-story building off Bluebonnet Boulevard, which it rented from the Rev. Jimmy Swaggart's ministry. The newspaper's swanky new headquarters just off Siegen Lane near Interstate 10 are located next to where its printing facilities were already housed. The new building features an expansive lobby with glass panel logos representing The Advocate's various properties, including the New Orleans, Lafayette and area weekly editions. It also houses a spacious newsroom for its team of editors and writers, and the building's exterior is covered with glass panels to allow for natural light. The location also offers high visibility off the interstate, with the newspaper's logo emblazoned across the front of the building.
FORM FOLLOWS FUNCTION:
"I think it's a good symbol of the vibrancy of The Advocate as a news organization. At a time when a lot of papers are retracting, we're making a big statement that we're here to stay. We very specifically planned on using those LED lights to celebrate things like Mardi Gras and LSU, but also our own corporate color, which is red. It's a much more accessible and inviting building, both to the public and our staff."
-Dan Shea, president and publisher, The Advocate