(Photo by Don Kadair: Lynn Clark of Habitat for Humanity)
There are more than 6,500 adjudicated properties in East Baton Rouge Parish, blighted houses and vacant lots to which the city has taken title because their owners—many of whom have long abandoned them—owe back taxes.
When the RDA was created in 2008, one of its primary functions was to acquire the worst of these adjudicated lots and put them back into commerce. To that end, the agency was given extraordinary power by state law to acquire these properties from the city-parish, then through an extensive but expedited process clear the titles and transfer them to developers.
That's no small thing. Most adjudicated properties are burdened by liens. Many have multiple owners spanning several generations. Often it's literally impossible to clear the title without a legal tool like the RDA's quiet title program.
"These are properties no one could buy on the open market if they wanted to because of the presence of delinquent tax liens and fractured title," says Frank Alexander, a law professor at Emory University who worked closely with the RDA in 2012 on the land bank program.
"So one of the functions of this was to deal with the properties that were inaccessible to the marketplace and imposing the greatest harm on surrounding properties. It's what made this RDA really unique."
But while the program was initially one of the cornerstones of the RDA, in recent years the agency has devoted more of its time, energy and attention to high-profile, special projects like Ardendale, a planned urban village in the neighborhood formerly known as Smiley Heights.
Such so-called catalyst projects are sexier, capture the public's imagination and have the potential to make a much bigger impact on a much larger area, while the land bank program is slow to show returns.
How slow? In fact, just eight houses have been built on 104 lots that the RDA has processed through its quiet title program over the last five years. Two more are under construction, making 10 redeveloped housing units on formerly adjudicated lots in five years' time. That doesn't sound like much of a record. But there are legitimate reasons redevelopment at this scale is so slow.
The RDA began working on the program in 2009, just about the time federal stimulus money from the Obama administration's Neighborhood Stabilization Program came to Louisiana. The city-parish allocated more than $500,000 of those stimulus funds for the RDA to use in its quiet title program, and the agency set about identifying which of the city's 6,500 adjudicated parcels it wanted to tackle first.
That process took more than two years, however, because the RDA first had to survey the parish and come up with some sort of plan for redevelopment. It came up with five, actually—small area plans called community improvement plans for the five council districts with the most blight and decay. Each plan called for a catalyst project around which redevelopment could take place, so the RDA selected 104 adjudicated lots that were seemingly well-situated to help get the catalyst projects off the ground.
It took another 18 months to clear the title to those properties, however, at a cost of some $5,000 or more for each. In some cases, that was more than the lot was worth. It wasn't until February 2013, then, that the properties—free of liens and fractured titles—were finally transferred to "community partners" for redevelopment.
The lots were transferred in batches, and most of them went to four groups: Habitat for Humanity, National Housing, LaFleur Industries and Invictus. The Mid City Redevelopment Alliance also received a few. All have plans to build affordable or market-rate housing on the lots—between 50 and 70 planned housing units in all.
Of the four main groups, Habitat for Humanity has had the most success so far with its redevelopment of a small neighborhood in Scotlandville.
Between 2010 and 2012 the nonprofit acquired a total of 16 lots from the RDA, on which it has since developed eight single-family houses of about 1,150 square feet each. Two more are under construction. Habitat has also purchased on the open market 20 additional lots in the area, which has enabled it to build a total of 39 houses on two streets.
Habitat's executive director, Lynn Clark, says the RDA was instrumental in the process of cobbling together the lots, even though just eight of the 39 homes—10 in all when construction is complete— were built on lots transferred from the RDA. It doesn't sound like much, Clark concedes. What matters, though, is that the effects of redevelopment are already radiating out to surrounding streets, reducing petty crime and increasing property values.
"When we started four years ago, the first house we built was appraised at $80,000," she says. "The other day one of them sold for $108,000, so in just four years property values have gone up that much."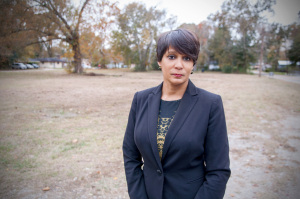 National Housing Community and Development Organization has had a harder time developing the 30 lots it received from the RDA. The organization is a nonprofit agency that was created by the for-profit development company National Housing Consultants.
Helena Cunningham, president of NHC, says National Housing CDO is running behind schedule because of changes to the HUD program the group originally planned to use to finance its construction of single-family homes in the Zion City area of north Baton Rouge. When HUD made the changes in 2013, National Housing CDO became ineligible for those particular loans.
Since then, National Housing CDO been trying to put together a financing package using conventional lenders. But that has meant changing the development plans for the Zion City property.
"Now, since we have to get a conventional loan, the project has to be more economically feasible, so instead of getting single-family homes we have to do two-bedroom doubles, as opposed to 1,100- and 1,200-square-foot single family homes," says Cunningham. "We're back at the drawing board to see how we can fit doubles on the lot."
Bryan LaFleur, who owns LaFleur Industries, is also scaling back plans for his RDA lots. He's a for-profit developer who is trying to redevelop 36 lots—26 of which are in Fortune Addition in north Baton Rouge and 10 of which are in Melrose East off Florida Boulevard—that were originally given by the RDA to the nonprofit Jarvis Green Foundation. However, the Jarvis Green Foundation wasn't able to get its redevelopment project off the ground so it transferred the lots to LaFleur earlier this year.
LaFleur has secured financing through conventional lenders to develop two duplexes in Melrose East and 14 single-family homes in Fortune Addition. But he's hoping the RDA will approve a scaled-down plan in Fortune Addition of just five homes and four duplexes. He realizes that's not very many new housing units, considering the thousands of adjudicated lots citywide, and the three dozen that were transferred to him. But starting small carries less risk.
"I don't think the majority of people realize how challenging this is," he says. "Everybody just thinks if you get some lots you go in and build on them, but you have to follow every requirement a grant or funding source gives you. It's just not that simple."
The fourth community partner to have received lots from the RDA is Invictus, a for-profit development firm based in Lake Charles and run by Chris Senegal. Senegal received seven lots located just outside the gates of Southern University, on which he is planning to develop market-rate rental housing. Eventually, he hopes the residential project will spawn commercial development. But his lots are interspersed between dozens of other blighted homes and overgrown lots that he has yet to acquire.
"We were waiting for the other development plan to get done … and get funding so when we go talk to these individuals we can write a check that day," he says.
Invictus and the others that received RDA lots are required, by virtue of their agreement with the RDA, to build on them within two years. Every six months the agency reviews their progress. If the developers haven't measured up by the end of the two-year period, the RDA will take the lots back.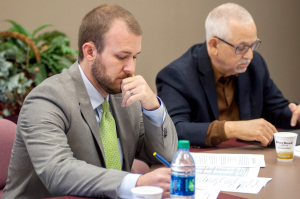 The RDA director of real estate, James Andermann, doesn't think that will happen. He is pleased with the progress all four community partners are making and believes several of the projects will get off the ground within the year.
"This is all about to pop," he says. "It's all going to start happening at once, and then you'll see how so many of our initiatives all tie in together."
For their part, developers say they're dedicated to the projects. They're just hamstrung by the challenges of finding financing. If you're a nonprofit seeking HUD financing, the regulations and restrictions can be crippling. If you're a private developer and try to go the conventional route, you're often stymied by the fact that demand is scant for new housing stock in neighborhoods that have but tiny pockets of redevelopment.
"If you had $120,000, would you want to buy a house in one of these neighborhoods?" says Cunningham at National Housing. "The answer is no. The requirements for home ownership have gotten stiffer and tougher, so if you can meet them, you're not going to want to be in that neighborhood."
Then there is the bigger issue of whether developing individual lots is the most effective way to redevelop blighted areas. Even if the various groups working with the RDA are able to build new housing units on their lots within the next two years, the parcels are so scattered and so few in number they won't make much difference. Noland concedes it's a problem, which is one reason the RDA has shifted away from the land bank program.
"We joined the chorus of people who argued, early on, that a key element of the RDA's existence should be dealing with this blighted, adjudicated property," Noland says. "Then we took off our shades and looked at it and said, 'Oh shucks, this hole is deeper than we thought. Just because you get a bunch of free property doesn't mean houses are going to spring up. You need catalyst projects to get people excited about moving to these areas."
Related stories: