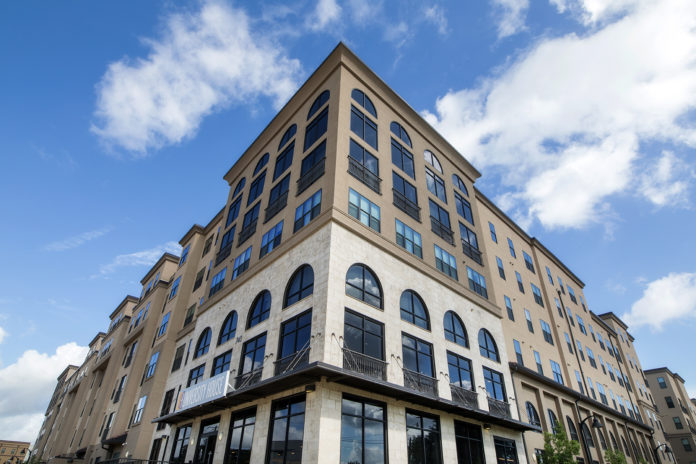 An analysis by Business Report of select commercial properties in East Baton Rouge Parish, including the University House apartments near LSU, suggests a 

pattern of under-assessment

that is leaving potentially tens of millions of dollars in lost property tax revenue on the table. (Photo by Collin Richie)
---
In October 2015, a Dallas company acquired the 287-unit apartment complex near LSU's North Gate, then called The Standard, for $108.5 million. At nearly $387,000 per unit, the deal was—and still is—the most expensive commercial transaction in Baton Rouge on record.
But nearly three years later, the student housing complex, since renamed University House, is assessed by the East Baton Rouge Parish Tax Assessor at just $3.3 million, which, when you do math, means the assessor valued the property at $33.8 million, or about one-third of what it sold for in 2015.
As a result, University House's property tax bill is currently $416,867 per year, compared to the $1.3 million it would be if the assessment reflected the most recent sale price—which is not technically the same thing as its market value but is generally considered a strong indicator of it.
For cash-strapped East Baton Rouge Parish, the difference between what that one property could have been assessed at and what it actually was represents a potential loss of nearly $1 million in tax dollars in just a single year. And University House is hardly a unique example.
Business Report recently analyzed the assessments of more than a dozen of the largest commercial transactions in the parish between 2014 and 2016—deals that occurred several years ago and should have been updated by now on the tax rolls. On average, the properties are assessed at just 55%—slightly more than half—of their sale price, resulting in a potential loss to the parish of more than $2.3 million in just a single year.
See the 12 analyzed properties at the end of the story.
East Baton Rouge Parish Assessor Brian Wilson denies his office is under-assessing commercial properties. Yet, he concedes he is intentionally assessing some of them at well below their sale price. The reason? Wilson simply doesn't believe the sale price of many commercial properties on the tax rolls represents anything close to their market value. In fact, he argues, many commercial sales—particularly the highest priced ones-—are atypical of what this market will bear and, therefore, cannot be used as the basis for assessments.
"A lot of times with commercial properties, the sale price is not a good indicator of what the market value is because you have other factors like leases and tenants," Wilson says. "If someone buys a piece of commercial property for $400 per foot and we think that's too high we're not going to put it on the rolls at $400 per foot. We assess it based on what we think a property is worth."
Unsurprisingly, this line of reasoning doesn't sit well with some real estate professionals and market watchers who say it just doesn't make sense. Is a sophisticated buyer, armed with appraisals and market comps, really going to overpay for a property by as much 60%? Perhaps on a rare occasion. Instead, critics say there is a pattern of under-assessing commercial properties in East Baton Rouge Parish and this is problematic for several reasons.
For one, it makes the job of appraisers more difficult because you can't accurately estimate a property's net operating income in a market when commercial property assessments are so variable. As a result, how do you tell a buyer or seller what a property is worth or what kind of ROI they can expect?
There's also a fairness issue. When residential properties change hands, assessments are automatically updated to reflect the most recent sale price. If you just bought a $700,000 home, your next tax bill will likely reflect an assessment of $70,000. Why shouldn't the same principle apply to commercial properties?
Perhaps most troubling, however, is that discounting the tax bills of large commercial property owners deprives local government of tens of millions of dollars a year—or more—that could be going to police protection, school system improvements and infrastructure projects. It also drives tax property tax bills higher, especially on taxes dedicated for specific projects or purposes. In those instances, millage rates are set based on the need to collect a fix dollar amount within a specific time frame. If commercial properties—or residential ones—are under-assessed, it forces the taxing authority to set higher rates in order to collect the needed revenue.
"Any time property isn't assessed at its full value, public services are short changed," says Edgar Cage of the community organization Together Baton Rouge, which has fought successfully to funnel more property tax dollars back to local governments through the state Industrial Tax Exemption Program, or ITEP. "That means every other business and taxpayer are paying higher taxes to cover the shortages."
Commercial complications
Under state law, residential properties are assessed at 10% of what the assessor determines the market value of the property to be. Multifamily complexes are also assessed at 10%.
On other types of commercial properties—such as shopping centers and office buildings—the land is assessed at 10% of what the assessor determines the market value to be, while the improvements are assessed at 15%.
This sounds simple enough and for residential properties it is.
Anytime a residential property changes hands, the sale price data from the clerk of court's office is forwarded to the assessor's office and the assessment is changed in the tax rolls, Wilson says.
Then, every four years, the tax rolls are updated based on an analysis of sale price data for each subdivision in the parish. If the average sale price in Harveston is up 8% over four years, everybody's assessment goes up 8%, or at least that's how it's supposed to work in theory.
With commercial properties, on the other hand, it's far more complicated. In fact, Wilson will provide only a general summary of how it's done. He says his office determines the assessment of large commercial properties by examining a variety of factors, including recent sales of comparable properties, surrounding land values, building materials, architectural style, property age, leases in place and tenants.
Wilson says the approach used for assessing residential properties wouldn't work for commercial properties because there are too many variables with the latter to consider.
"What kind of leases does a building have? Are they one-year leases or 20-year leases?" he says. "Those types of things are going to affect the sale price but that doesn't necessarily reflect what the property is worth."
Wilson says his office does not rely on a particular formula but, rather, looks at each property individually. "And if the sale price is out of whack and I don't think that is what the property is worth, we're not going to assess it at that rate."
But at what point is the assessor willing to admit that maybe a property's sale price is not "out of whack" and that it's just really valuable property?
Consider the case of the Acadian Village Shopping Center on Perkins Road and S. Acadian Thruway. In 2014, Dallas investors paid $32.1 million for the Trader Joe's-anchored retail center. In the four years since, its assessment has held steady at just $1.6 million, which implies the assessor has determined its market value to be $11 million or so, or about 36% of what it sold for in 2014.
Earlier this year, however, it sold again—this time, for $38.5 million, which not only validates the 2014 sale price but increases it by 20%. Does Wilson still think $32 million is out of whack?
"Actually, we discussed that one a couple of weeks ago and are putting a new value on that property," he says. "But we're not putting it on at $500 per square foot (the 2018 sale price). Nothing in Baton Rouge sells for $500 per square foot."
Faulty logic
Wilson's logic is maddening to local appraisers, who routinely research tax assessments and can cite countless examples where the assessment of a commercial property doesn't come close to matching its sale price. They will tell you they see a pattern of under-assessments and it doesn't make sense for Wilson to argue that he can better determine what a property is worth than the buyers and sellers who have agreed on a sale price.
"The agreed upon price of a property is a strong indicator of market value," says Wesley Moore, an appraiser with Cook, Moore, Davenport and Associates.  "It's a meeting of the mind between two parties. For Brian to say all those meetings of the mind are not indicators of what the market will bear is nonsensical."
Moore agrees that other factors besides sale price have a bearing on a property's market value. But he says the sale price is a good starting point, and just because a property—like Acadian Village—sells for a much higher price per square foot than other retail centers in the area does not mean that's not what it's worth.
"Acadian Village is a prime piece of real estate," he says. "That's why it generates higher rentals than other strip centers, and value is generated by income stream. There is a direct correlation between a property's income per square foot and its market value."
The soft-spoken Moore is passionate on the subject, as are some of his fellow appraisers. Having commercial assessments "all over the map," as Moore puts it, makes it challenging for them to do their job for clients, who are trying to figure out whether they're getting a good deal or not.
"As an appraiser I'm asked to make projections regarding future cash flows for any individual property I'm valuing, and if I'm determining the market value of an income producing property, a bottom line net operating income projection drives the valuation," he says. "The property tax line item is often the largest operating expense …  so inconsistency by the assessor makes it difficult to project how any given assessor is going to handle future taxation."
Besides the logistical issue, there's an issue of fairness. Residential assessments are updated regularly and efficiently, based on market comps. Why shouldn't commercial properties be held to the same standard?
What's more, appraiser Dave Lakvold says a quick check of the tax rolls will show that the pattern of under-assessing commercial properties extends far beyond the large, high-profile shopping centers and apartment complexes that have recently changed hands. He suggests the problem is far worse when you look at properties that have been held by the same landowner for years or longer.
"There are some assessments that haven't been changed in 40 years. I know of the tracts," he says, without naming then. "They're nice families, the property owners, and who's going to complain that their tax bills are too low?"
Lakvold, declining to be specific, also cites a large mobile home park that, as a point of comparison, is assessed at less than his personal residence. "That frustrates me as a taxpayer."
Adding to the frustration is the fact that many of the multifamily complexes that are assessed at half of what they could be are owned by out-of-state investors. In fact, nine of the 12 properties spotlighted in this story have owners from outside Baton Rouge or Louisiana. They're not paying their share of local taxes, while local residents are getting hit with a higher property tax bill at least every four years, if not more often.
How much public money is being left on the table is anyone's guess. What is certain is that the parish could be collecting a lot more. In recent years, groups like Together Baton Rouge have taken aim—and affected change—with ITEP. They've argued it's unfair for the state to deprive local governments of their property tax dollars by giving manufacturers a big tax break.
The practice of under-assessing commercial property in East Baton Rouge Parish is merely a different piece of the same puzzle, says TBR's Edgar Cage.
"Whether it's exempting a big company from taxes or failing to assess them properly, the local government is missing out on money to fund services," he says. "We need a fair assessment where everybody is pulling his own weight."
Wilson denies that his office is depriving the parish of any tax money.
"Do I think we're leaving tax money on the table? No, I do not."
Common problem
The assessment issues in East Baton Rouge Parish are not unique. Bankers, appraisers and real estate professionals tell similar stories from other parishes. Orleans Parish is particularly notorious, though it's not as bad as it was before Hurricane Katrina, when the city had seven elected assessors and property owners would routinely pay personal calls on their assessors at City Hall to complain about tax bills bearing gifts like bottles of wine.
Even today, there are reportedly countless commercial properties, particularly in the French Quarter, that are under-assessed and haven't been updated on the tax rolls in decades, even as the city has undergone a post-Katrina real estate boom.
"Nothing on Bourbon Street is assessed at what it is worth," says one New Orleans-based appraiser who works for a bank. "They've gone and beaten up all the middle income property owners, raising their assessments like crazy, and then the big, big properties are not being assessed at what they're worth."
It might make Baton Rouge feel better to know it's not alone, but it still doesn't solve the problem. That duty falls to the Louisiana Tax Commission, a statewide agency charged with assessing public utilities, hearing the appeals of aggrieved taxpayers over assessments, and doing ratio studies to determine whether parishes are assessing fairly.
Its chairman is Metairie attorney Lawrence E. Chehardy, who succeeded his father, Lawrence A. Chehardy, as Jefferson Parish assessor in 1980 and reigned as one of the parish's most powerful politicians—and staunchest defenders of the homestead exemption—for more than 30 years.
Chehardy says local assessors are obligated to reassess properties when they sell. He says the assessors can use several methods to determine a property's value and there's no single, correct way. But he acknowledges that using its sale price is a good place to start.
Chehardy says he is unfamiliar with any irregularities with assessments in East Baton Rouge Parish and says his commission doesn't like to second-guess what an assessor is doing. If the commission was made aware of a pattern of under-assessments, he says it might take a closer look.
But the LTC, with a $4 million operating budget, isn't adequately funded to hire enough staff to go out and check every commercial property in the state to ensure it is correctly valued and assessed.
"The LTC could do a bigger and more efficient job in all these areas but it gets down to resources," he says. "We've got states that are similar to ours in size and their budgets are twice what we've got. With the budget restraints that we have, you have to pick and choose your battles."
There are plenty of resources available to help assessors determine market value, particularly of specialized types of properties like industrial space or hotels. Chehardy says industry associations provide information with metrics and data that assessors are encouraged to use.
He says the state has made strides in addressing long-standing disparities with assessments, though he recognizes there is room for improvement. But, he concedes, it's not the kind of problem anyone is banging down his door to correct.
"They'll complain about the shabby roads or schools," he says. "But nobody's going to complain that they want higher taxes to pay for them."
---
---
---
---
---
---
---
---
---
---
---
---
---