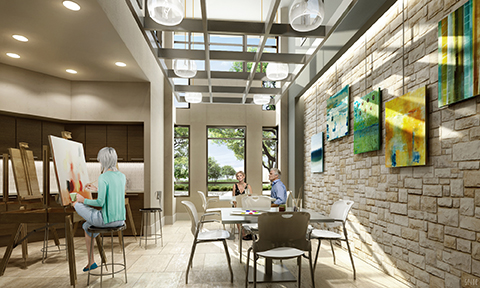 (Image courtesy Avanti Senior Living: Avanti at Highland's art studio)
With a booming economy and employment in the Baton Rouge area at an all-time high, residential construction in the region has soared, with the number of new residential building permits reflecting the demand for new housing in the area.
Yet, while attention focuses on housing for a growing workforce, construction and development are also booming for another category of resident: seniors. In particular, several high-end developments are in the works in the Baton Rouge market, reflecting a national trend to provide residences tailored to the aging baby boomer market.
With wine lockers, gaming centers and art studios, these aren't your typical independent and assisted living facilities for seniors.
"Nationally, as everyone knows, there's a significant aging population, which is one reason a lot of markets are seeing a big push for senior-living developments," says Harrison Young, owner of Cardinal Ventures, which is co-developing The Blake at The Grove with CR Properties. "Coupled with that, the baby boom generation has a lot of wealth and high expectations. With this need and demand, the national trend is to bring new, nicer projects to the market."
About 80% of residents in these new developments will come from the Baton Rouge region. However, some will move to the area from other parts of the country as their adult children who live and work in Baton Rouge want their aging parents and other family members to be closer to them.
Much of the existing inventory of senior housing was built 20 to 25 years ago and is starting to show its age, says Steve Hicks, chairman and CEO of Provident Resources Group, which is developing Provident Village at Americana in Zachary.
"More facilities are being added because the existing inventory is outdated and does not meet the demands of today's consumer of senior living services," Hicks says. "East Baton Rouge Parish post-Katrina has had a huge growth in population relative to where we should be had greater New Orleans not have been devastated by Katrina. The entire I-10/I-12 corridor is a huge-growth area, and that growth is at all levels of income and across all different age groups. Just as demand for other services has risen, the demand for quality senior care has risen. "
The higher-end, upscale developments reflect baby boomers' attitudes, expectations and lifestyles. For example, baby boomers tend to be more active than their parents, so they want health and fitness to feature in any residential development targeting them—even in their golden years.
Often it is the adult children—and not the seniors themselves—making the decision about where their parents will live. So senior living developments must meet those decision makers' expectations, as well.
"The first thing everyone is concerned with is getting the right quality of care," says Kathryn Juneau, a Baton Rouge-based Realtor who represents Avanti, the company developing Avanti at Highland. "When they're making decisions, the adult children are then also looking for the types of amenities that they would like. They want the best for their parents."
Senior living developments typically offer some combination of units for independent, assisted care and memory care living, providing a continuum of care for residents. Independent units are designed for senior residents who have an active lifestyle but want to downsize or simplify. Meanwhile, assisted-living units are for residents who need more hands-on personal care. Residents with memory impairment issues, such as dementia or Alzheimer's, live in the memory care units, which are usually located in a secure building.
Four projects in development in the greater Baton Rouge area include The Blake at The Grove, Garden View at Jones Creek, Provident Village at Americana and Avanti at Highland. While similarities among the developments exist, the differences across developments reflect the complex, nuanced expectations that seniors have developed over their lifetimes.
THE BLAKE AT THE GROVE
Location: Off Interstate 10 adjacent to the Mall of Louisiana
Number of units: 213, including 111 independent, 67 assisted living and 37 memory care
Time frame: Construction set to start this fall, with a target opening date of early 2017
When Mississippi-based Cardinal Ventures and CR Properties were considering where to develop a senior-living project, they looked no further than Baton Rouge. They ultimately chose to locate the 235,000-square-foot development at The Grove, a traditional neighborhood development off Interstate 10 adjacent to the Mall of Louisiana.
"We picked The Grove because of its location in Baton Rouge," says CR Properties Rob Tatum, who has experience building multifamily developments in Baton Rouge post-Katrina. "We liked that the site is adjacent to The High Grove apartment complex, well-positioned near the Interstate and a linear park, and the presence of high-end development there. Choosing the Baton Rouge market really was a no-brainer."
Harrison Young, owner of Cardinal Ventures, says setting up shop in an existing TND also appealed to them. "We like to be near vibrant, mixed-use, walkable projects," he says. "The higher density among mixed-use helps keep our residents active and young." The demand for upscale, resort-style senior living "speaks to the growth and affluence of Baton Rouge, and particularly this area of Baton Rouge," Young adds. The development will be managed by Blake Management Group, which also will operate The Blake at Lafayette when it opens in 2016, as well as CR Properties' The Claiborne at Thibodaux, a retirement community that will also open in the first quarter of 2016.
Residents at The Blake at The Grove will have access to amenities ranging from a salon and spa to on-site restaurants and bistros serving chef-prepared meals. Residents in assisted-care and memory-care units will have three meals a day in the restaurants, while those in the independent-living units will have the option to eat in the restaurants or on their own, if they prefer.
Tatum says a common mistake made with some senior-living developments is approaching them like any other multifamily housing project.
"In a traditional mixed-use development, the housing is built for people who go to work and aren't home for much of the day," he says. "We're providing a community for seniors, which requires a lot more thought. It's important to think through the life of a senior and pay attention to their unique needs. We're very conscious of what we put into the property, and we plan out how it fits into the wider community. The expectations of today are different—you have to provide a lifestyle that people are used to. I had a real estate professor who said, 'Never build something you wouldn't live in yourself,' and that's how we approach it. When you care that much, it resonates."
GARDEN VIEW AT JONES CREEK
Location: Jones Creek Road near Interstate 12
Number of units: Phase one has 72, including 48 assisted living and 24 memory care; a second phase will include 24 additional memory care units; an expected third phase will include up to 100 independent living residences.
Time frame: Construction began in fall 2014, with an opening date projected for fall 2015
With senior-living developments in Lafayette and New Iberia, Garden View Assisted Living knew what would make residents feel at home well before the company broke ground on the 65,000-square-foot first phase of its most recent development on Jones Creek Road near Interstate 12 in Baton Rouge.
"When someone moves out of their home and into what's more like an apartment, it can be quite a change," says Terry Crochet, the architect, developer and owner of Garden View. "We want them to feel comfortable in a tranquil environment so they can enjoy life rather than worrying about the upkeep of their home."
Indeed, Crochet wants residents at Garden View at Jones Creek to feel at home in the community long before they might need the more hands-on care provided in assisted living and memory care units.
"We target people before they fall or have medical needs," he says. "They're active but may want to downsize the house they have. They may want to travel but don't want to worry about closing up the house or about taking care of their pets. People who come to us earlier stay with us longer."
For their Baton Rouge development, Garden View Assisted Living chose the location on Jones Creek Road because the company prefers for its senior living communities to be in a residential setting with easy access. Baton Rouge is a natural fit for Garden View's third location, according to Crochet. "People want to bring their aging family members closer," he says. "Baton Rouge is a vibrant community with an influx of jobs and income levels to support doing that."
Garden View at Jones Creek, like the other Garden View developments, will have a resort or high-end hotel feel, Crochet says. "People often have a perception of senior living that is more institutional," he says. "They come to our facilities, though, walk in and immediately it takes the edge off."
Crochet says that when seniors start adding up the costs of living in their home—"mortgage, cable, lawn care, just maintenance," he says—they realize that senior living, including assisted living, is more affordable than they might have thought.
Amenities range from access to an experienced wellness coordinator and ample gardens around the development, to housekeeping and laundry services and therapy pets. Garden View also serves restaurant-style meals. "We have some awesome chefs who make fantastic meals with a lot of choices," Crochet says. "The biggest complaint we get from residents when they move in is that they gain weight."
To meet the demands and expectations of today's seniors, Garden View focuses on the details of senior living. For example, Crochet says that Garden View builds bigger units—between 500 and 650 square feet, with walk-in closets. And, in the memory care units, Garden View uses memory boxes, decorated with meaningful items from a resident's life or their family, outside residents' units unit instead of room numbers. "We have some personal touches like that to help ease the frustrations of memory issues," Crochet says. The same attention to detail will characterize the independent-living units, he says. "We just do it a little bit different, I think. That's the architect in me."
PROVIDENT VILLAGE AT AMERICANA
Location: Zachary
Number of units: 90, including 48 assisted and 42 memory care; independent-living houses will be part of the expected next phase
Time frame: Break ground in fall 2015, opening in late 2016
Provident Resources Group didn't want to build a senior-living development cut off from the rest of the city. Instead, the Baton Rouge-based nonprofit development company wanted to be part of a larger, thriving community.
The firm found that opportunity by partnering with Americana in Zachary. The result will be Provident Village at Americana, a $20 million state-of-the-industry senior living community that will form an integral part of the existing Americana TND development and the growing city.
Charles Landry, developer and spokesman for Americana, says including senior-living residences contributes to the vibrancy of a TND.
"If you ask the average person on the street what an amenity is, they'll say a swimming pool, tennis court, that sort of thing," Landry says. "We believe a prime amenity in our TND is the senior living component."
Although Provident Village at Americana is a stand-alone project, Landry says the senior-living development will lead to more house sales in Americana, which is targeted toward younger families interested in the Zachary school system. This trend also will lead to continuity in the community as residents can move to Provident Village and stay in the community as they age. Ensuring that the senior-living component is included on the front end of the project also means that seniors can live near their children and grandchildren.
By partnering with Americana, Provident will be able to provide residents additional amenities, such as the new, $12 million YMCA, which was strategically located across from Provident Village. And residents can mingle with Americana residents at the community gardens or at events on the communal green.
With no gates and no private streets, the development's focus is on walkability.
"Ninety-nine percent of these types of facilities are stand-alone—they're little islands somewhere in the city," Landry says. "For the most part, residents can only get around in buses or cars. That is exactly the opposite of the environment we will have in Americana because it is all walkable. They can walk to the Y, to the grocery store and restaurants, to the pond stocked with fish. The ability of the residents to have the lifestyle that all the residents of Americana will have is a big selling point for the senior living. It's a very different model than anything in the parish. Seniors are not isolated—they can live vibrantly."
Provident Chairman and CEO Steve Hicks says Baton Rouge-based Provident's original plans expanded because of a lack of senior-living services in the northern part of East Baton Rouge Parish. "When the decision maker is looking for a place for their parents to live, they want a facility equal to what they've lived with," Hicks says, "so the demand is for a higher quality of product with more amenities, more services and more comforts."
Provident Village offers six types of rooms, thus avoiding a cookie-cutter approach to living, Hicks says. The development also incorporates technology-based services to improve residents' experiences. For example, residents who are having memory issues can be upset by a staff member, whom they may perceive as a stranger, coming into their room. Through preprogrammed messages recorded by a resident's family members, however, the resident may be more comforted. "If at 5:30 p.m. a sweet voice of your daughter comes on a monitor and says, 'Mom, Billy Bob is going to come to your room and take you down to the restaurant so you can have dinner,' that can greatly enhance the experience for the residents, as well as for family members," Hicks says.
"Everyone talks about the 'wow' factor—they want to walk in the door and say 'wow,'" Hicks says. "So, it's important to have that image. But people are also looking for activities—they don't want residents to be sitting at a table just existing. They want to ensure there is quality of care, not just medical care but daily activities and living. They want to see a community that is active and living vibrantly."
AVANTI AT HIGHLAND
Location: Burbank Drive and Highland Road
Number of units: 90, including 50 assisted living and 40 memory care
Time frame: Construction set to start this fall, with a targeted opening date of late 2016
For Avanti Senior Living, standard senior living developments often seem to be cut from the same, generic cloth. That will change with the Texas-based company's luxury senior community, Avanti at Highland. The company also is developing senior living communities in Lafayette and Covington.
"There's been a very stereotypical, stale mold of assisted living," says Kathryn Juneau, a Baton Rouge-based Realtor with Sperry Van Ness | Graham, Langlois & Legendre who represents Avanti. "Avanti's definition of high end is different. It's not just crown molding and granite countertops—it's something that exceeds the norm." Avanti at Highland—and Avanti's other senior developments—are "more like a boutique hotel," Juneau says.
Avanti, for example, integrates technology into its senior-living centers. For example, every resident gets a personalized tablet, which enables them to video chat with family and friends.
The development includes telehealth rooms, so residents can speak with their physicians without having to leave the facility. And Avanti maintains electronic medical health records for residents, allowing physicians to quickly access a resident's medical history if needed. Avanti's staff each have a hand-held device with access to a resident's data in real time.
"If a resident complains about a headache and a team member gives them Tylenol, they record that with their handheld device and the resident's records are updated immediately," Juneau says. "Then, if another team member checks on the patient 10 minutes later, they can see that the resident was complaining about a headache and was given Tylenol. They can ask the resident how their headache is and, if it hasn't improved, they'll know and can consider other options. The patient could be experiencing the beginning stages of a stroke. This technology can be a life-saver."
Residents also have access to a full-service spa and a wellness studio. An art studio enables residents to explore their creative side.
The development also has wine lockers, where residents can store their bottles. When they are ready to pop the cork, they can do so in Avanti's bar. Juneau notes that Avanti does not sell alcohol to residents or their guests, but residents can provide staff with a bottle to serve.
To encourage family visits, Avanti includes a child-designed play area, complete with state-of-the-art jungle gym and the latest electronic games, in its senior facilities.
"What keeps people thriving," Juneau says, "is being able to see their families and for the families to want to be there. That's real life."