Danny McGlynn and Ritter Maher Architects
inspire a new tone for Mid City
(Photo by Adam Pitts) Fading signage, cracked sidewalks and barred windows front the businesses scattered along one of Baton Rouge's most prominent streets. Once the commercial heart of the city, some portions of the Government Street corridor from downtown to Lobdell Avenue slowly have decayed into sparsely populated pockets of run-down strip malls.
For drivers hustling through traffic on the four-lane thoroughfare, neglected storefronts simply fade into the background as focus shifts to dodging potholes and swerving around turning vehicles.
For years, the long, steady decline of much of Government Street was depicted in living color as the once-gleaming white façade of the historic Darensbourg Building faded into shades of gray, and the space between green vines climbing its walls was filled with the chaotic hues of amateur graffiti.
Squatters even came to call the building home, burning a large hole in the ground floor to accommodate makeshift campfires. It is only fitting, then, that a collective vision for the redevelopment of Mid City now hinges on the success of efforts by developers and local leaders to raise the forsaken Darensbourg Building and those around it from the ashes of their former glory.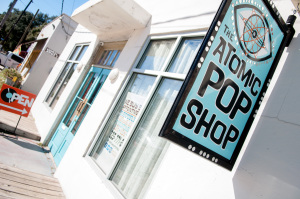 These days, developer Danny McGlynn and architects Scott Ritter and Steve Maher are some of the most visible agents of change in the area. All are partners in the Model Block urban redevelopment project who see the potential hidden within the empty storefronts that dot the 2900 block of Government Street. (Take a 60-second video tour of the Model Block.)
Their urban renewal plans—in the making since 2005—are responsible for the ongoing redevelopment of nearly the entire block.
The area, adjacent to Baton Rouge Magnet High School and just across the street from property owned by Catholic High School, was once the site of a tattoo parlor, a skate shop, and a tax service. Now the block is home to a yoga studio, a funky record shop, a health food store, and a hair salon—soon to be joined by other boutique retailers and food vendors, all carefully selected to fit the eclectic preferences of the surrounding neighborhoods.
The Darensbourg Building, a vacant eyesore for more than 15 years, is in the midst of a major renovation and will become the new offices of Ritter Maher Architects.
"The buildings themselves are new pennies," Ritter says. "They were broken-down pieces, but now they are reimagined."
The "Model Block guys," as many of the business owners surrounding the block refer to the trio, share the same vision as the diverse tenants along Government Street between Ogden and Bedford drives.
"I had this idea that Government Street could become the artsy, Magazine-type street for Baton Rouge," McGlynn says, referring to the eclectic roadway that runs through the heart of New Orleans. "I thought it was a good thing in a good place. It has an artsy feel to it."
This portion of the corridor has the foundational elements necessary to re-emerge as a suitable destination for commerce as it connects sizable residential and commercial areas from Mid City to downtown. The Garden District, Capital Heights, Steele Place, Bernard Terrace and Ogden Park represent a broad spectrum of age, race, occupation and income levels.
The area also offers a mix of national retailers and small businesses. And with calls for alternative transportation models prevalent in plans such as FuturEBR, the area could take advantage of an inherent "walkability," providing ample access to the diverse surrounding neighborhoods.
With the city's plans to improve traffic flow by reducing Government Street from four lanes to three, along with revamping sidewalks and adding bike lanes, the Model Block team and many area business owners finally are seeing their collective vision for an eclectic commercial hub become a reality.
Mid City Redevelopment Authority Executive Director Samuel Sanders says Model Block serves as a pilot for what can be accomplished along Government Street. Although the timeline for the roadway revamp is still uncertain, Sanders says that upgrade also will be a catalyst for more business along the corridor.
"Infill projects and rehab projects take longer, so we are not surprised that it feels slow, but things are definitely moving a lot faster now, and there is more of a buzz that we can get excited about," Sanders says.
New Kids on the Block
With its Field of Dreams approach, Model Block seeks to fulfill the prophecy, "If you build it, they will come."
Since the fencing came down around the Darensbourg Building in October, the visible progress of construction is sparking new hope for the area.
"You can just see it," Maher says. "Other places are being fixed up, and there are 'For Lease' signs that you didn't see two or three years ago. It is exciting to see it all happening and to be on the front end."
With four businesses in Model Block already doing commerce, Maher says the partners have received a lot of interest in the remaining three available spaces. But they aren't leasing to just anyone.
"It needs to be something that understands the vision of Mid City and will be a partner of the block," Ritter says. Adds Maher: "We've turned away tenants that we just didn't think were a good fit."
The site of what was formerly Liberty Tax is still available, and the Darensbourg Building has the potential to hold up to two new tenants in 4,000 square feet on the ground floor. Ritter Maher Architects' new office will occupy the entire second floor.
"The best part about this whole thing is that it is our home," Ritter says. "It is a vibrant part of town that we are getting to re-energize."
The Atomic Pop Shop, Purusa Yoga, Denicola's, and the Gaudet Bros. hair salon already call Model Block home. However, Denicola's is planning to relocate to its new warehouse on Nicholson Drive early next year, allowing Purusa Yoga to expand into the space.
"It is a tight-knit group," says Lauren Collignon, owner of Purusa Yoga. "We are all here to make Baton Rouge a better place."
Modern Meals—a takeout restaurant for fresh, healthy, pre-packaged meals—is also expected to move into the location formerly occupied by Mid City Bike Shop and Urban Nine skate shop by the end of the year.
Ashley Munnerlyn, co-owner of Modern Meals, says she wants to see Baton Rouge grow, thrive and become a place where her children will want to stay when they grow up.
"This area is up and coming, and we can see the revitalization happening," Munnerlyn says. "We want to stay as involved in the community as we can and get the street up and running as quickly as possible because we definitely see promise here."
Mid City TLC
What's happening through the Model Block project shows that with a little care and some community support, the right developers can lift a downtrodden area and make it into a premier commerce destination. And a little serendipity can't hurt.
Prior to partnering with McGlynn on the Model Block Project, Ritter and Maher were considering moving their offices downtown. However, when the architects ended up on a flight with McGlynn from Atlanta to Baton Rouge in 2011, Ritter and McGlynn got to talking. McGlynn seized on the opportunity to make his case for Mid City, convincing Ritter and Maher to move their office to Government Street instead of downtown. With their new alliance formed, the trio began forging ahead to see the model block for Mid City realized.
For McGlynn, the project has faced a tremendous amount of obstacles; they include financial setbacks caused by Hurricane Katrina, the tragic loss of a friend and business partner to colon cancer, and the economic downturn.
Once Ritter and Maher joined the effort, the three continued seeking financing from East Baton Rouge Redevelopment Authority and tried to resolve the Planning Commission's objections to the project.
Ritter calls it a labor of love. He and Maher worked to overcome structural issues with the building, as well as budget constraints, continuing to run their architectural business while building a new office.
"Initially, when Danny, Steve and I started this, financing was always a struggle," Ritter says. "You have a vision for what this project can be, and you are trying to get others to understand and see the same vision you have."
One major challenge: the valuation of the property in a blighted area of town. "The appraisers don't like this area of town yet," Maher says. "Our appraisals came in a lot lower than we valued them at, which means the banks didn't give us as much money, but the construction costs are the same if not higher, so that was tough."
However, with the help of the East Baton Rouge Redevelopment Authority and some gap financing, Model Block was on the move.
"RDA is great for Baton Rouge, and we are huge supporters," Maher says. "We are eager to start paying our loan back just to see them give that money out to other people."
Now past their many obstacles, the men are setting an example for Mid City and clearing the way for new development on Government Street.
As business owners and developers turn their eyes from downtown to this area, many share a similar vision to grow and foster a funky, cultural district along Government Street. The challenge is bringing that vision to fruition with a political and municipal system that can hold back progress and stunt growth.
"You'd be hard-pressed to find a project in the area like this, where a whole block is reimagined," Ritter says. "Hopefully we've been an inspiration to others."
Out with the old
How, or even whether, that inspiration will take hold on other sections of Government Street remains to be seen.
Hearthstone Properties, the tax-exempt real estate arm of Catholic High School, owns the nearby Westmoreland Shopping Center. The biggest change to the unassuming property in the last two decades was the leveling of half its retail space in 2011 to make way for a recreational field for Catholic High. Since then, it has been suspended between a period of neglect and the promise of future development.
More recently, this year the shopping center's longtime anchor, Piccadilly, shuttered its doors. It remains home to Louisiana Key Academy, a charter school for dyslexic students. Meanwhile, the national chains in the space, Family Dollar and Radio Shack, sit shoulder to shoulder with small merchants who struggle to maintain retail traffic while waiting for the shopping center to emerge from its long dormancy.
To see Westmoreland's untapped potential, one need only look across the street to Ogden Market, home to a variety of tenants; among them are Time Warp vintage boutique, H&R Block, Advance America Cash Advance, Sun's Hair Crown & Beauty Supply, Radio Bar and Red Stick CrossFit. With a little assistance from the RDA, Ogden Market has been updated with new landscaping, a refurbished façade and a freshly paved parking lot.
With so much activity just across the street, Catholic High's decisions regarding what, if anything, to do with Westmoreland are considered the key to unlocking the full potential of the area.
"That is our biggest question mark," says Joshua Holder, owner of Time Warp. Holder, who views the drab shopping center from his storefront every day, says he has been waiting 12 years for something new to happen to the space across the street.
Catholic High President Gene Tullier says whatever the school decides will serve the interests of both the neighborhood and the school. "We really want it to be an improvement for the neighborhood, the school, for Mid City and the whole area," Tullier says.
Walter Monsour, former president and CEO of the RDA, says the agency has been working closely with Catholic High to help with plans for redeveloping Westmoreland, which the school bought three years ago.
Another missing piece necessary to round out the area is a plan for the old Southern Camera Service shop located across the street from Model Block. Geordy Waters of Waters and Pettit Commercial Real Estate says he'd like to lease the building as restaurant or retail space.
With plans to add 30 parking spaces behind the building, Waters says a restaurant would "complement the whole effort" and be a perfect fit for the space and the block.
For other businesses in the area, the future is unclear. There is a lack of retail activity at Avo's Food Market, adjacent to Waters and Pettit's space, while a nail shop and the three payday loan firms within the area don't quite fit the artsy vision for the block.
"There just seems to be some sort of disconnection between what a lot of residents and people want versus other people that actually own the property," says artist Brad Jensen, owner of Bricks & Bombs, an art and apparel shop and gallery space on Government Street.
Jensen, who lives in Ogden Park and opened his shop in 2009, contends change in the area has been slow.
"The property owners on Government Street have crippled its growth in so many ways," Jensen says. "If you just drive up and down [the street], the 'For Lease' signs are crazy, and there is a hodgepodge of businesses that clearly don't fit in line with some of the other things that people are trying to make Government Street to be.
"As a business owner, it is hard sometimes to look out and not really see anyone walking around and say, 'Wow, will this really ever work?'" Jensen says. However, he agrees that the Model Block project is just what the area needs with its contribution to the eclectic vibe.
Jensen also maintains that the demand for a walkable, bikeable neighborhood close to retail shops, galleries and local food sources is prevalent among residents in Capital Heights, the Garden District, Ogden Park and Bernard Terrace.
"The culture is there with the neighborhoods to support it," he says. "You just have to be able to create businesses and allow businesses to thrive on those types of people."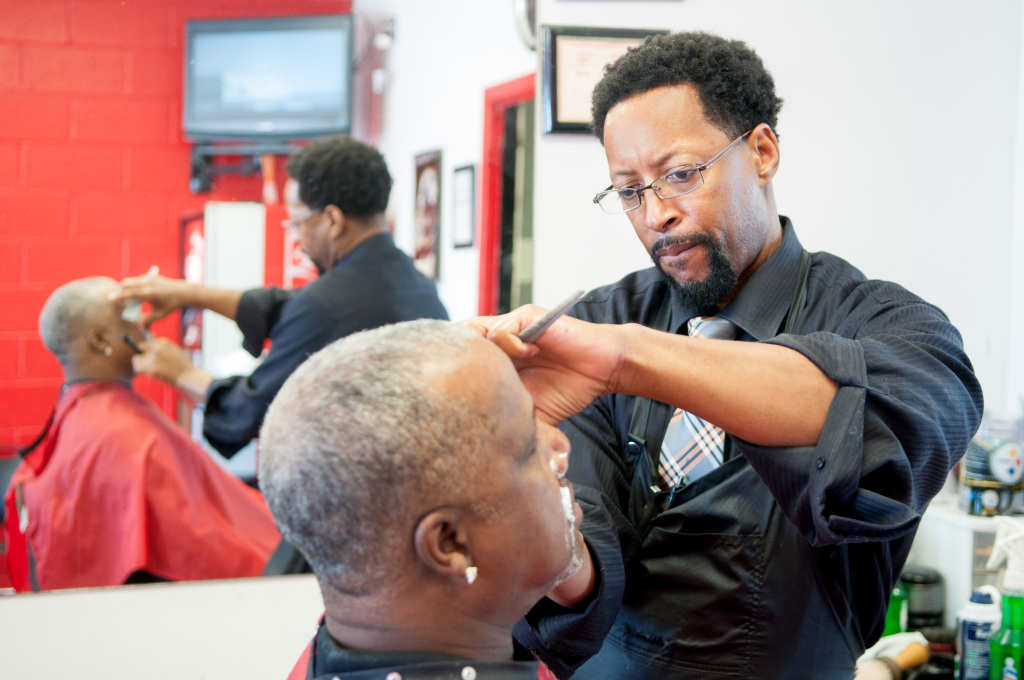 Gaining momentum
Neighboring business owners say they are excited to see visible change taking shape after hearing it discussed for years.
Tommy Tripeaux, a barber for 13 years at A-Quality Barber Shop on Government Street, says he has seen little change in the appearance of the commercial corridor until now. He says the construction and revitalization of the blighted buildings in Model Block is a good thing for the surrounding neighborhood.
"I think it is going to bring more business to everyone, so I think it is a win-win situation," Tripeaux says. "At the same time, it is keeping it kind of vintage. They are not putting up new buildings but they are revitalizing the place."
Holder said he believes Time Warp's 12-year tenure on Government Street has served as a pillar for promoting change and drawing in a young, diverse group of people to revitalize the area. And although he agrees that change has been slow, Holder hasn't lost faith in the magic of Mid City.
"Some of the most character in Baton Rouge is right here in the heart of Mid City," Holder says. "It is a great time for investors to come take a look … and make it the heart of Baton Rouge again."
The eclectic business owners that surround Model Block demonstrate how a little injection of culture can go a long way in a neighborhood, according to Brian Baiamonte, co-owner with Dave Remmetter of Radio Bar.
"I know more people moving into Mid City than moving out," Baiamonte says. "Mid City has definitely gotten cooler."
Related content: Take a 60-second video tour of Model Block