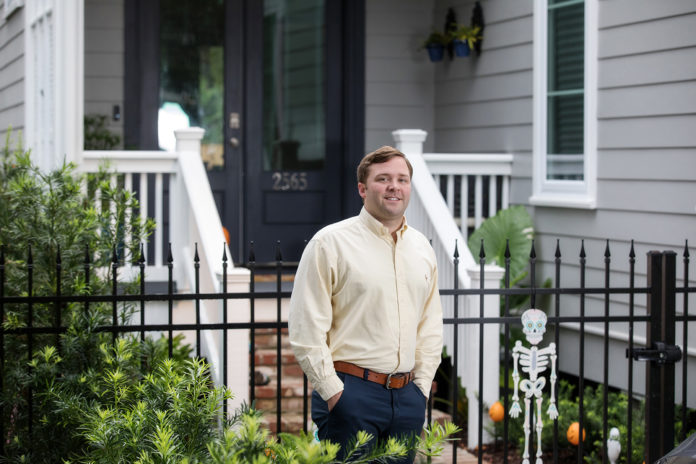 OLD IS NEW AGAIN: Two years of investing in residential properties by Nick Miller in a section of Mid City began paying off in September with the sale of this cottage-style McGrath Heights house for $350,000. (Photo by Collin Richie)
---
It was about a month ago when Nick Miller says his roughly two years of investing in the McGrath Heights neighborhood started paying off.
Miller, a senior project manager at Lincoln Builders Inc., and friend Mathew Laborde, a commercial broker with Elifin Realty, teamed up in late 2016 with plans to develop more quality-constructed homes in the Mid City area, which was beginning to emerge as a Baton Rouge commercial hotspot. It was a side project for the pair, part of a larger two-and-a-half-year plan to meet every Sunday, contact every homeowner in neighborhood and ultimately purchase eight vacant lots or abandoned houses that were about to be condemned.
Some two years later, on Sept. 10 to be exact, the pair sold a newly-built, three-bedroom, three-and-a-half bath home on McGrath Avenue for $350,000, or just over $220 per square foot for the 1,600-square-foot, cottage-style property. The house sat on the market for less than 72 hours before it was scooped up by a young professional couple looking for the same charm but not the same level of maintenance that came with their older, renovated house in Beauregard Town.
It was the first new house built in McGrath Heights in the past 20-plus years, formerly the abandoned site of a house gutted by fire that was never renovated. The patch of land is also adjacent to the Garden District—Mid City's most sought-after residential speck. And as in-demand Garden District homes become more and more scarce—and expensive—investors like Miller and Laborde are eyeing the nearby parcels of land as opportunities for residential development.
"It reflects urban in-sale," says Miller, who hired Jared Jones as his contractor on the build, with Scott Gaspard of The Gaspard Team as the agent marketing the house. "People want to live in the city, and this allows someone who can't afford a Garden District price tag to snatch up property in Mid City."
The pair is among a small crop of new investors pouring money into revitalizing abandoned properties in the strategically located area. If you look on a map, it's a rectangle that fits just eight blocks inside its borders: Government Street to the north; McGrath Avenue to the south; St. Rose Avenue to the west; and South Eugene Street to the east.
Of the 120 lots in the area, 18 have been sold since the trend took off in April 2016, according to data obtained by Business Report. And property values have jumped by more than 700%—the $350,000 sales price is more than seven times the $48,000 sale of a nearby house just two years ago.
However, Bill Cobb, a residential appraiser with Accurate Valuations Group, is a little more cautious in his assessment, noting there's no clear pattern in population growth, as only 10 homes have been sold within the bordered region since 2016. While Cobb sees the appeal of Mid City as a vibrant, up-and-coming hotspot for young professionals, he still wonders why people are banking on its success so early on, before certain projects are completed.
"I feel the anticipation as well," Cobb says in an email, "but I don't see as much progress as I thought I would by now."
Still, a core group of Baton Rouge real estate agents, contractors and developers see potential in McGrath Heights, seeing the reimagining of the residential section as a long-term investment essential to the redevelopment of the city's urban core.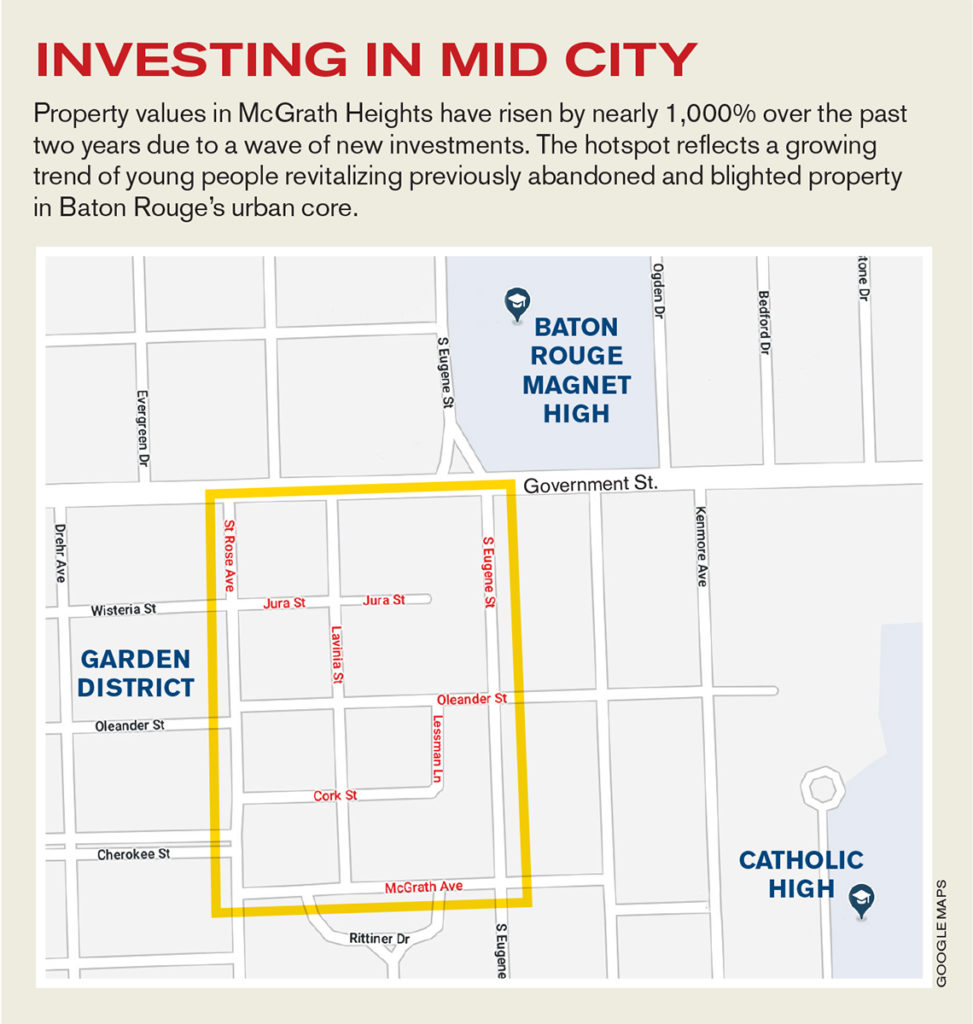 A model for others
Don't call it gentrification, investors say. It's anything but.
Why? Mostly because, over the past two years, the entire process has been done without pushing anyone out of their homes or out of the neighborhood, since the properties purchased have all been unoccupied, says Ben Fleig, founder of BMF Enterprises, who recently bought three vacant lots in the area.
Fleig plans to develop single-family homes on his lots—located on Jura Street between St. Rose and Lavinia Street—each varying between 1,700 and 2,000 square feet. He's hoping to sell them at roughly the same per-square-foot price as Miller and Laborde fetched.
"One of the lots had no structure at all, another had a vacant structure that hadn't been inhabited in decades, and another had a renter who moved out," Fleig says, adding it was cheaper for him to tear down the homes and rebuild than renovate.
Indeed, McGrath Heights includes vacant lots and abandoned houses to spare, many of which are in uninhabitable condition. For being located in the hot Mid City market, the readily available space is considered a rarity.
Rather than restoring these old houses, investors echo Fleig, saying it's less expensive and more practical to build from scratch. That way, a house can physically look as though it's from an older time but still include all the technological bells and whistles from the 21st century.
Jeff Gautreau, a real estate agent with Villar & Co. Real Estate, built two properties on Cork Street. While he's flipped properties before, it's his first time building, and he's listing one of his new Cork Street homes for $265,000, or about $218 per square foot.
"We're trying to keep the exterior of the houses in line with the character of the neighborhood," says Gautreau, who bought his first McGrath Heights lot in December 2016, right after the trend took off.
About four houses are currently undergoing construction, Laborde says, with a couple more planned in the coming years. Fleig says he's anxious to acquire more property, and Gautreau plans to build another few houses across the street from his Cork Street properties.
New development comes at a crucial time, as Garden District property values continue to climb, Miller says, and investors have already seen their first glimmer of hope: the Sept. 10 new home sale—not to mention the 10 abandoned properties that have already been put back into commerce.
The McGrath Heights trend could serve as a revitalization model for other neighborhoods throughout Baton Rouge, says Laborde, adding investing in overlooked and disinvested areas can feed into the larger story of rebirth for Mid City and Downtown East. Apparently, it only takes a handful of dedicated investors to start the trend.
"Whenever my wife and I bought in the Garden District four-and-a-half years ago, the only reason we could afford a house there is because we were willing to renovate," Miller says. "This concept is, we have this new property right next door, with the opportunity for people in this area to afford it."