Mid City: The next frontier

(Photography by Brian Baiamonte: Joshua Hoffpauir, developer, Square 46)
Developers are turning their attention to Mid City. Can they overcome the challenges of infrastructure and crime, and maintain the neighborhood's roots?
As an architecture student some 15 years ago, Joshua Hoffpauir worked on a senior project focused on Government Street, the main artery of Baton Rouge's Mid City.
"There was a ton of potential," he says. "But there was nobody willing to take a chance on it."
Crime was high, facades were crumbling, and block after block was severely underused. But there were plenty of charming old buildings, not to mention a functional street grid, a rarity for Baton Rouge. That grid ties right into downtown, which was emerging from its own death spiral.
With perhaps $2 billion in private, public and nonprofit investment (counting projects still in progress) since 1987, downtown is well into its resurgence. Mid City might be next.
Hoffpauir is developing Square 46, a mixed-use project at the former Giamanco's restaurant site fronting Government, Mouton and Moore streets. His plans include residences, dining and shopping.
"There's something about this generation that's coming up that want to have a more urban lifestyle and see this as an opportunity," he says.
As anyone who makes the bumpy drive down Government Street can attest, the problems Hoffpauir saw as a student have not disappeared. But artists have embraced Mid City, and it boasts a diversity of class, race and culture not often found in Baton Rouge. Millennials and younger Gen-Xers in particular are showing interest, rejecting both the suburbs and the high cost of downtown.
Mid City has potential, as Hoffpauir suggests. But it's still waiting for a spark.
WHAT'S IN A NAME?
In 1991, Elizabeth "Boo" Thomas, currently president and CEO of the Center for Planning Excellence, was part of the team developing the Horizon Plan meant to guide development in East Baton Rouge Parish over the following two decades. She focused on the area now known as Mid City.
"It wasn't even called Mid City then," she says. "We gave it that name."
They delineated Mid City by the interstate on the west and south, College and Foster drives on the east and North Street on the north. While the area is defined in various ways, it's perhaps useful to think of the Government and Florida Boulevard corridors (including adjacent neighborhoods) from downtown to Lobdell Avenue as the core of Mid City.
Thomas says Baton Rouge General Medical Center spent more than $40 million upgrading its Mid City facility, but was disappointed when it didn't spur improvements in the surrounding community. Hoping to make a sustainable difference, the General started the Mid City Redevelopment Alliance, hiring Thomas as its first director.
With backing from the General, the alliance spruced up existing homes and built new ones, helped eliminate blight and offered classes for first-time homebuyers. Mid City was a very different place then.
"My friends would take me to see some houses, and they would say, 'I just don't think you should be driving in this neighborhood by yourself,'" Thomas recalls. "Now it's totally fine, and it's getting better every day."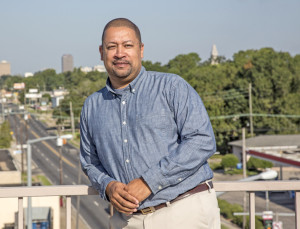 Samuel Sanders is the current executive director of the Mid City Redevelopment Alliance, now an independent nonprofit with the freedom to lead its own development projects or partner with organizations that have greater resources. For example, the MCRA helped the New Orleans-based Gulf Coast Housing Partnership on a project at the former site of an Olinde's furniture store called The Corona, collecting a $100,000 development fee.
"That's serious business for us," Sanders says with a laugh.
Sanders, who has been with the alliance since 2003 and took over as director in 2006, says he has been fielding more calls from people interested in Mid City since FuturEBR was ratified in 2011. The parish's current master plan, among other objectives, seeks to promote infill development.
Those callers often ask about economic incentives, of which there aren't very many. Much of Mid City is in a state-recognized cultural district, which means original art can be sold without sales taxes. Tax credits are available for renovating historic buildings, and businesses can apply for tax abatements in the low-income census tract between downtown and Acadian Thruway. The MCRA offers small grants for façade improvements.
Sanders says downtown's revitalization is important for Mid City, and says the latter could be a "bedroom community" for downtown workers.
"The buzz is real," Sanders says. "We felt like we were beating the drum, and no one was listening. Now, it feels like we don't have to beat as loudly, because others are beating it for us."
PHOTO GALLERY: Take a tour of Mid City
WAITING FOR A CATALYST
But while more and more business owners, developers and potential residents are inquiring about the area, Sanders says Mid City needs a big, attention-grabbing project that shows everyone what is possible.
Last year, Entergy donated a six-acre site at 1509 Government St. to the East Baton Rouge Redevelopment Authority. A team led by Andres Duany, best known locally for his work on downtown's 1998 master plan, created a pre-development document for the site now available at ebrra.org.
The next step for the parish redevelopment authority—better known as the RDA—is finding the money to hire a consultant to develop a request for proposals from developers. Because it always planned to engage an outside developer, the fact that the RDA struggles to fund itself won't hinder the site's progress, says interim CEO Gwen Hamilton.
The project's first phase could include 139 residential units and more than 30,000 square feet of commercial space on the six acres the RDA controls, at a cost of about $20.3 million. The pre-development plan also presents "small-block prototypes" of two- and three-story buildings suitable for "blended infill" into the street grid outside of the Entergy site. Small-scale developers could piggyback on the six-acre project by building versions of those prototypes.
Eventually, if the market responds, new mixed-use buildings could spread among the existing structures throughout a 100-acre area between North Boulevard, Government Street, Interstate 110 and North 19th Street, planners say.
"The development of that site that we own would be catalytic," Hamilton says. "When we get that going, it's going to really spur development through that broader area."
The RDA also owns a 200-acre site near the Louisiana Technology Park meant for a mixed-use project called Ardendale. Baton Rouge Community College has begun infrastructure work for an east campus with an automotive training facility there, while the East Baton Rouge Parish School System is designing a new high school that would be next to the BRCC branch, Hamilton says. The master plan for the site describes a mixed-income "urban village" growing up around the educational institutions, although the RDA doesn't yet have a strategy for making that happen.
"We know it's going to happen; we just don't know when," Hamilton says.
Government Street retailers are waiting to see what Hearthstone Properties, the tax-exempt real estate arm of Catholic High School, is going to do with the Westmoreland Shopping Center, bought just before Christmas in 2010. A poorly maintained parking lot dominates the center. The Piccadilly restaurant has closed. Some of its retail space was leveled to create a recreational field for the school.
A request for qualifications seeking partner developers for the Westmoreland site lays out a "redevelopment vision," including multiple uses (one of which would be food service), better aesthetics, "youthful appeal," and easy access to public transportation, walking and biking.
The RFQ asks for letters of interest to be submitted by Aug. 31. A second, more in-depth submission process will follow, depending on the first round of responses.
"I'm not asking for a lot of investment in time, energy or assets in the first phase," says Gene Tullier, president of Catholic High. "What we're looking for is a vision and expression of interest, and a rough estimate of cost and return. If we feel there are some viable options, we'll then want a much more in-depth analysis."
Meanwhile, Mid City's traditional anchor faces an uncertain future. This spring, Baton Rouge General shuttered its Mid City emergency room to stem losses of $2 million per month. The hospital, which employs about 1,000 people and sees about 80 patients a day, has long been a financial challenge­. In fact, the General tried more than once to sell the Mid City campus to LSU.
The General closed the ER after an outside consulting firm concluded the hospital's current business model was unsustainable, CEO Mark Slyter says. Now another consultant will try to help it find a new path forward.
Slyter sees possible opportunities in post-acute, outpatient, chronic illness and behavioral health care. If necessary, he says he would be open to letting companies offering non-medical services lease space on campus.
While taking care of sick people is the core mission, Slyter says hospital leadership is keenly aware of the General's importance to Mid City.
"We're committed to providing services and championing economic development in the Mid City area," he says, adding that hospital officials are committed to maintaining a presence "that matches the needs."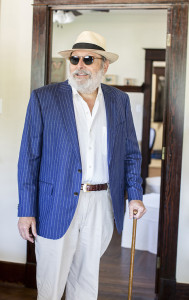 SAFETY FIRST
While there isn't a big, headline-grabbing development yet, an increasing number of smaller investors are getting involved in Mid City. Jak Kunstler, owner of Louisiana Purchase Real Estate and other businesses, is developing a retail strip on Government between Steele Boulevard and East Drive. Kunstler says it's fully leased and will include food and beverage purveyors, a barbershop and his office.
When asked what drew him to the location, he laughs.
"A fit of insanity," he says. "I saw this building on the corner. It was falling down. I said, 'I kinda like that old building,'" which he says was built in 1920.
Kunstler touts Mid City's mix of income levels, calling it a "great microcosm of the city at large." He says the area reminds him of "an old-time neighborhood" where residents know and look out for each other.
Like many people invested in Mid City, Kunstler waits impatiently for the state to resurface, redesign and narrow Government Street.
"I think that's very exciting," he says. "I hesitate to cross the street because you take your life in your hands under the current conditions."
Kunstler says he's never had problems with crime at his business. But some Mid City neighborhoods have documented issues with drugs and violence. On July 18, two men were killed and two more were injured in a drive-by shooting on Brice Street, only a few blocks away from the RDA's Government Street project site.
Real estate agent Tim Houk has represented buyers and sellers of homes in various sections of Mid City, and also invests in houses, land and commercial properties in the area. He has not been as fortunate as Kunstler: He says someone broke into a house he was rehabbing and stole all the appliances.
"You can see Government Street from the home," Houk says. "That was pretty brazen."
But Houk says crime can be mitigated with alarms and neighborly communication. He says he has noticed home values rising outside of traditionally high-demand neighborhoods like Capital Heights, even on the north side of Government, long viewed by many as the wrong side of the proverbial tracks in Baton Rouge.
As people invest in their properties, it gives their neighbors confidence and "starts to turn the tide the other way, as far as perception," Houk says.
"People do ask about [crime]," he adds. "But they're so passionate about the area, I think they're a little bit more willing to stick their necks out."
According to data compiled by the Center for Neighborhood Technology, crime declined in Mid City (between I-110 and Acadian Thruway) from 2001 through 2013. CNT characterized the rate of violent crime as "low," while rates for larceny, burglary and robbery are "relatively high," with more crime reported north of North and Florida boulevards.
"Despite the trends, the perception of Mid City as risky persists," the analysis notes.
Architect Dyke Nelson, president of the Mid City Merchants Association, says the area needs developers with enough vision to see past the pockets of abandoned buildings that present opportunities for crime. He says developing right up to the edge of those pockets helps to scare away unwanted activities.
"I think the biggest challenge is going to be changing perception," Nelson says. "It's the same thing that downtown had a challenge with. … I still hear people say that they think that going downtown is unsafe."
A STRONG CORE
A healthy downtown is good for Mid City and vice versa.
"It goes hand in hand," says Davis Rhorer, executive director of the Downtown Development District. "You're just strengthening the core of the city."
As an example of synergy, Rhorer mentions a planned section of the Downtown Greenway bike and pedestrian corridor that would connect with City Park, which is on the southwest side of Mid City. Rhorer says the trail would help spur development on the blocks along the route.
This fall, some Mid City property owners will have the option to become part of downtown's taxing district. As called for in its most recent master plan, the DDD is proposing an expansion of its footprint east to the railroad tracks near 14th Street and north to Choctaw Drive. If ratified by voters, the change would happen in 2017.
Sanders, the Mid City Redevelopment Alliance director, says he's not opposed to the DDD's expansion "at this time." He says his organization is working with the DDD on a "co-branding project" within the expanded footprint along Government Street.
"We understand there is still work to be done on a master plan for the area, and that is where we see both MCRA and the DDD coming together to engage the residents, businesses and property owners to ensure any expansion includes all stakeholders' input," Sanders says by email.
Like Nelson, Derek Fitch has worked on high-profile downtown projects and is one of Mid City's biggest boosters. Fitch is a partner in Vision City Development Group, which he says is looking for opportunities for significant commercial and multifamily projects in Mid City. He's also in a separate group called Revive Capital that's investing in single-family or small multifamily developments, he says.
Fitch says some lenders see Mid City as a risky place for development, particularly on the commercial side. But he thinks younger bankers are more likely to see Mid City as "a happening place" than their older colleagues.
He says Mid City appeals to young professionals and creative types who are attracted to an urban lifestyle but don't necessarily have the money or inclination to buy into downtown.
"All of the great cities have a thriving urban core," Fitch says. "I think we're on the cusp of something [in Mid City]. People said downtown would never work. 'Who wants to go down there?' I think today we've answered that question, and I think Mid City is going to be the same way."
THE G-WORD
Some Mid City residents are reluctant to trust outsiders, Nelson says.
"There have been so many different plans, so many different things said, and so many different promises made that have never been followed through," he says. Nelson says developers should be respectful of their neighbors and shouldn't get too greedy by trying to do too much at once.
"I think what needs to happen is that some of the more forward-thinking developers and more forward-thinking people in our community need to get off their ass and do something," he adds.
Lauren Lambert-Tompkins says that, in her experience, the new businesses want to be involved in their neighborhoods. She's the civic association president for Mid City's Ogden Park, which considers itself "the best eight blocks in Baton Rouge." She moved here from New Orleans in 2011.
Lambert-Tompkins was interviewed while taking a break from moving from one Ogden Park house to another.
"We were renting, and a house in the neighborhood about a block over came up for sale, and we jumped on it," she says.
Lambert-Tompkins and her neighbors are preparing for the Ogden Park Prowl, "a collection of open houses and yards featuring arts, crafts and entertainment made fresh and hyper-local," planned for the afternoon of Sept. 26.
"It's a beautiful area of town, and it's very diverse, and I think artists are attracted to diversity," she says. "The people that live in Mid City appreciate local artists, local farmers, just all things local."
There's an old story in urban development: An area gets a reputation for being distinctive and affordable. New people move in, the rents go up, longtime residents get squeezed out, and suddenly the place isn't so special.
Gentrification can be a dirty word, and Mid City probably isn't at a point where it needs to worry too much about it yet. But at the very least, touchy issues must be ironed out as old meets new.
Duany, the planner who led creation of the pre-development document for the RDA's 1509 Government St. project, spoke with his trademark bluntness at a presentation in Baton Rouge last December.
"Whenever we do these projects and speak to the people, they want gentrification," he said, according to a transcript. "Would you like [your house] to be worth $30,000 when the times comes, or would you like it to be worth $70,000? I've never run across a person that doesn't want the $70,000."
Rising prices are bad for renters, of course. But renters are transient, so the needs of the neighborhood's owner-occupiers—whom Duany says make up about 30% of residents in the project's impact area—are more important, he says.
The Rev. Dale Flowers leads New Sunlight Baptist Church, a few blocks away from the RDA's Government Street site. While the RDA says the developer might choose to include affordable housing, Flowers is disappointed the predevelopment plan doesn't ask for it as area residents requested.
"They're pushing going green and things of that nature, but we can look at green in more than one way," he says, with a sardonic chuckle. "Environmental green as well as monetary."
Flowers says locals are getting organized: "They're going to decide what's best for this community."
Because developers and the RDA can snap up adjudicated properties, residents are learning how to purchase those properties so they can control what happens there, Flowers says. He wants to organize workshops that help local homeowners with estate planning, in hopes of minimizing "family squabbles" and keeping properties from getting adjudicated in the first place.
He says current residents need a voice in what's happening around them.
"We appreciate that others are coming in," Flowers says. "But their ideas for the community may not be the ideas of the people in the community."