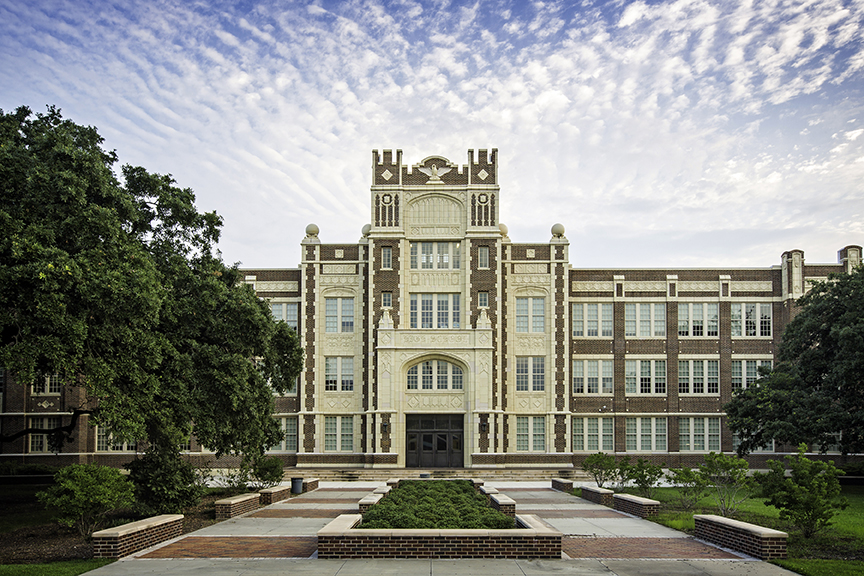 (Photography by Tim Mueller)
BATON ROUGE MAGNET HIGH SCHOOL
Address: 2825 Government St.
Owner/developer: East Baton Rouge Parish School System
Architects*: Chenevert Architects, Remson Haley Herpin Architects
Contractor*: MAPP Construction
Cost*: $56 million
Year completed*: 2012
Use: What was once an old, decaying facility has emerged as a beacon of educational architecture in the city. Baton Rouge Magnet High School's 88-year-old campus underwent a two-year-long renovation and expansion that ended in 2012. The interior features a bevy of new wood, glass and metal paneling that gives the building a modern presence, all while the exterior maintains its timeless appearance. The redesign won a Gold Rose Award from the American Institute of Architects Baton Rouge in 2013.
*Information listed is for renovations and expansion, not construction of the original building itself.
Form follows function: "The renovation of Baton Rouge High School has been as stellar as the alumni, students and faculty that have walked the halls all of these years. Of course my favorite areas of the school include the library, the outdoor athletic and commons areas, the historic auditorium and the radio stations—KBRH and WBRH. The architects captured the perfect balance of old and new which expanded on our three pillars of excellence: academics, arts and athletics."
—Nanette McCann, Principal, Baton Rouge Magnet High School