Livingston Parish has 11 hotels with more on the way. Can the market support it?

(Photography by Brian Baiamonte: A Best Western Plus under construction in Walker)
Back in February, newly minted Denham Springs Mayor Gerard Landry made what some would consider a rather surprising announcement at a meeting of the Livingston Board of Realtors. It seemed that three new hotels simultaneously could be on the way to his city.
Of the three, perhaps the most intriguing was a possible 12-story, $70 million mixed-use project that could include about five floors of hotel rooms, along with offices, a restaurant and a theater. If built at that height, it would be the tallest structure in the parish.
In an interview early this summer, Landry said all three projects were still in the works, although building officials had not yet received paperwork for any of them. Which raises the obvious question: Can Denham Springs really support three new hotels?
"I scratch my head," says Wesley Moore, a commercial real estate appraiser and market analyst, when asked what might be driving the new hotel development.
The parish boasts 11 lodging options, mostly bargain hotels but also fancier choices like The Villas at Carter Plantation, according to the Livingston Parish Chamber of Commerce website. Moore points out that neighboring Ascension Parish is undergoing an industrial expansion, so new hotels might be needed there, but he couldn't think of any solid reason that would justify a hotel-building spurt in Livingston Parish.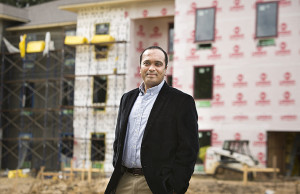 Neil Patel, whose company, Triumph Investment Group, developed a Hampton Inn and a Days Inn in Denham Springs and is building a Best Western Plus in Walker, says Denham Springs probably has enough hotel rooms.
"Baton Rouge is where our anchor is," Patel says. "This is a sub-market. We can't support too many hotels in Denham Springs."
But obviously, given the new project in Walker, Patel believes there's still room for more hotels elsewhere in Livingston Parish. Rather than naming any one particular market sector driving the demand, he cites the overall economic growth of the area, naming companies such as Our Lady of the Lake, Bercen and Shaw Sunland [now CB&I Walker].
"I-12 is getting busier and busier," Patel adds, saying he expects travelers increasingly to avoid taking Interstate 10 through New Orleans.
Livingston doesn't have a large industrial presence, although it's not going to miss out on the industrial expansion completely. Beyond Bercen and CB&I, EPIC Piping in March announced plans to build a $45.3 million, 220,000-square-foot facility just southwest of the Interstate 12 interchange at La. 63.
DOUBLE THE ROOMS?
When asked what could be driving demand for new hotels, Landry also describes hotel development as a natural part of the parish's overall economy. The local Bass Pro, for example, consistently ranks among the top sellers in the national chain, and a national Italian restaurant chain is eying the last large parcel left in the store's development district, he says.
"There seems to be a lot of activity," Landry says. "Juban Crossing doesn't hurt. The largest retail mall in Louisiana is going to be a rock's throw from Denham Springs."
By Landry's count, Denham Springs has about 500 hotel rooms, and he says that number approximately would double if all three pending hotel projects are built. He says some of those rooms could be filled by people who plan to visit Baton Rouge, although the capital city also has a few new hotels and more in the pipeline.
Hiren "Chico" Patel—Neil Patel's cousin—directs development and construction for MY Hospitality, which Chico Patel says is drawing up blueprints for a Marriott TownePlace Suites extended-stay hotel to be built next to the Sam's Club on Bass Pro Boulevard. The company also is planning a Holiday Inn and a Holiday Inn Express; definitive locations have not been selected for either, although one of them will be on Juban Road and one may be just off the main Denham Springs exit from I-12.
MY Hospitality already owns two Comfort Suites in Denham Springs and Gonzales and a Courtyard by Marriott in Hammond. The firm is looking at developing another hotel in Hammond and recently broke ground in Gonzales on a Home2 Suites by Hilton. Clearly, they're not worried that the Capital Region market might be saturated.
"We feel long term, it's going to be OK," Chico Patel says. "It's not like there's a super-hot demand, or that occupancy is at a record-high level. We think that Baton Rouge is growing, and [Denham Springs] is a city on the rise on the outskirts."
While the Baton Rouge area may not lack hotel rooms, he says much of the product on the market is out of date. He also says his company has a competitive advantage because it handles construction in-house, thereby saving money compared to a developer that uses outside subcontractors.
"That whole I-10/I-12 corridor," Chico Patel says, mentioning other projects in Covington, Madisonville and Slidell, "we're trying to corner the whole market."
The purported 12-story project doesn't have a site nailed down yet, Landry says, but it could include a "five-star" hotel.
NOT 'SOPHISTICATED ENOUGH'
"Oh, give me a break," says veteran hotel consultant Jon Fels at the notion of a five-star hotel in Denham Springs. "That is nonsense talk."
Fels says skepticism is warranted for statements about economic development by politicians. Even a four-star hotel would have difficulty maintaining the $125 to $150 per-night rate necessary to make the concept work in Denham Springs, he says.
"I don't think the area is sophisticated enough to support a Marriott or a Hilton," Fels adds.
Any new hotels likely might be bad news for the parish's existing properties. Fels draws a direct connection between the opening of the Renaissance Hotel on Bluebonnet Boulevard in Baton Rouge and the struggles of the iconic Marriott near College Drive, noting that both go after similar market segments.
Neil Patel says occupancy rates in Livingston Parish are a little less than 70%. That may compare favorably with Baton Rouge, where Fels says occupancy averages about 65%.
Kayla Johnson, president of the Livingston Parish Board of Realtors, says the proximity to Baton Rouge, combined with a lower crime rate than Baton Rouge, helps to make Livingston Parish an appealing place for travelers to stay.
"Why wouldn't you want to stay in an area that is safe?" she says.
She says the pending hotel development is part of an overall buzz about the area's economy, which she attributes in large part to the success of Bass Pro.
"With all of that growth," she says, "I think people see exactly what is going on in this parish."