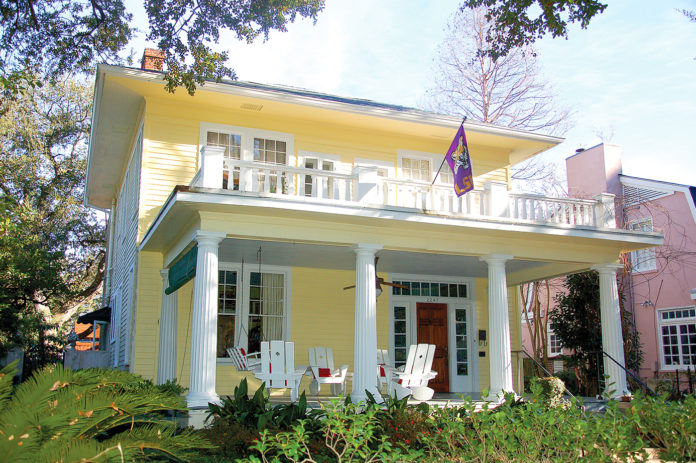 Homes in the Garden District have seen square-foot prices increase by nearly $30 to $186.10 over the past five years. (File photo)
---
Baton Rouge attorney Randall Champagne figures the Garden District house he bought with his wife in 1994 was a steal compared to property values in the neighborhood today.
"Location, location, location," Champagne says of the neighborhood's rising property values. "Its viability is tied inextricably to its proximity to downtown."
It's but one reason why the historic Garden District—one of the city's oldest neighborhoods—has seen steady sales, even as the trends of homebuyers have changed with modern family dynamics.
The neighborhood comprises three subdivisions: Roseland Terrace, Drehr Place and Kleinert Terrace. Roseland Terrace is the oldest subdivision and was developed along Park Boulevard and eastward.
When Champagne and his wife first moved into the Garden District in 1986—before downtown was revitalized—they were initially drawn by the level of craftsmanship and charm the neighborhood exudes. That's evidenced by their current home, built in 1927 by a New Orleans homebuilder and featuring Florentine brickwork, hand-glazed bathroom tiles and French doors. The house also originally had a Belgian slate roof, though it was removed by a previous owner.
When the couple first moved into the neighborhood, it was full of people from different social strata, organically encouraged by large, two-story homes being located next to smaller homes and bungalows. Over the years, however, as homes have been refurbished, bungalows expanded and downtown revitalized, Champagne says the rising property prices have dampened the diversity of the neighborhood.
"It's been a real changing of the guard in the sense that when I first moved in the original people who built the homes were still alive," says Champagne
While in the past, young couples looking to settle in the neighborhood were looking for more of a project, a home they could fix up, real estate agent Vicki Spurlock, who grew up in the Garden District and has worked there for 43 years, says "those days have come and gone."
Today, with more dual-working couples looking to buy, they don't have time to tackle home projects like in the past, Spurlock says. They want pristine homes with central heating and they want to knock down walls for an open floor plan.
"They're willing to pay top dollar for something that's in top-dollar condition," she says.
The price per foot for homes in the Garden District has climbed to $186.10 from $181.92 last year, $170.47 in 2015 and $157.78 in 2013.
Average sale prices in the neighborhood, meanwhile, have fluctuated, dropping to $336,927 in 2015 before rising to $358,708 in 2017. This year, 14 homes have been sold in the neighborhood, according to the Greater Baton Rouge Association of Realtors' Multiple Listing Service, at an average price of $339,379.
The neighborhood is a hotbed of history, with 80% of Garden District homes being built before 1930. The oldest—built circa 1890—sits on the corner of Cherokee Street and Park Boulevard.
The neighborhood also served as a campground for the Union Army's 6th Michigan Volunteer Cavalry Regiment after they captured Baton Rouge in 1862. Mementos of the battle—conical bullets used with rifles during the Civil War known as Minié balls—can still be found in yards around the neighborhood.