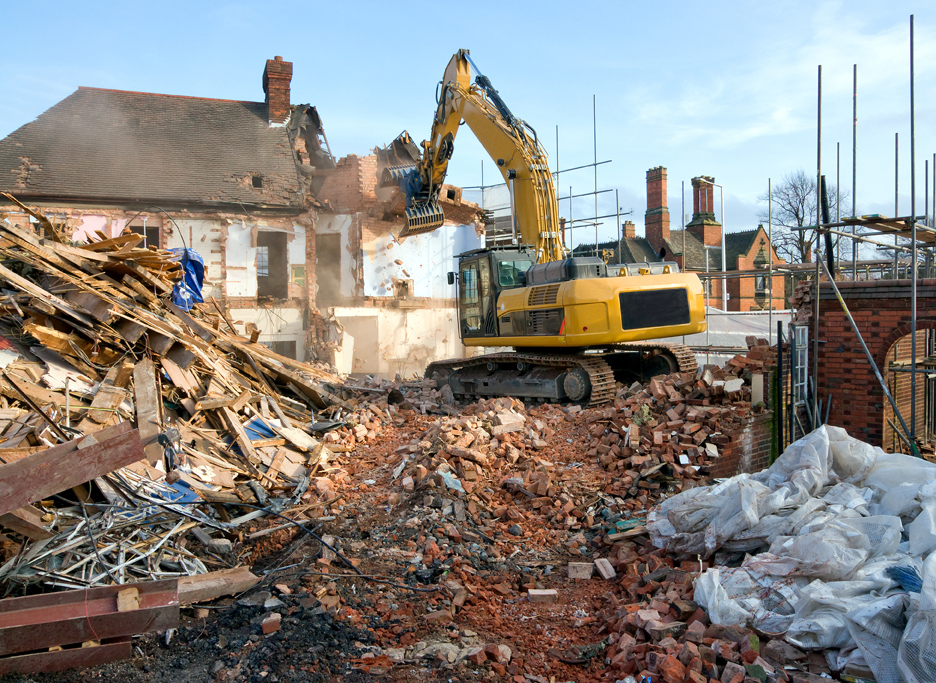 Old homes are being demolished in Baton Rouge to make way for new ones. It's all about location.
If you've ever bought a house, you know that finding a home that ticks all your boxes in the neighborhood where you want to live can be next to impossible. Some homebuyers, however, aren't letting that deter them. Instead, they identify the location they want, buy a house, then tear it down and build their dream house.
Buying a house for the purpose of tearing it down is a growing trend in Baton Rouge, according to local real estate agents and contractors. Teardowns typically occur in older, well-established, centrally located areas. In Baton Rouge,  those neighborhoods include Bocage, University Acres, Jefferson Place, the LSU Lakes and Old Goodwood. City of Baton Rouge records show 346 residential demolition permits have been issued since 2012, and 86% of all demolition permits that have been issued since 2012 are for homes.
"There's definitely an increasing trend in teardowns, mainly because of lot availability," says Daryl May of Daryl May Construction. "Young affluent families are searching for large, treed lots in the heart of town, which also allows them to be close to schools, shopping centers, church and sometimes work. I see this as being a driving force in bringing families back into these older, quaint and charming areas of town. However, with the challenge of lot availability, teardowns will continue to increase."
This means homebuyers wanting larger lots have two options. For one, they can turn to the suburbs and outlying areas, where more land is available. However, this often means a long commute on Baton Rouge's congested roadways.
"People don't want to sit in traffic," says Donna Wolff, a professional with RE/MAX Louisiana. She says this then leads to the second option: buying an existing home in Central Baton Rouge not for the house, but for the land under it. For example, Wolff says, people are tearing down homes because they "want to be close to everything, they want to be in a good, established school district and in a good place to raise kids. And, if the average lot size is 75 by 150, they're going to have a nice, big yard," she says.
Guy Oliver, owner of G.W. Oliver Construction, agrees. "It's very common for a client to buy a home in an older neighborhood, where the home has little value, but the lots are worth a lot," he says. "Maybe the home was built 40 or 50 years ago for $40,000, but now the lot is worth more than $300,000."
In many cases, older houses have not been well-maintained. "Sometimes there's just nothing to salvage," Oliver says.
In other instances, the house is so old and outdated that extensive renovations are needed. In both situations, demolishing the house is often the most logical—and cost-effective— choice.
"Houses age to where they don't fit modern needs," says Quita Cutrer, an agent with Burns & Co. "The younger generation lives more casually. They don't want a formal dining room and a lot of rooms that aren't used. They want open floor plans and high ceilings. Sometimes it's more cost-effective to just start over."
Adds Wolff: "Some of the homes built in the ' 60s are fortresses—they don't build them like that anymore. But, when you're renovating, you have to ask if you're settling. How would you add on? Would it look choppy? Can you open it up?"
RENOVATE OR REBUILD?
What may seem like a manageable renovation can mushroom in cost and complexity, in part because of modern building codes.
"Even though you're just adding one room, you may end up having to rewire the whole house because of code," May says. Further, once renovations start, unforeseen problems can arise.
"We can give an estimate based on what we can see, but we don't know what's behind the walls until we get into the project—we may find moisture and or mold, no insulation, antiquated knob and tube wiring, termites, etc. There's an unknown factor," May says. "While you're dealing with that the money clock continues to run. For someone on a budget, this can be challenge."
The trend in teardowns convinced May to expand his business model. He has increasingly worked with homebuyers who wanted to renovate, but after calculating the costs, decided to tear down the house instead. But finding someone to demolish the house could be challenging. So May added home demolition to his services. "It goes hand in hand with what I'm doing, one contractor can demolish the old home and build a new one," he says.
THE TEARDOWN CHALLENGE
Because teardowns typically take place in established neighborhoods, this can present a challenge to builders and contractors.
"When you're building in a new neighborhood, everyone expects there to be construction, so they're more forgiving," Oliver says. "In an established neighborhood, you have to be much more conscientious of not having an impact on the neighborhood feeling. You have to make sure that you keep your construction on that lot and that you're not blocking driveways."
Similarly, a house that is likely to be purchased as a teardown can affect the sale itself.
"You don't want a seller to invest lots of money if it's going to be torn down," Cutrer says. "But, that doesn't mean the seller will take less simply because a buyer wants to tear the house down."
Telling clients that their house likely will be torn down can be a delicate situation, too.
"People can be very sentimental about a house, especially if it's where they grew up or their kids grew up," Cutrer says.
LOCATION, LOCATION, LOCATION
Teardowns give buyers more options, though, according to Wolff.
"In Baton Rouge, we're in a seller's market. We don't have the inventory," she says. "So, we have to consider the option of finding a house in a price range that the client can tear down."
As more people want to live in central Baton Rouge, the trend will continue.
"There's a scarcity of lots in Baton Rouge, so, we're going to see more teardowns," says Cutrer, who adds that she has had clients who have kept an eye on a house until its price got low enough to buy as a teardown.
Oliver points out that "every home is different. If the bones of the home are good, you could add value without tearing it down. Sometimes it can be worth it just to gut it," he says
Meanwhile, Cutrer notes that no two home buyers are the same. "There are old-house people and there are new-house people, and everything in between," she says. "Some people like the character of an old house, while others want everything brand new."
Regardless of their preference, Wolff says home buyers have one thing in common that will keep pushing the teardown trend.
"It's always the location," she says. "In real estate, that's always going to drive it."
This story has been changed since its original publication to correct the name of Guy Oliver's company to G.W. Oliver Construction. Business Report regrets the error.