Facing safety risks with every showing, local real estate agents are increasingly taking precautions to protect themselves
After encountering a few unnerving experiences while on the job, Cheryllyn Boyd with RE/MAX Real Estate Group has been practice shooting at the range and has taken several weekend self-defense courses. She is working toward obtaining a concealed carry permit and plans to have a weapon with her at all times, especially when showing remote properties in outlying parishes. Photography by Don Kadair
---
Would you agree to meet a stranger at a vacant house as night falls? It sounds like something straight out of a scary movie, but it's a scenario that plays out daily for real estate agents and brokers.
Real estate professionals are in the business of showing property to potential customers—both known and unknown. They openly share their contact information with the public and interact with clients in locations with little security, which repeatedly exposes them to potential dangers.
"Realtors need to arm themselves. I carry mace, two stun guns and a Taser, and I sell them to other Realtors because they also need protection." —Dana Patureau, owner of Chateau to Geaux Realty and Angels of Self-Defense
According to the National Association of Realtors 2015 Member Safety Report, 40% of Realtors have experienced a situation that made them fear for their personal safety or safety of their personal information, and 4% have been a victim of an assault, robbery or identity theft while on the job. A number of Realtors have also been murdered while on the job in recent years, such as the highly publicized 2014 abduction and murder of Arkansas agent Beverly Carter, whose assailant was found guilty in January and sentenced to life without parole.
Closer to home, a Leesville man was arrested in December for cyberstalking several agents. The Rapides Parish Sheriff's Office received complaints about threats and sexually explicit texts from multiple victims who said the suspect was aware of their vocation and attempted to arrange appointments to meet them in person.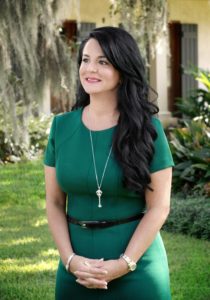 Dana Patureau, who owns Chateau to Geaux Realty in Baton Rouge and specializes in luxury homes, experienced a similar situation several years ago that prompted her to begin a side business she named Angels of Self-Defense. Patureau was receiving prank calls filled with vulgar statements from a blocked number. When the caller threatened to rape her at her own home, she involved the police and the calls eventually ceased.
"Realtors need to arm themselves," she says. "I carry mace, two stun guns and a Taser, and I sell them to other Realtors because they also need protection."
After Patureau shared her story, other local Realtors came forward with similar accounts. Cheryllyn Boyd with RE/MAX Real Estate Group recently experienced a similar explicit call after midnight, and she has had physical stalkers confront her in the past. To protect herself, she has been practice shooting at the range and has taken several weekend self-defense courses.
Predatory criminals often target victims who look unaware or submissive and can be controlled. Boyd is intent on training to be in control of her situation and learn to recognize nonverbal cues.
"I want to grow in my comfort level by practicing and doing drills so that I have a natural response. The best thing someone can do—male or female—is to learn physical ways to get away," says Boyd, who is working toward obtaining a concealed carry permit and plans to have a weapon with her at all times, especially when showing remote properties in outlying parishes.
Because of the nature of real estate interactions, says Latter & Blum Inc. President Rick Haase, it's critical for each professional to have a personal safety protocol in place to follow every day, with every client, at every showing. Inconsistency is a gamble, and complacency is a sedative.
Haase, who oversees the largest real estate operation in the Gulf South—which operates as C.J. Brown in the Baton Rouge area—has put many safeguards in place for his roughly 3,300 agents.
"We always recommend certain practices, and one of them is that the first meeting with a client should not be where you are alone with the person," he says. "You also arrive early and make sure that the home is secure and has not been broken into. Know where the entrances and exits for that particular property are. And make sure someone back at the office knows that you're going there, and tell them the name and telephone number of the person you're meeting."
In addition, Hasse recommends calling another agent or spouse and leaving the line open from the time of arrival so that if anyone has ill intent they know there's a person listening on the other end, waiting to summon help.
"We're fortunate that incidents don't happen often, but that cannot be an excuse for us to lower our guard and be loose about how we protect and watch both ourselves physically, and also the seller's property." —Rick Haase, president of Latter & Blum Inc.
Herb Gomez, executive vice president of the Greater Baton Rouge Association of Realtors, says his organization requires training for new members and is proactive in sending out alerts via email as well as through the Multiple Listing Service, informational flyers and social media. Whether it's a scam alert or notification that an incident or injury has happened in another part of the country, it's a tool to reiterate the need to be cautious.
The most recent significant alert was posted last year, notifying agents of a person who was attending open houses and searching through homeowners' bathrooms for prescription medications.
The last violent incident Gomez recalls that involved a Baton Rouge agent happened more than 20 years ago. The perpetrator had an extensive record and had recently been released from prison, he says, and he abducted an agent from a showing and took her to Mississippi. Thankfully, she escaped and got help during a refueling stop.
SAFETY TRAINING
Tim DeAngelo, agent with C.J. Brown Realtors, teaches classes to new agents and talks with the members about safety protocol for showings, such as always letting the client go inside first and unlocking the doors so there's a quick means of escape if needed. He also stresses to new agents the value of setting up a buddy system as a safety net.
Personally for DeAngelo, who has been in real estate for about a dozen years, longevity in the field provides another layer of security. "Being in real estate as long as I have been, 90% of my business is referrals," he says. "So I already have some kind of personal connection with new clients."
Today, even lockboxes provide identifying information and time stamps as agents come and go, and several apps are available that help with personal security—if agents take advantage of them, that is. "At first everyone is excited, but the reality is that they don't always use them," DeAngelo says.
Just 13% of Realtors use a safety smartphone app, according to the NAR 2015 Member Safety Report. But Haase believes the use of apps is an emerging best practice. The next move for his agents' safety involves investigating a wearable GPS system or a key fob with the GPS alert system. He points to one app that allows a realtor to place their thumb anywhere on the phone screen and if it's removed there's a five- to eight-second delay before a loud shriek ensues and a voice says, "Your exact GPS location is being sent to the police department." It also sends text messages to anyone the agent designates in the event of an emergency.
"Most people are not out to do harm, so you can violate every one of those safety protocols for years and never have a problem," says Haase. "We're fortunate that incidents don't happen often, but that cannot be an excuse for us to lower our guard and be loose about how we protect and watch both ourselves physically, and also the seller's property."