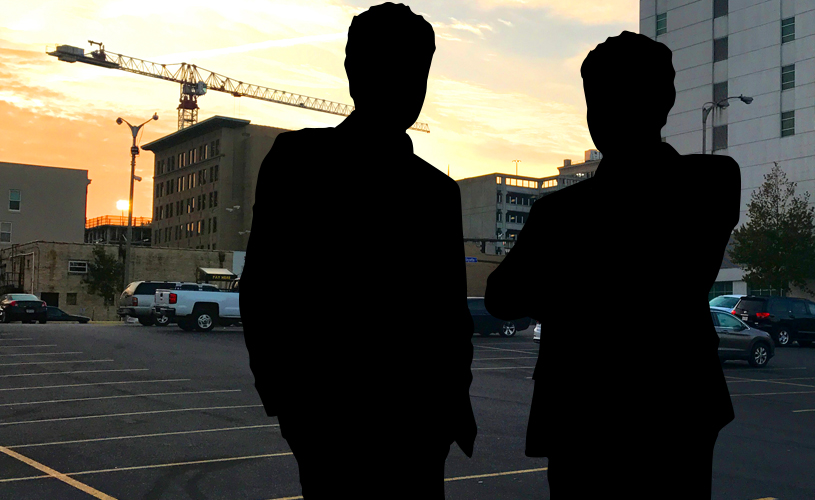 In the late 1980s and early 1990s, when doing deals in the local real estate market was anything but simple, the elusive development team of Hartley Vey made it look easy. So why did they fall off the map?
---
In 1992, developers Rick Hartley and David Vey paid just $1.7 million for the roughly 150 acres of then-partially developed land that straddled Bluebonnet Boulevard between Perkins and Highland roads.
Infrastructure work had been completed years earlier on the property, known as the Bluebonnet Ridge Subdivision. But the original developer, Carl  Clayton, had run into financial problems in the late 1980s and the vast, valuable property had ended up with the Resolution Trust Corporation, the agency created in the wake of the Savings and Loan Crisis to dispose of the assets of failed S&Ls.
Hartley and Vey knew a good deal when they saw one. In two separate transactions that year, they acquired the property from the RTC for what amounted to about 25 cents per square foot—a steal, even by 1992 standards.
Developer Hardy Swyers remembers it all very well. He'd long had his eye on two small lots in Bluebonnet Ridge, and after Hartley and Vey closed on their acquisition he approached them about buying the parcels. They agreed to sell them to him for $350,000.
It wasn't a bad deal for Swyers, but it was a great one for Hartley and Vey, who got roughly four times, on a per square foot basis, what they'd paid for the land just a few weeks earlier. Swyers still marvels at the ROI they were able to realize so soon after their killer acquisition.
"From that one deal, they got back a quarter of their investment in about two weeks," Swyers says. "That's just how they did stuff. Everybody else in real estate back then, except Mike Wampold, was broke. But Hartley and Vey were in a position to do things. They were very smart and very successful."
A quarter of a century later, Hartley and Vey, both now in their early 60s, no longer dominate the local real estate scene. In fact, few residents of the nearly two dozen subdivisions they developed in the 1980s and 1990s probably know who the developers are or realize the considerable influence they had shaping the footprint of southeast Baton Rouge. But the partners made a considerable mark on what would become one of Baton Rouge's most desirable areas to live, and built a reputation as one of the most successful development teams in the process.
They made it look easy. In reality, they were smart, investing in the right part of town and taking care not to grow too fast or become overleveraged. Then, when others crashed and burned in the late 1980s, they were in a position to pick up property at fire sale prices.
"From that one deal, they got back a quarter of their investment in about two weeks. That's just how they did stuff. Everybody else in real estate back then, except Mike Wampold, was broke. But Hartley and Vey were in a position to do things. They were very smart and very successful."

—Hardy Swyers, developer
But for all their high profile, successes, Hartley and Vey—who branded themselves as the singular Hartley Vey, even though they always maintained individual interests and, even, separate offices—have always been somewhat elusive. In recent years they have become even more so.
Hartley shuns publicity, as was always his wont, and is described by some as reclusive. Vey also keeps a low profile and has had serious financial troubles for the past decade, the result of his involvement and investments with a software firm.
The Hartley Vey name is still well known around Baton Rouge, though. There's the Hartley/Vey Theatres at the Shaw Center for the Arts, which the developers endowed in the early 2000s, and two Hartley Vey BREC parks, made possible by their philanthropy.
Hartley Vey signage is also still visible on scattered developments around town, most prominently outside the Esplanade Mall on Corporate Boulevard near Interstate 10. The partners have owned the aging strip center since the mid-1990s and in recent years have let it languish. Its rear façade, partially demolished, is arguably one of the more prominent eyesores in the city, and its dwindling list of tenants includes a Hooters restaurant and a
billiards hall.
It's an unfortunate association for a development team that has left a far richer legacy in the local market than the shopping center would suggest. But then, unlike many of the larger-than-life personalities that populate the real estate business, Hartley and Vey never did very much to promote their brand so a lot of people simply don't realize how much they've done.
Unsurprisingly, they declined to be interviewed. Hartley did not return several phone calls, and a friend said he did not want to participate in the story.
On a recent afternoon, Vey answered the door at the modest condominium unit off South Sherwood Forest Boulevard that serves as his office and said he couldn't talk because he was on a conference call. But he gestured around the room to more than half a dozen 11-by-17-inch posters bearing the names and logos of Hartley Vey developments that hang on the walls.
"If you want to know about the history of Hartley Vey," he said. "It's all right here."
He said to leave a business card and that he'd call back. He never did.
Riverbend Lakes is one of 16 residential subdivisions the pair have developed around the Baton Rouge area.
---
Seizing an opportunity
Like a lot of Baby Boomers who ended up making their fortunes in real estate in the blow-and-go years of the late 1970s and early 1980s, neither Hartley nor Vey necessarily intended to become real estate developers. They fell into it because the opportunity was there.
Hartley, a native of Lafayette, got his start in the field with Lewis and Associates Realtors. The young LSU graduate was something of a natural, earning the firm's award for top selling agent in 1979. He went on to work with condominium developer Larry Walsh, and did his first solo project in 1984—the Beau Chêne Condominiums on West Lee and Nicholson drives.
At the time, that area, just east of Tigerland toward Brightside Lane, was the up-and-coming neighborhood for LSU student housing. In what would become a pattern for the rest of his development career, Hartley got in ahead of the boom.
"That area was just beginning to be developed at that time, and he knew that's where he needed to be," recalls builder Chuck Dupree, who worked with Hartley and Vey for years in many of their subdivisions. "He was always way ahead of the curve."
Vey also graduated from LSU, earning his degree in landscape architecture. He moved into residential construction in the early 1980s with builder Leslie McDowell, his father-in-law at the time, and George Kurz, then fresh out of school and now a commercial broker. They formed a company called VKM, and began building in then-new developments along Highland Road like Highland Creek.
Hartley and Vey first came together in the mid-1980s. They were an unlikely pair that made a formidable team—strikingly different in many ways but with complementary temperaments and traits, according to those who know them and worked with them in those years.
Hartley was quiet and low key, the visionary of the two, who dealt with the lenders and handled the finances. Vey was brash and outgoing, the more visible of the pair, who worked with the builders in the field and the bureaucrats at City Hall.
Both were "scary smart," says one acquaintance, both shrewd, tough negotiators, with an eye for a deal and an inherent understanding of where the growth in Baton Rouge would occur in the decades to come.
"They were one of the few, active, single family developers in those years partly because they picked the right location, all on the southern perimeter of East Baton Rouge."

—Wesley Moore, appraiser, Cook, Moore, Davenport & Associates
"They were one of the few, active, single family developers in those years partly because they picked the right location, all on the southern perimeter of East Baton Rouge," says appraiser Wesley Moore, of Cook, Moore, Davenport & Associates, who remembers early in his career when Hartley Vey was doing deals, seemingly, every week. "They saw where the opportunity was, got in the path and produced a product that the market was ready to
absorb at the time."
Buy low, sell high
Hartley and Vey grew their business slowly and deliberately in the early years by acquiring small undeveloped parcels next to larger, established subdivisions like Jefferson Terrace, Live Oak Estates, Pollard Estates, and Riverbend. They then sold lots, a few at a time, to a handful of loyal builders, among them Dupree, Phillip Haddad and Jim Fussell.
"It wasn't like now, when developers bulk sell lots to DSLD," says appraiser Tom Cook. "Hartley Vey would sell two lots to one builder and four lots to another, and if they had one subdivision that wasn't working, they'd encourage their builders to help them out and buy a couple of lots to jump start the project."
It wasn't exactly a strong arm tactic, but Hartley and Vey were notorious for driving a hard bargain, particularly Hartley. Years later, tenants in Esplanade Mall would complain about the steep lease rates they charged and their unwillingness to bend on price. Others say they were just extremely adept negotiators, who played hardball but played fair.
"Rick was a tough negotiator, there's no question about it," Dupree says. "But they were good at what they did and it worked out well."
Cash was often hard to come by in those years. But because Hartley and Vey would buy just 30 or so lots at a time, it was fairly easy to convince local banks to finance their ventures, Cook says. Key to their approach, though, was to limit their exposure. Hartley explained their strategy in a rare 1990 interview with The Advocate.
"In general, all the property we've bought is what we've intended to develop at one time because the carrying cost on the undeveloped land is too expensive," he said at the time. "We try to identify shortages in housing and develop lots so that housing can be developed on those lots."
When the economic fortunes of the area changed—first, with the collapse in oil prices then with the stock market crash of 1987 and the Savings and Loan crisis of the late 1980s—many developers went bust. Hartley and Vey, on the other hand, were not overleveraged and had built up enough reserves from their successful subdivisions to take advantage of the abundant deals.
The Bluebonnet Ridge acquisition is a classic example. Hartley and Vey paid only about 25 cents per square foot for the property. They began flipping it, initially, for $1 per square foot. As the economy recovered, they were able to sell it off at an even higher profit—$7 or $8 per square foot. By the time they sold the last of the parcels, prices in the high-growth area were around $15 per square foot range.
Along the way, they enhanced their reputation and achieved a prominence enjoyed by few others in local real estate circles.
"Everybody—everybody— knew who they were," says real estate agent Quita Cutrer. "Builders knew if they went into their subdivision it was going to be successful and it was going to get finished, which was important because a lot of deals back then never got completed. Nobody had a better reputation back then than Hartley Vey."
Esplanade Mall, partially demolished and with a high number of vacancies, is the highest profile Baton Rouge property in the Hartley Vey commercial portfolio.
---
Expanding horizons
Throughout the 1990s, Hartley and Vey began to branch out both beyond the residential sector and the geographic boundaries of Baton Rouge. They acquired the historic Hotel Bentley in Alexandria, selling it at a handsome profit to developer Bob Dean just a few years later. They did a planned unit development in Palm Springs, California, and a project in Lafayette, among others. They also developed the hugely successful Oak Harbor in Slidell, a 1,000-acre residential golf community that they picked up from the RTC for around $8 million.
Hartley and Vey also moved into commercial real estate. But their track record in the commercial sector has been less impressive than was their legacy in the residential sphere. Esplanade Mall is the most striking example. Hartley and Vey acquired the property in 1993 for $3.5 million from a Connecticut investor that had bought it a year earlier from the RTC. The 115,000-square-foot shopping center, formerly known as Corporate Mall, had a troubled 20-year history dotted with ownership changes and physical renovations aimed at reviving the center. While Hartley and Vey stabilized the property, they never managed to turn its fortunes around, and in recent years it has seen a number of tenants move out or close.
Real estate brokers say part of the problem is that rent in the shopping center, which was averaging around $23 per square foot in 2015, is too high. Some say Hartley, who owns a majority interest in the property, is a better real estate developer than property manager.
Whatever the reason, it hasn't helped matters that in early 2015, Hartley Vey demolished half of a long-vacant anchor space on the rear side of the center, which faces I-10. Sources familiar with the demolition say the plan was to make way for a new tenant. But no new tenant ever came and in the more than two years since, the rear façade of the partially demolished structure has never been replaced.
It's a black eye for a partnership that built its reputation on doing quality development. Scott Bankston, who is Hartley's associate and manages the property, concedes the property has been problematic, and says the highest and best use for the 11-acre site is to demolish and redevelop it. But he says the partners cannot do that because of long-term lease agreements in place.
Another of Hartley and Vey's high profile commercial acquisitions from the 1990s has also arguably failed to live up to its potential as a site for development, even if it has proven lucrative to own. In 1995, the partners acquired the 1.8-acre riverfront parking lot downtown bounded by Florida, Laurel and Lafayette streets for just $950,000 from a casino company that had tried unsuccessfully to secure a riverboat gaming license in the market. At the time, Hartley told The Advocate the partners hoped to eventually do something with the property.
Downtown advocates and city planners were thrilled, envisioning the property as the site of a high-rise residential, office or mixed-use space. But in the two decades since, other downtown developments have sprung up around the parking lot, as it has remained undeveloped.
In 2011, the LLC Hartley and Vey created to purchase the lot, Oak Harbor Investment Properties, transferred 100% of ownership in the LLC to Hartley. Court records make clear the Act of Distribution bought Vey out, but they don't say for how much. In the years since, Hartley has continued to lease the property to a parking lot operator.
The company recently installed new lighting and repaved the cracked asphalt surface, improving the lot's appearance somewhat. But the property is a thorn in the side of Downtown Development District Executive Director Davis Rhorer, who has made clear that he would like to see it utilized as something other than a parking lot.
It's unlikely to happen any time soon. Real estate brokers say Hartley has been offered as much as $50 per square foot for the lot but wants much more. Bankston won't discuss price, but says Hartley would only consider selling "if someone really, really wanted it." Even then, he adds, "they would probably sit on it, too. Nobody's building a W Hotel in Baton Rouge, and you don't need several hundred more apartment units or office space right now."
Though both Hartley and Vey have chosen to remain out of the spotlight, the pair did make a donation to create the Hartley/Vey Theaters at the Shaw Center.
---
Fading from the scene
Why Hartley has taken such seeming disinterest in two of Baton Rouge's more prominent pieces of commercial real estate—given his earlier track record—is something of a mystery. Some say he's trying to wind down, retire and enjoy the fruits of his labor. Others say he spends a lot of time out of town and has other investments that occupy his time. Commercial broker Mark Hebert has another theory. He says the kind of deals that made Hartley and Vey successful in the 1980s and 1990s aren't the kind of deals anyone is doing any longer.
"They were frugal buyers, looking at buying things at a discounted rate then paying retail," Hebert says. "In the last 20 years, Baton Rouge has been a hot market and there haven't been any real deals and steals. You've had to pay retail or close to retail to get a deal done. When they were buying back in the '80s and early '90s, no one had heard of a CAP rate."
As for Vey, he's been preoccupied with financial problems. In the early 2000s, he became involved with a Pennsylvania company, Sedona Corp., that sells CRM software (See related story on page 25). Vey invested heavily in the company, and apparently lost a lot of money in the process. Since 2011, lawsuits and liens totaling more than $2.5 million have been filed against him in 19th Judicial District Court.
Those who know Vey say he has taken the losses hard but that, of late, he has tried to reinvent himself. They also say though he and Hartley no longer partner on deals, Hartley is loyal to Vey and has tried to protect and help him through his difficulties.
But Hartley and Vey have left a legacy in the community that extends beyond their residential real estate developments of the 1980s and 1990s. In the early 2000s, when the Baton Rouge Area Foundation was raising money for the Shaw Center for the Arts, they established a
donor-advised fund with BRAF to help fund a black box theater at the facility.
Hartley and Vey had previously donated property to BRAF, some of which was later transferred to BREC and developed into two neighborhood parks—one in Gardere, one in north Baton Rouge—that still bear their name.
But the Shaw Center donation was particularly special and effective because it restricted nearly half the funds until the theater had been in operation for several years, according to Arts Council Director Renee Chatelain, who was director of the Shaw Center back then.
"Rick said they were going to withhold some of the money until we had 'lived in the space,'" she says. "He told us, 'You aren't going to understand what you need until you've been in there a while.' It was such smart philanthropy. I tell that story all the time because it's a reminder that if you give all your money at the front end and don't reserve anything for sustainability then it's not well spent."
In 2011, six years after it opened, the Shaw Center spent the remaining Hartley Vey funds on enhancements at the theater that included improving the sound system, reconfiguring the space between the main black box theater and the studio theater adjacent to it, and constructing a separate exterior entrance on North Boulevard. At the same time, the Shaw Center officially rebranded the theater as The Hartley/Vey Theatres.
Chatelain became close friends with Hartley during the process and still talks to him regularly. She considers him a mentor, and says he has a vision and intrinsic understanding of creating a sense of place.
It was apparent in the early developments in southeast Baton Rouge he did with Vey, and it lives on in the gifts he has made to the community, she says.
"I would say he believes in development. He is just a genius at development and in creating a sense of place," Chatelain says. "What does that take? Is it a park? A theater? He has a view from 30,000 feet and is able to say, 'What does this community need?' This city is better because he has been in it."
---
Making their mark

Though their names are well known, few people likely realize just how many properties Rick Hartley and David Vey were involved with in the Baton Rouge real estate market. Below is a partial list of developments they did or owned at some point in their career.

Residential developments

Beau Chêne Condominiums*
Jefferson Terrace, sixth filing
Bluebonnet Ridge
Highland Ridge
Knox Hill
Homestead
Live Oaks Estates, second filing
Azalea Lakes
Lakewood Estates
Woodlake at Bluebonnet
Pollard Estates, third filing
Oak Hills Crossing
Riverbend Lakes
Country Club Crossing
Five Oaks
Heritage Estates
Oak Harbor (Slidell)

Commercial properties

Esplanade Mall
Downtown parking lot
617 North Blvd.
O'Neal Plaza Shopping Center*
Hotel Bentley, (Alexandria)

* Hartley only