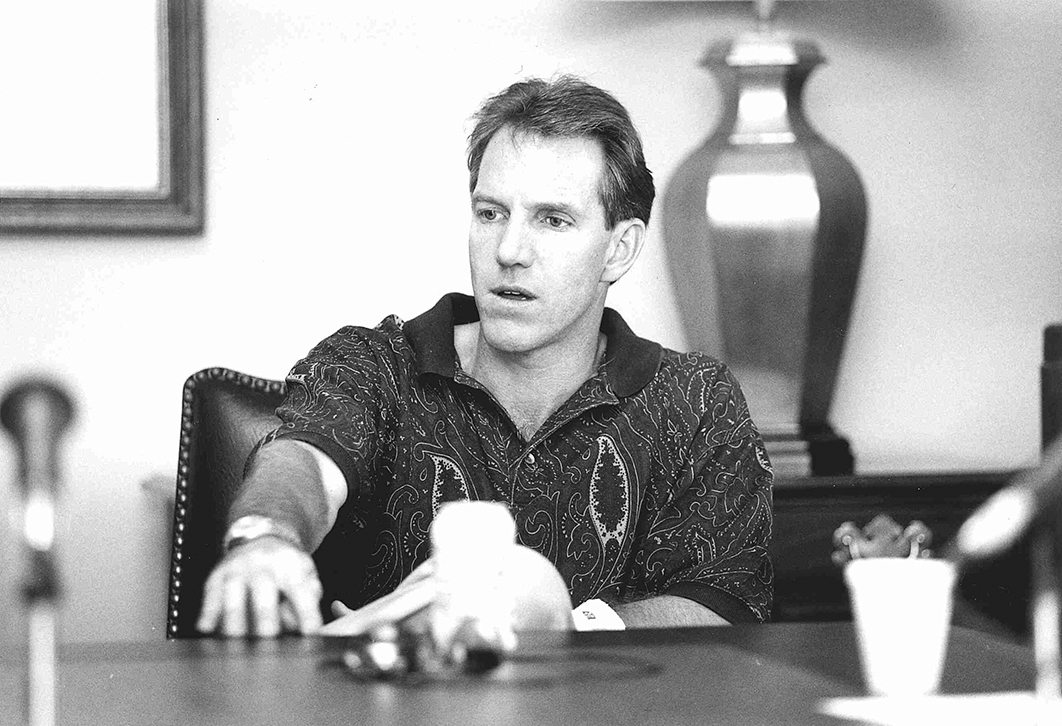 The reclusive David Vey, seen here in the 1990s, fell on hard times after his investment in a technology company did not pan out.  (Photo by Prather Warren)
---
For nearly two decades in the 1980s and 1990s, David Vey had a successful career in real estate development with Richard Hartley. But for much of the past two decades he's been in the computer software business, where his track record has been far less stellar.
Vey's troubles in the industry date back to the early 2000s, when he got involved with a King of Prussia, Pennsylvania company called Sedona Corp., which sold CRM software to banks and credits unions. The company had been around since the mid-1980s and was publicly traded over the counter. It was relatively small and didn't have a national reputation—until 2000, when its stock price unexpectedly began to plummet.
An investigation by the Securities and Exchange Commission would discover that Sedona was the victim of short selling by several Wall Street hedge funds managers, who had allegedly manipulated its stock price for their benefit.
It's not clear whether Vey got involved with the company before the short selling incident or after. But in 2002 he "stepped up" to help bail the company out of the financial troubles that resulted from the scandal, according to a 2006 article in The Philadelphia Inquirer, which described him as one of Sedona's "major investors."
The article went on to say that Vey "had faith in the company," and was betting "on the quality of Sedona's software product."
A 2007 article in Forbes also portrayed Vey as something of a white knight for Sedona, noting that he loaned money to the company and also held a 43% ownership stake in it.
Vey told Forbes he had gotten involved with Sedona because he was "a little bored and this seemed like an exciting endeavor."
Vey went on to become chairman and CEO of Sedona, but the company's fortunes didn't improve under his leadership. The SEC was unsuccessful in prosecuting the Wall Street firms that had allegedly been short selling Sedona stock. Those firms, in turn, sued Sedona and won several civil judgments against the company, which it was forced to pay.
Then, in 2010, after reporting a first quarter loss of $357,000, Sedona stopped filing quarterly reports with the SEC. As a result, the commission revoked the company's common stock in 2015 and ceased all trading of it on the exchange.
According to the company's financial records, Sedona converted $13.6 million worth of long-term debt into five new promissory notes the same year. Three of the notes, totaling nearly $11 million, were held by Vey or legal entities he owned. The notes were due on Jan. 1. It is not clear to what extent, if any, Vey was repaid.
While there's no way of knowing how much Vey's involvement with Sedona has cost him over the years, court documents suggest he hasn't been paying his bills in Baton Rouge. Since 2011, he's been hit with nearly a dozen lawsuits for defaulting on loans and mortgages and for stiffing creditors, including a local interior designer and a caterer.
Vey has lost several of the suits. Others were dropped. A couple are still working their way through the courts.
Among the larger suits:
2011—Business First Bank sued Vey for defaulting on a nearly $149,000 loan. The bank won.
2011—Regions Bank successfully sued Vey for defaulting on a $273,000 mortgage.
2011—Jones Walker sued Vey for nearly $79,000 in unpaid legal bills. The law firm won the case and received court approval to seize a portion of his Slidell development, Oak Harbor, to satisfy the judgment. The seizure never happened, though the court record does not reflect why. An attorney with Jones Walker declines to comment on the case.
2012—Whitney Bank sued Vey for defaulting on a $488,000 loan. Vey's attorneys fought the suit for years but lost. He failed to appear in court for several hearings, as recently as August 2016.
2013—Bancorp South filed suit against Vey for nearly $553,000 for defaulting on a mortgage for a condominium development on Justice Avenue. The bank ultimately took the property back, save for one unit Vey owns through a separate legal entity.
2014—JP Morgan Chase Bank sued Vey for defaulting on a $750,000 mortgage for his personal home in the Country Club of Louisiana. The case is still wending its way through the courts. Another hearing is scheduled in the matter in late October.
2017—The Country Club of Louisiana Property Owners Association sued Vey for $12,000 in back dues. The association won the case and recently received court approval to begin foreclosing on the home. The property will go up for sheriff's sale in the next 60 to 90 days unless the judgment is satisfied before then.
Vey has declined to comment. But friends and those who know him say he has taken the losses hard and is trying to reinvent himself.
He is still listed on Sedona's website as its chairman and CEO. In 2016, the company reported revenues of $2 million, up 5% from $1.9 million in 2015.