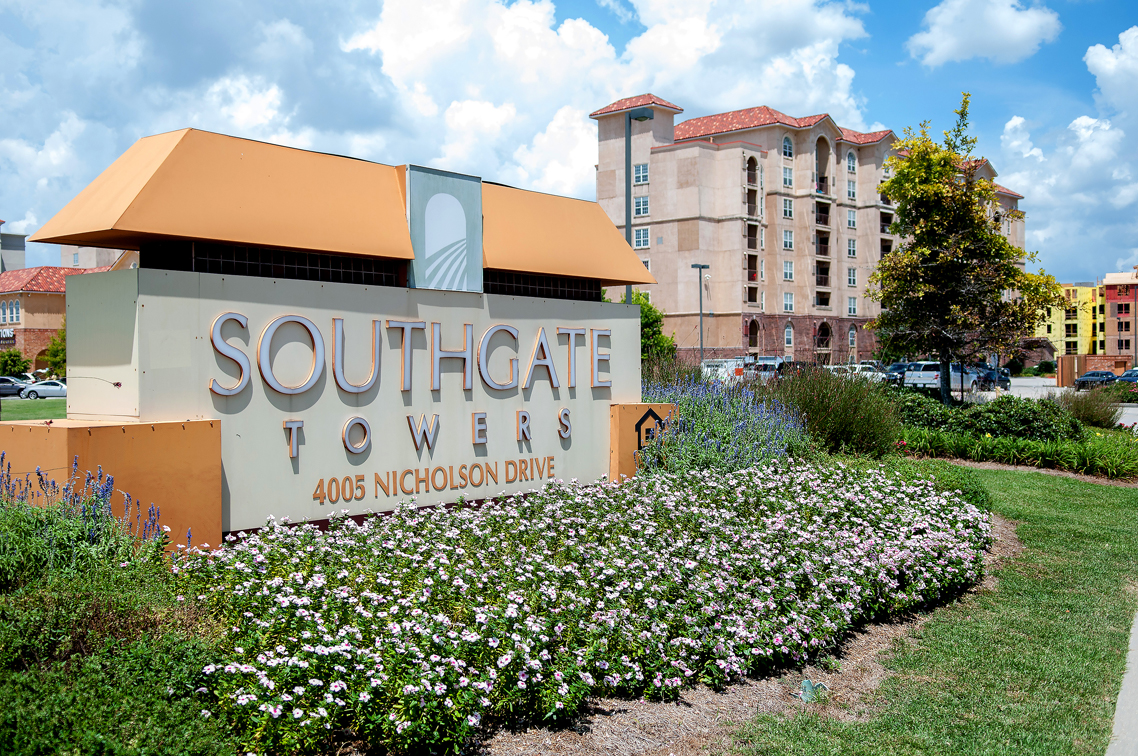 The Summit at Southgate will be located on a 5.4-acre tract behind the Southgate Towers mixed-use development on Burbank Drive.
---
Summit at Southgate, a 454-unit luxury apartment project, pulled its initial construction permit last month. Developer Robert Day purchased a 44-acre tract at the intersection of Burbank Drive and Nicholson Road more than 15 years ago. A lot has changed since then.
Projects developed since Day's acquisition include University View Condos, Walk-On's Bistreaux & Bar, Co-Op Bookstore and many other retail and residential developments, not to mention Southgate Towers—which the Summit will be built next door to.
It's no secret that an abundance of student housing has been built in this corridor—and even more is proposed in the coming years.
My colleague Craig Davenport recently inventoried all the apartments aimed at students proposed and under construction. His findings leave no doubt there will be an oversupply that will take years for the market to absorb.
Day, however, sees the Summit as a long-range investment. His strategy is to build a better product that will capture more of the market than his competition.
"We have learned a lot about the apartment market over the last 20 to 25 years and have incorporated a lot of what we have learned into this project," Day says.
The project will include an 18-story tower and six-story parking garage with controlled access. The roof decks of both structures will house common areas with amenities including extravagant pools, outdoor patios with fire pits and a workout area.
"Not only will the units be in walking distance to the university, but the tenants will have views of the river, downtown and the LSU campus from the eighteenth floor observation deck," Day notes.
The apartment mix will range from studios to six-bedroom units. The average unit size will be about 1,500 square feet, with four-bedroom units measuring in at more than 2,000 square feet. All of the apartments are much larger than the surrounding competition.
Much of Day's competition rents units on a per-bedroom basis. Units are typically four to six bedrooms, with tenants sharing a large living room and kitchen. It's a model that maximizes rents. While the Summit may use this model as well, Day's experience with student housing gives him a different perspective.
"Our market study indicates that after a year of living in a six-bedroom unit, a lot of those tenants want to move into a smaller unit with fewer roommates, something the competition may not be able to offer them," he says, noting about half of the Summit's apartments will be studio, one- and two-bedroom units.
Day acknowledges the Summit has been on the drawing board for a few years now.
"We know the competition from surrounding development will be strong, but we know we have a much better product," he says. "The quality of construction and the location will attract not only students, but university professors and employees as well as folks working downtown."
Given the Summit's location and amenities, it's likely that it will prove tough on the competition—and may very well attract a larger share of the market competing for student tenants.
Let the games begin!
Tom Cook of Cook Moore and Associates has been an independent real estate appraiser for more than 20 years.