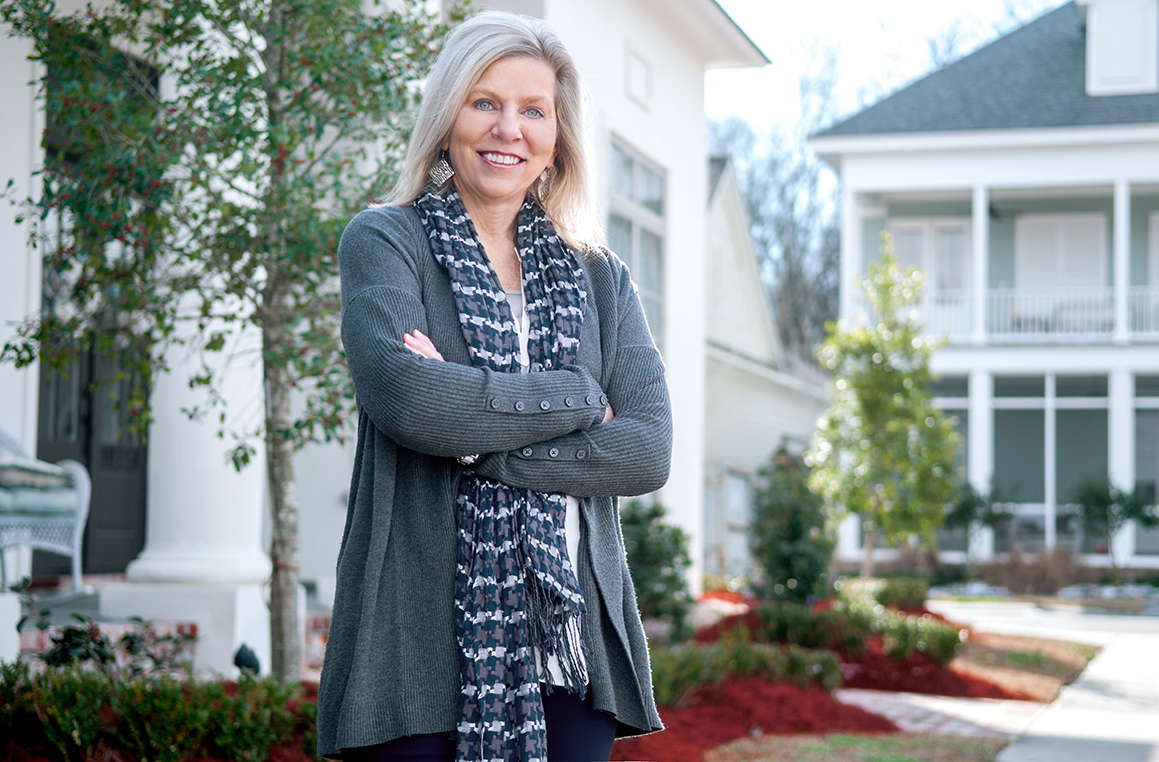 CHANGING TIDE: After five years of low inventory and escalating prices, Ginger Maulden, past president of the Greater Baton Rouge Association of Realtors, says the area is predicted to shift closer to a buyer's market. (Photo by Don Kadair)
---
Editor's note: This story has been corrected since initial publication to note Ginger Maulden is a past president of GBRAR, but not the current president. Business Report regrets the error. 
For the last five years, selling a home in the Capital Region has proved a much easier task than buying one.
With historic inventory lows and record-breaking home sales, Baton Rouge real estate has been in a yearslong seller's market streak, which was thrust into overdrive after the August 2016 flood. More than 11,000 homes were sold in greater Baton Rouge in 2017 alone, a record high the area hasn't seen since the Hurricane Katrina migration of 2005.
At the same time, the number of available homes for sale has dwindled. Since 2013, Baton Rouge has fallen below six-months supply of inventory, which reflects a seller's market, realtors say. The greater Baton Rouge area hit a historic low of three-months supply in December 2016, before slowly rising to 3.7 months by the end of 2017.
But it's important to note the past two years were anything but ordinary. The aftermath of a massive flood overwhelmed an already-heated housing market. Home sales soared as flood victims sold their damaged properties and bought new homes on higher ground—throwing the market out of whack for the last year-and-a-half.
Only recently has the Capital Region begun to shake the effects of the flood, with 2018 shaping up to be a return to normality. Real estate agents say activity began slowing by the end of 2017, signaling a cooling off period, and this year inventory is expected to rise. What remains to be seen, though, is when the area will move out of a seller's market. Though most indicators point to a better year for buyers, it appears sellers in the Capital Region will continue to have the upper hand.
"The National Association of Realtors is predicting the market to change more toward a buyer's market this year, but our inventory is still so low I don't think it will switch completely," says Ginger Maulden, past president of the Greater Baton Rouge Association of Realtors.
---
It may take another year or two before the Capital Region housing market begins to favor buyers, says RE/MAX agent Kyle Peterson, who is studying the market for the upcoming annual TRENDS in Real Estate seminar in April.
"2018 will still be a seller's market," Peterson says. "But it's moving back toward neutral more than it has been because we will have more inventory coming online."
The recent slowdown has been a cause for concern among some realtors, but that could be because they became used to being busy after the flood, Peterson says. Plus, the slowdown was more of a pause. The market began to pick back up in January—although not for everyone.
Jerry Del Rio, a veteran agent of high-end homes with real estate giant Engel & Völkers, says her phone has been ringing a lot less in early 2018 because the market for upscale homes has been inactive.
"Right now the market is so dead that I'm concerned," Del Rio said in January. "I don't know if it's the holidays or the cold weather. In the past few years, we had such a good market that we saw no slowdown."
High-end sellers will have to get more realistic on their listing prices, Del Rio says, and once that happens the market may begin to tilt more toward buyers, or at least a neutral zone. Inventory is also starting to increase, which is good news for homebuyers, Maulden adds. If a home can sell in six months, she says, that indicates a healthy market. Baton Rouge is inching back up to that mark, especially with new developments popping up.
"Inventory is getting higher because of new construction, and we're getting out of a flooded market," Maulden says. "A lot of sellers also wait until the spring to put houses on the market, so come April or May inventory will increase."
Although homebuyers will have a better selection, they probably won't see prices drop in 2018. If homes are valued accurately and are in a good location, Maulden says, they will sell for good prices.
If 2017 is any indicator, prices could even be up. The median sales price in 2017 for greater Baton Rouge rose to $190,000—up 1.4% from 2016, according to GBRAR. But flooded homes sold as-is in 2016 may have skewed prices. In any event, agents remain optimistic that the market will be healthy and regulate prices on its own. If homes are overpriced, buyers won't budge, especially as supply increases.
"Houses priced well are selling," Peterson says. "If not, the market is telling you pretty quickly."