Amid accusations of fraud and deception, a prominent Livingston Parish auction house battles an ex-partner over the sale of a former Isle of Capri riverboat

Henderson Auctions auctioneer Ken Buhler describes some of the items up for bid at a two-day fall construction auction held in Livingston last fall. The company says its quarterly construction auctions gross between $12 million and $20 million each. Photography by Don Kadair
---
"I hope we all make a ton on that boat."
Those 10 words expressed in a June 2013 email captured the spirit of a deal between Henderson Auctions—one of the most prominent auction houses in Louisiana—and one of its former salesmen to buy and sell a former Lake Charles Isle of Capri riverboat.
Nearly four years have passed since they were written, and the message is now Exhibit No. 4 in an enthralling—and rather nasty—fight in Baton Rouge federal court, one rife with allegations of backroom deals, fraud, deception and, of course, missing money.
Perhaps most intriguing of all is the assertion that Henderson Auctions founder Marvin Henderson, a former National Auctioneers Association Hall of Fame honoree, "carved off" thousands of dollars in cash from the sale of the riverboat, possibly unbeknownst to his own son and daughter, who now own the auction house.
Earlier this month, U.S. District Judge Shelley Dick turned down Henderson's request to throw out the allegations against him, dubbing some of his arguments "disingenuous." She also noted that should the allegations be proven in court, Henderson himself could be liable "for all or part" of what is owed.
Marvin Henderson founded Henderson Auctions in 1957, raising just $800 at its first sale. Today, the 50-acre auction house specializes in heavy construction machinery, industrial equipment, trucks and trailers, mobile homes and real estate. Its two- and three-day quarterly construction auctions now gross between $12 million and $20 million each, according to the company's website.
"I'm not perfect, but I have a legitimate business. I wouldn't have that if I had been going around lying. Many, many customers know we do straight business. Those allegations don't mean nothing." —Marvin Henderson, founder, Henderson Auctions
Henderson's son, Jeff Henderson, now runs the company as president and CEO, and has also served on the Louisiana Auctioneers Licensing Board under the last two governors. His sister, Janet Henderson Cagley, is CFO. Henderson, now 80, remains both an auctioneer and somewhat of a powerbroker in Livingston Parish politics.
Over the years, Henderson Auctions has encountered other legal challenges. Court documents indicate that Henderson pled guilty to mail fraud in the Middle District of Alabama in 1988, for which he received a 36-month suspended sentence and three years of probation, during which he was tasked with 300 hours of community services, according to a U.S. District Court Probation and Pretrial Services Office letter.
More recently, it filed a lawsuit blaming First Guaranty Bank for its loss of $1 million through allegedly fraudulent wire transfers. The company has also had run-ins with the revenue departments in Mississippi and Louisiana over sales taxes.
Henderson Auctions also was at the center of controversy over its purchase—through a separate company called Lottie Group—of 22,000 Hurricane Katrina-era FEMA trailers, which became a public concern over formaldehyde levels.
Cagley declined a request for an interview with company executives, saying their attorney had advised against it.
Henderson insists "there is no controversy between me and my kids," and that he's not worried about the outcome of the case.
"I'm not perfect, but I have a legitimate business," he says. "I wouldn't have that if I had been going around lying. Many, many customers know we do straight business. Those allegations don't mean nothing."
THE RIVERBOAT DEAL
The deal in question had its beginnings on May 31, 2012, when Henderson Auctions entered into a joint venture agreement with BLH Equipment, a Jackson, Mississippi-based firm newly created by James Blake Everett, a former Henderson Auctions salesman.
The agreement—signed by Henderson himself—notes that BLH Equipment "expended major time and efforts" to acquire "at a price substantially below market value" the M/V Crown Casino, a former Isle of Capri riverboat that was once the subject of a U.S. Supreme Court decision as to whether a dockside gaming establishment is subject to maritime law.
A bill of sale indicates that eight days later, Henderson Auctions spent roughly $600,000 to purchase the vessel from Bossier Casino Venture Inc., which had acquired the Crown in its $15 million purchase of Grand Palais Inc. and its gaming license to develop the Margaritaville Resort Casino on the Red River in Bossier City. Henderson Auctions then doled out another $300,000 to moor the boat and prepare it for sale.
Everett was tasked with finding a buyer. It wasn't until December of 2013 that one came along.
"I wish I'd never heard of Marvin Henderson or Henderson Auctions." —James Blake Everett, former salesman, Henderson Auctions
Bank records filed in the case show the purchaser was Rhodes Veterinary Hospital of Sulphur, whose owner is Dr. Harold Glen Rhodes. Current vessel ownership records list the M/V Crown Casino as being owned by Rhodes Veterinary Hospital Inc. Profit Sharing Trust. Rhodes did not respond to a request for an interview, but a source familiar with the purchase says plans were to convert it into temporary housing for the thousands of construction workers expected to converge in southeast Louisiana during the multibillion-dollar industrial expansion.
Bank records from Everett's firm show that on Dec. 3, 2013, Rhodes Veterinary Hospital wired $461,091.11 to Everett's company, BLH Equipment. He also conveyed ownership of the century-old Ivey House, a 4,000-square-foot landmark home on East Jefferson Street in Kosciusko, Mississippi. Although court documents do not indicate the value of the property, it recently was listed with a realtor for $295,000.
The following day, BLH Equipment wired $340,000 to Henderson Auctions. Curiously, though, six more wire transfers would follow—these directly to Marvin Henderson himself. One for $5,000 two days after the sale; two more for $6,000 each on Dec. 10 and 11; two others for $5,000 each on Dec. 16 and 18. On Jan. 3 of 2014, there was a sixth wire to Marvin Henderson for $8,000.
In July, Everett's attorney filed another exhibit, this one called "Advances to Marvin for his Girlfriends." The handwritten ledger shows dates and amounts for 10 additional alleged payments—in cash and cashier's checks—to Marvin Henderson or to women on Henderson's behalf. That exhibit alleges that all told, BLH Equipment paid $141,519.68 to Marvin Henderson between July 2, 2013, and Feb. 7, 2014.
WHO'S IN CHARGE?
Those payments constitute the crux of the case, which centers on whether Marvin Henderson had the authority to act on Henderson Auctions' behalf. Henderson Auctions' parent company sued BLH Equipment and Everett in May 2014, alleging it is still owed $200,000 from the riverboat sale and any proceeds from the sale of the Ivey House.
Attorneys for Everett, however, insist that Henderson—who took part in numerous contractual negotiations involving the riverboat and remained listed as the CEO on the company's website as late as the filing of Henderson Auctions' lawsuit against him—was indeed acting on behalf of the company in laying out the terms of the deal, which included BLH Equipment's multiple payments made directly to him. The website has since been changed to reflect Jeff Henderson as CEO.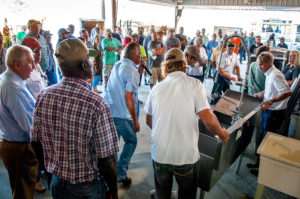 In her January ruling declining to dismiss BLH Equipment's claim against Marvin Henderson, the federal judge noted that if true, those two allegations "could constitute the manifestation of authority that [Henderson Auctions] allegedly gave Marvin Henderson to act on its behalf."
"It appears that Marvin failed to inform his daughter Janet Henderson Cagley about the details of the new arrangement regarding the vessel sale transaction," Dick wrote, noting that Cagley later demanded that Ivey House be conveyed to another of the family's companies, J3 Enterprises.
In court filings, Everett claims that at that point, Marvin Henderson offered to pay BLH Equipment $250,000 to do the transfer, although Dick notes that arrangement never materialized.
At this point, a trial is set for January of next year, with discovery continuing through the end of May.
Henderson says he isn't concerned about the judge's recent ruling. "If I didn't think we would prevail, we wouldn't have filed the lawsuit in the first place," he says. Of Everett, he laments: "I'm sorry that I ever trusted him."
Everett, who continues to buy and sell heavy equipment through his own company, declined an on-the-record interview, other than to say this: "I wish I'd never heard of Marvin Henderson or Henderson Auctions."