Race to the mansion: Scott Angelle

(Photography by Marie Constantin)
Scott Angelle's challenge: introducing himself to voters outside Acadiana and Baton Rouge.
According to some polls, Republican Louisiana Public Service Commissioner Scott Angelle would finish fourth if the election for governor was held today. That's last among the major candidates.
Part of the problem may be that Angelle is not very well known outside Baton Rouge, where he has held several state government positions, and his native Acadiana region. But as the affable Breaux Bridge native introduces himself to more voters, his numbers have room to grow.
According to his official bio, Angelle was elected to the St. Martin Parish Police Jury at age 25, where he served for 12 years before being elected the parish's first president in 1999. He served as secretary of the Department of Natural Resources under Govs. Kathleen Blanco and Bobby Jindal, and he was appointed interim lieutenant governor by Jindal in 2010.
Angelle won election to the PSC in 2012. He is chairman of the state's Water Resources Commission and is a Jindal appointee to the LSU Board of Supervisors. His business career has included strategic planning, risk management and petroleum land management, he says.
Angelle says this election is about the ability to lead, not just policy.
"You're going to have any number of people who are closely aligned on policy," he says. "We can have the best plans from a policy standpoint, but the next governor will have to get two-thirds of the Legislature to vote on some structural changes. … I think we can only do better if we can lead by inclusion and cooperation."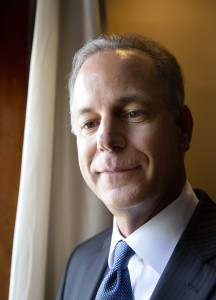 You say the state's budgeting process is in need of structural changes that will require a two-thirds vote by legislators. Give me some examples.
Over the years, lawmakers have provided many exemptions, credits and rebates. When the Legislature decides that we're not getting a return on the investment from one of them and wants to take it away, that is viewed as a tax increase and therefore requires a two-thirds vote. There are any number of things that need to be revisited, so we can add up the benefits and costs and make a business decision as to whether or not this is in the best interest of Louisiana. We need to begin to have an adult conversation to decide which ones we can afford and which ones we can't.
Is that requirement something we should change? If something can be enacted by a majority vote, why not allow it to be repealed by a majority vote?
My hope would be to have an automatic sunset provision. Anybody that signs up for an incentive through the Department of Economic Development, where we have contractual obligations, we need to live up to those obligations. But I think we need to keep in mind that our fiscal note process [whereby future costs of various programs are estimated] has not been accurate. It's very difficult to predict the cost of some of these things. The programs ought to sunset, and it would be the responsibility of the proponents to get a majority vote to reauthorize it. But we need to live up to our requirements, and we need to create a long enough runway so businesses know when a program might end.
You have proposed establishing an exemption review conference, similar to the existing Revenue Estimating Conference. How would that work?
What I have found with exemptions is that the legislative staff is overwhelmed, as all these bills are filed at virtually the same time. It's like the 10-day weather forecast—they're always wrong. I think it makes sense to have an exemption review conference made up of some politicos, perhaps the speaker of the house and the president of the senate or their designees, and a couple of economists, who bring transparency to the process and can hear testimony on what a proposed exemption might cost. When we look at retirement bills, we require them to be pre-filed to allow actuaries and the legislative auditor time to render an opinion on the cost. That makes sense. We ought to do that with exemptions as well.
What's your standard for a successful tax credit or exemption? Does it need to pay for itself?
There has to be some acceptable return on investment, and that can be measured in a lot of ways, such as the amount of payroll that is created, the amount of taxes the beneficiary will pay, and whether they are providing benefits to workers. I'm certain we can come up with a set of metrics that allow us to measure this. There could be growth opportunities, such as with digital media, where maybe there might not be great returns in the first five years. There ought to be some flexibility there. Ultimately, the Legislature will make the decisions, but there ought to be a process that brings a professional recommendation to them.
You've said you will require a "justification statement" to accompany any new regulation issued by a state agency. What would that accomplish?
Small business owners tell me one regulation is not a problem. But often a business falls under the purview of multiple state agencies, and sometimes the left hand [of government] doesn't know what the right hand is doing, and over time the burden of regulation can become heavy for small businesses that don't have compliance departments. So before promulgating a new regulation, I would require state agencies to publish a statement describing the justification for the regulation and the impact it would have on the people it's seeking to regulate, and allow that to be out there for perhaps 60 days so we can get feedback to see if we got it right. I'm trying to avoid unintended consequences and over-regulation.
So you want to create a public comment period for new regulations?
Absolutely.
The major candidates for governor, including you, say they want to eliminate the inventory tax. Would you help the local governments replace that revenue?
We're all in this thing together. We as a state need to get away from taxing inventory, because it's burdensome to businesses. But it's very important to local governments. There are some ways that I'm hearing to substitute for that money—maybe the Market Fairness Act that Congress is considering [which might lead to enforcement of sales tax collection on Internet purchases]—but clearly we cannot simply say, "We're getting rid of the inventory tax today, and local government is on its own."
What does comprehensive tax reform mean to you?
We need more people paying less taxes. I think the way you do that is by identifying those exemptions that perhaps no longer make sense. Our sales tax rate is 4%. If we eliminate some exemptions, maybe we can lower the rate.
Your campaign website talks about stopping "the EPA's attack on the energy industry." What's the governor's role in that?
I think it would be leadership and being a voice in support of Louisiana's energy industry. I think the EPA attempts to do things Congress has not given them the authority to do, so there's always the opportunity through the court system for the state to respond.
Should citizens be able to keep oil and gas drilling out of their communities if they or their elected representatives vote to do so?
Oil and gas is a part of who we are as a state, and that ought to be regulated centrally at the state level.
How should we pay for our infrastructure needs?
The first thing we have to do is put the "trust" back into the Transportation Trust Fund. We are talking about taking money from that fund to fund operations of State Police. Clearly people who are paying state gas taxes are of the opinion that those taxes are being used for infrastructure expenses. We also need to look at the capital outlay process, which needs to be more about creating jobs than creating friends. I also think it makes sense to review other statutory dedications to free up new money. I'm a big believer in tolls, although there might only be a few areas in the state where toll roads would be economical. Maybe people would be willing to pay a premium to travel an alternate route. Ultimately, it's about job creation and public safety.
You say you want to get Louisiana out of Common Core. How far are you willing to go to do that? Would you try to go around the Board of Elementary and Secondary Education, as Jindal tried to do, or circumvent education committees?
It's leadership. It's not scheming; it's not going around [education officials]. It's about being up front with people, bringing stakeholders to the table and clearly articulating that Common Core does not have a monopoly on high standards. I'm convinced that Common Core has lost the confidence of the very people that have to make it work.
Does Louisiana need a "religious freedom" law similar to Indiana's?
I'm all about religious freedom. We passed a similar law in 2010, and I'm not aware of anything that has created a problem in Louisiana. I'll follow the process this session and try to understand the concerns that have been expressed in Indiana.
Do you support the current public-private partnerships for Louisiana's charity hospitals?
I think we need to tweak them. From what I've seen, it's working well in many areas. I think there have been some unintended consequences, such as in Baton Rouge where the geographic location of the partner is perhaps too far away from where the most needs are. Health care is taking a larger and larger portion of state spending, and the partnerships are one attempt to control costs.
You have been a longtime ally of Gov. Jindal, who isn't very popular these days. How do you deal with that as a candidate?
I began my career in public office before Gov. Jindal had a driver's license. I have served for two different governors, and I have always played for Louisiana. I'm my own man, and I make my own decisions. An assistant coach might not always agree with everything that the head coach is doing. But when they get the chance to be the head coach, they can implement the system that they believe in.
What's your assessment of Gov. Jindal's effectiveness?
I think there has been a loss of focus recently. I think there have been a lot of positives, in terms of the ability to grow the economy, the ability to provide choice for parents in education, for the ethics reform, for reducing the size of government, for not raising taxes. But I think there's some question as to whether or not the governor has been all hands on deck with regards to the budget, and that's where I would differ from him.
Related stories: