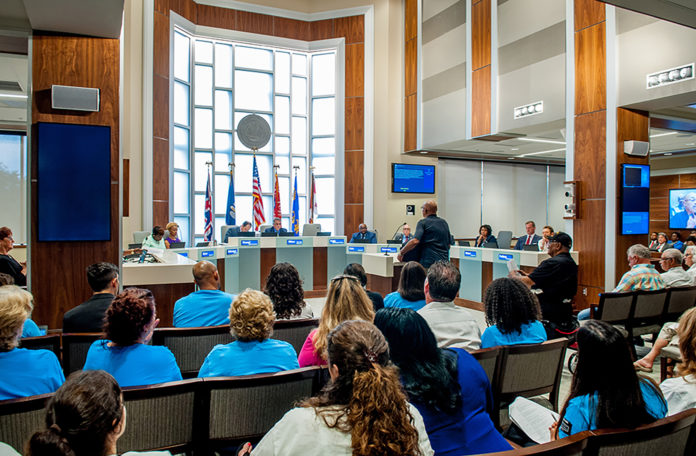 What exactly is the precedent for filling unexpected Metro Council vacancies?
It's a question—among many—that has arisen following Tuesday afternoon's surprise announcement from four Democratic Metro Council members that they won't vote on any candidate to fill the seat of late Republican Councilman Buddy Amoroso.
Another question: Is there any difference between filling Amoroso's seat and addressing a vacancy created by someone who moves on from the council after winning another elected seat?
There is some recent precedent. In 2016, a vacancy was created when former Metro Councilwoman C. Denise Marcelle won a seat at the state Legislature. At the time, Amoroso nominated Sandy Lemoine, a white Republican, to fill the seat in a majority African-American Democratic district. Marcelle's nomination, LaMont Cole, was appointed instead.
That bit of history was highlighted in an anonymous email sent to local media outlets early this morning. The email suggests Amoroso did not follow the tradition of honoring the wishes of the previous council member when appointing a temporary replacement, so why should the Democratic council members follow tradition in appointing Amoroso's successor?
"This shows Amoroso was not one who believed in the legacy tradition that all the other council members are trying to ascribe as the reason why the four councilmembers are wrong," says The Rouge CollectionPublisher Gary Chambers, who has supported the four council member's abstention on social media. "In the last vacancy, Amoroso nominated a white Republican for a majority black Democratic district."
Those who have criticized the four Democrats' decision, however, argue that the two cases are not one in the same.
"Having an accident out of the blue, something as shocking as Buddy's death, is a vastly different situation than watching a council member campaign for over a year and win another seat," says Councilman Matt Watson.
The four councilmembers who will abstain from voting—Chauna Banks, LaMont Cole, Erika Green and Donna Collins-Lewis—gave no reason for their decision, saying in a release, "We will make no further comment on this matter at this time."
But the move will require the seven remaining members to vote unanimously for Amoroso's successor in a district that's overwhelmingly Republican. If they fail to reach an agreement, state law dictates the decision then goes to Gov. John Bel Edwards, a Democrat.
Amoroso's widow, Denise, has expressed interest in taking over the District 8 seat and will likely be the nominated successor.
In an news release sent late Tuesday, the four Democratic council members claimed they didn't know Denise Amoroso was seriously considering filling the seat, adding they look forward to having discussions with her about it.
They also note that "a number of people residing in district eight reached out to us relative to being appointed to the vacant seat. We wanted all of them to know we will not vote to appoint anyone to the seat"
Watson shot back in an email with a screenshot of a text message from Monday informing Green that Denise Amoroso would like to fill her late husband's seat.
Councilwoman Tara Wicker—the only Democrat who is not participating in the abstention—says she plans to follow tradition in the appointment of Amoroso's replacement and will support Denise Amoroso.
"My only response is always two wrongs don't make a right," Wicker says, referring to Buddy Amoroso's 2016 recommendation for Marcelle's vacant seat. "It was wrong if Buddy broke tradition, and it's still wrong for us to do it."