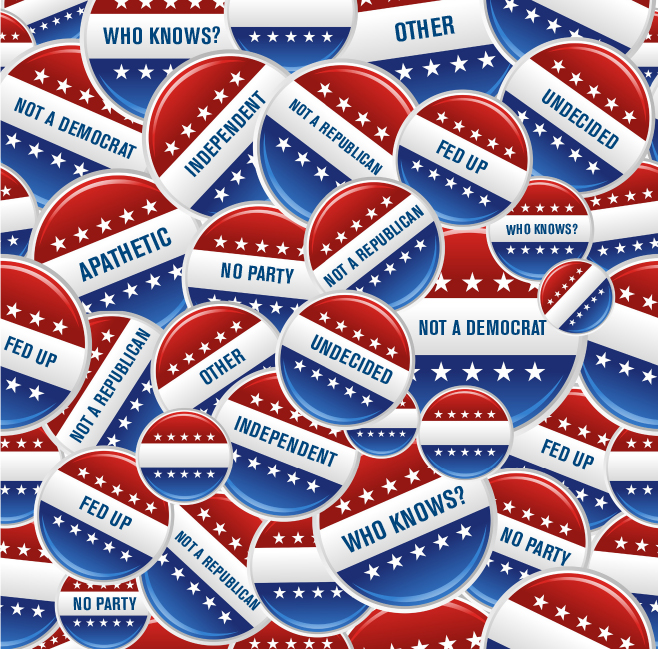 The fastest-growing political party in Louisiana isn't a party at all, even though it finally has the legal ability to become one.
Voters who consider themselves Independents are the most rapidly expanding segment of new registrants in the state.
But while it became legal four months ago to form a sixth political party in Louisiana known as the Independent Party, it seems unlikely this late in the game that the Independent designation will be formally organized and adopted on the ballot as a party by the fall 2015 elections. In the meantime, voters so identified declare their designation under "Other" or by registering as "No Party."
In 2004, the Louisiana Legislature passed a law banning the formation of a formal Independent Party. Candidates not affiliated with any of the five recognized political parties—Democrat, Republican, Libertarians, Green or Reform—were  required to be listed on the ballot as "No Party."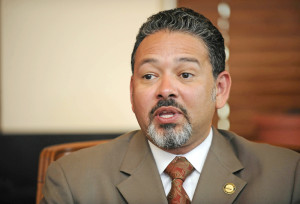 But that all changed in the 2014, when the Legislature gave nod to a bill authored by state Sen. Rick Gallot, D-Ruston. The Independent Designation Law, or SB 60, allows for a candidate not affiliated with any political party to have the word "Independent" or an abbreviation of "Independent" placed after his name on the ballot, instead of "No Party." The goal: to allow citizens who are politically independent to run on an election ballot with a designation that reflects their political views.
Of 2.9 million registered voters statewide, 666,368—roughly a quarter—are "No Party" voters, according to data from the Louisiana Secretary of State. Of those "No Party" voters, 50,417 registrants wrote some form of the designation "Independent" on the line specifying "Other" on their ballot.
Registration for the party that isn't a party is on a fast-track for growth. Consider that prior to the fall 2014 elections, more new voters who registered identified themselves as "Other" than Democrats and Republicans combined. "Other" party registration rose by 18,888, compared to 9,528 new registrants for the Democratic Party and 7,505 for the Republican Party.
The spike in Independent voter registration in the state is "exceedingly high and off the reservation of historic data," Secretary of State Tom Schedler says.
"People are absolutely tired of the bickering of both parties, and they are registering their frustration by either not registering or when they do register, registering aside from the two major parties," Schedler says. He warns that both parties need to "wake up," as they are losing significant numbers of their ranks.
NOW TRENDING: INDEPENDENT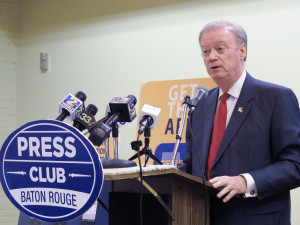 The migration away from the two major political parties isn't just a local phenomenon.
According to a 2014 Gallop Poll, a record 42% of Americans identified themselves as Independents in 2013—the highest Gallup has measured since it began conducting interviews by phone 25 years ago.
In a more recent Gallup poll released in March, American's views of Republicans and Democrats fell to new lows with neither party achieving a favorability rating of at least 40% for the first time in Gallup history. Only 37% of Americans view the GOP favorably, while 39% have a favorable view of the Democratic Party.
So with historically low favorability ratings among Republicans and Democrats and a historically high number of people identifying themselves and registering as Independents, why has no one come forward to petition the Secretary of State to form the Independent Party?
"We thought certainly right after that [the legislation passed] someone would come forward to try to form the party," Schedler says. "I just made the assumption that it would be one of the authors or both of them."
However, Schedler suspects Gallot and state Rep. Dee Richard, an Independent from Thibodaux who authored a similar bill in the House, received pushback regarding formation of a party, as did Schedler.
"We got input back from people registered as Independents saying, 'Hey, don't you put me in this group,'" Schedler says.
Richard, one of two self-identified Independents in the state Legislature, says that now he'd think twice before joining a formal Independent Party.
"I'm not even sure if I would join because some folks made a good point about what independent means," Richard says. "It means you don't want to be in a party. … If you establish an Independent Party, then guess what? You have rules and regulations and what-have-you."
Richard says the whole reason he supported the legislation was because he didn't want to be part of either party.
Similarly, Gallot says the bill in its original form never sought to create a formal party, but only to allow candidates to put an "I" after their name instead of "No Party" or "Other." However, opponents insisted the bill gave people the benefit of a party without creating a party, so Gallot amended it to get it passed.
"It almost flies in the face of being independent. If I did [register the party], the articles of incorporation would read: 1) There are no rules [and] 2) See rule one," Gallot jokes.
Nonetheless, he says he still has standing offers from people willing to pay the fee to form the party, but at this time, he is not actively pursuing any plans himself to establish one. But Gallot does say he'd consider running as an Independent should the party come to fruition.
DEAD ON ARRIVAL?
While the Independent Party remains up for grabs, Schedler says if someone were to pay the $1,000 fee and complete the steps of forming the party, the 50,417 registrants who listed "Independent" on the "Other" line on their voter registration would be assumed to be in the Independent Party.
"That would be the only official way to do it, unless you opt out," Schedler says. "We would just be responding to someone setting up the party."
Schedler says the fact that no one has yet come forward to establish an actual party—combined with the public pushback—may be an indication of why the designation previously was banned.
LSU political science professor Robert Hogan says if the party ever was officially listed on the ballot, many voters might opt to join the Independent Party, while others likely would stick to the "No Party" label.
"If this is just another party, but it has the name 'Independent,' that might attract some people but also create some confusion," Hogan says. "If you are saying, 'I'm a member of the Independent Party,' that is different than saying you are independent. That is why I think for some people, the 'No Party' label is still going to be attractive."
Jason Doré, executive director of the Republican Party of Louisiana, believes that most people who are registering "Other" and listing "Independent" are doing so because they want to keep their options open.
"It is an oxymoron in a sense that if you are independent of a party, why would there be an Independent Party?" Doré says.
For political experts and consultants like Hogan and Doré, an Independent Party not only in name but also in structure seems unlikely and impractical.
"It is hard to organize around that kind of motivation," Doré says. "People become a Republican or Democrat because they believe in the principles and the platform of either party. I don't see a long-term attraction—people working hard and putting in all of these hours just to say they are independent, but not have a set of principles to follow."
Hogan says the dissatisfaction with the two major parties does not necessarily create an opportunity for a new party.
"Are they going to start taking middle positions on these issue?" Hogan says. "The problem with that is it doesn't get people too excited. It is difficult to get people to say, 'I am really excited about being moderate.'"
ALL BARK AND NO BITE?
Political analyst and local pollster Bernie Pinsonat says that self-identified Independents today, even without a formal party, are the worst voting group in Louisiana.
"Along with that designation goes, 'I don't really care,'" Pinsonat says. "They don't have a passion one way or the other, so they don't vote."
Gallup released a poll Nov. 4 reflecting this same idea.
"The 41% saying they are 'absolutely certain' they will vote is down 19 percentage points from 2010, easily the lowest level of independents' intended turnout in any midterm since 1994," Gallup reports. "Meanwhile, intent to vote among core Republicans and Democrats has subsided to normal levels after matching or hitting new highs in 2010."
Pinsonat believes the increase in the number of independents in the state is a reflection of political trends and some trickle-down of the polarization in Washington.
"All of those people realize that it is unpatriotic if you don't register to vote, so they do that, but it has become like a fashion statement or 'I want to be different,' so that they can tell people, 'I don't like either of them, I'm an Independent,'" Pinsonat says. "In order to care, you pretty much have to have a passion for something one way or the other."
However, when Independents do vote in Louisiana, Doré and Pinsonat agree they tend to vote Republican.
"We go after the independents because they generally are conservative-minded and vote conservatively," Doré says.
Adds Pinsonat: "When they came out in the presidential race and when they came out in the Senate race, they didn't vote heavy, but those who did vote, voted Republican."
So if independents as a group are apathetic, why the historic spike in independents in the state in 2014?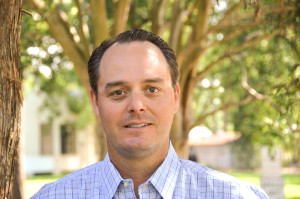 Trey Ourso, partner and senior political strategist at Ourso Beychok and the former executive director of the Louisiana Democratic Party, says the increase is due in part to the efforts of both Democrats and Republicans to register people to vote prior to the fall 2014 elections in hopes to turn them out for their respective candidates.
"There may have been a spike in voter registration last summer and fall because each party had people affiliated with them beating the bushes trying to sign people up," Ourso says. "Even though they were registering more people, I think it is reflective that you may be able to register them, but you can't get them to register for a particular party."
Doré also points to the state's trend rightward, resulting in Democrats—both candidates and voters—dropping their "D" and switching to an "I" or even an "R" to get elected.
"The point that I would like to make is that the way the state has shifted so dramatically over the past decade and a half, you have a lot of Democrats that can't run for office with a 'D' on their name," Doré says.
He points to recent evidence of this trend in the House District 66 special election, in which three of the original candidates were Republicans and one candidate—whom Doré contends used to be a staffer at the Democratic Party—ran as an Independent.
"She realized she couldn't win as a Democrat and became an Independent," Doré says. "I think you will have some of that going on as far as an identity perspective of people trying to reach voters."
Whether the upward trend will continue through the fall 2015 elections remains to be seen. And despite increased polarization and decreased voter confidence in both parties, Doré and Ourso agree that independent voters will remain independent in name only.
"I think voters, when they go to vote, may consider themselves independent, but they are going to vote for a Republican or a Democrat by and large because they know what those mean," Doré says. "They don't just mean an elephant or a donkey. They mean a certain set of principles and platform that you can tie yourself to."
Ourso isn't convinced a true Independent Party in Louisiana is any more or less likely or viable than a true national Independent Party. "I think a lot of people will continue to register as Independents, and maybe some will run that way," he says, "But I don't see on the near horizon an organized Independent Party."
So the question remains: When will Independents get their party started? Maybe never. At least for now, the sixth party seems dead on arrival.