Race to the mansion: Jay Dardenne

(Photography by Marie Constantin)
He has spent his life and career preparing for this governor's race. Is the timing right for his brand of conservatism?
Jay Dardenne was the kid whose classmates always knew he'd be governor some day. He was the smartest guy in the class. The student body president. The one voted most likely to succeed.
"I think Jay's direction was set early on," says businessman John Engquist, who graduated with Dardenne in 1969 from Westdale Junior High School, where Dardenne was ninth grade class president. "He was always one of the smartest guys in the room. Very capable. Very, very smart."
They are defining traits that have stayed with Dardenne throughout a career that has taken him from LSU to private law practice to the Metro Council, state Legislature, secretary of state's office and, currently, the lieutenant governor's office. Over the years he has established himself as a workhorse, a policy wonk and a capable legislator and executive who has laid the foundation for this governor's race, which he says will be the final elected office he seeks.
He is perennially popular with those in his home district of Baton Rouge and is widely respected by his peers in state government. On paper, he's a formidable contender. But the political realities are that he lacks the big money and name recognition of David Vitter, the colorful personality of Scott Angelle, and the advantage of being the lone Democrat like John Bel Edwards.
Dardenne is not intimidated by the challenges of what will no doubt be a bitterly fought contest. He has won hotly contested races for statewide office in the past, and he believes the time is right for his brand of moderate conservatism. In the months to come, he'll be barnstorming the state, trying to sell voters on his track record of working with elected officials on both sides of the aisle and his decades of experience dealing with an unwieldy state budget.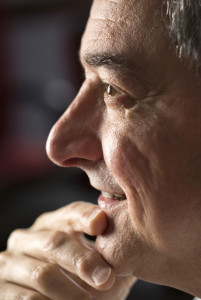 You are relatively moderate politically. How does a moderate conservative win an election today?
I am someone who is going to bring us together, not divide us. I'm going to do what is in the best interest of the state. … I've never been the chosen candidate or the darling of the Republican Party, and I've beaten the former chairman (of the state GOP) and the son of a state party chairman. I've had the support of a great deal of Republicans, but I've never been driven by wanting to be the best guy in the Republican Party. Bobby (Jindal) and David (Vitter) have been fighting over that for years—who can be the big dog. I don't need to be the big dog. I want to be the best for Louisiana.
How do you position yourself in this race?
I am the person who has really spent my whole career preparing for this job. I've served on local council, 15 years in the state senate and run two state agencies. I'm hands-on. I don't have a secretary of Culture, Recreation and Tourism. I am doing that job. I'm very hands-on from an administrative standpoint, so I think that executive experience is a huge difference between me and the other candidates, and I hope I have built a reputation as someone who can bring people together and be effective and accomplish something with less money than we have had in the past.
Many people say if you can get in a runoff with the presumed frontrunner, David Vitter, you would be a very formidable opponent. How do you get in the runoff with David Vitter?
I'm not going to divulge any particular strategy except to say we understand the target audience in Louisiana and how we need to convince them to be for me. I have very broad base and balanced support around the state—from Republicans, Democrats, and new registrants who are not affiliated with any party. … We don't need Washington solutions. We need Louisiana solutions.
With all the budget problems that, it appears, will be kicked down the road by the Legislature this session, the next governor will inherit tremendous problems. What is the first thing you would do upon taking office?
Unlike a lot of races, a lot of what will set the tone for this race will be dependent on what happens in this legislative session. There's no question the first thing the new governor will do is a call a special session and deal with the fallout from this session. David has talked about doing this as if it is some great revelation. It is obvious the new governor will have to do that.
For starters, we would have to do something fiscally related because we have utilized a lot of one-time money to patch this budget together and so many pots have been drained. So there will have to be an effort made to create a more stable, long-term budget picture for the state. Credits and exemptions and exclusions are going to come into play. We've got to recognize that some of the tax breaks that are out there need to be adjusted.
Also, I would start where I've always started: I would run government more efficiently. I've never believed in across-the-board cuts, where good programs are punished and bad programs are rewarded. Agencies need to be called upon to prioritize what they do. That is where I would start. We've got to be much more surgical in the way we approach what our spending levels will be.
Would you raise taxes?
I've never signed the pledge that is the point of all the discussion (in this race). I always felt like that was not a responsible thing to do. I represent the people of Louisiana, and I am responsible to them. I've never signed the pledge, and I don't need the approval of some organization in Washington, D.C., to guide me in my decisions. The reality is we are going to have to look at revenue. I am not prepared to say any kind of revenue measure is off the table.
How would you propose to deal with the state's many infrastructure needs?
You're hearing more talk about that than anything else. I think the business community recognizes we're blessed with yet another opportunity in Louisiana … but the two things that will prevent that is not having a sufficiently trained workforce and not having sufficient infrastructure. One of the things I think we need to do is I want to paint a picture of what we want Louisiana to look like 25 years from now. We need to have someone with vision who will help chart a course of what Louisiana will look like, and I believe the record I have built is one that has vision.
One of the most divisive issues in our state right now is Common Core. You support the educational standards. Why?
I've never stuck my finger in the air to see which way the wind is blowing to make a decision. And that is what's happening with Common Core. I've asked three questions, which center around the governor's efforts to try to stop it. First, which standard is inappropriate, because these are standards, not curriculum choices. Second, what are you going to say to the students and parents who, right now, would be taking tests if we're going to redo an entire set of standards for Louisiana. I mean, what are we going to do in the meantime? Are we going to scuttle the entire accountability program? What about students who are going to be graduating? Third, tell me where you want to find the money in our overstressed budget to develop a new set of standards. There is no answer to those questions.
Now, there are a couple of proposals out there that I think make sense. There are some tweaks that can be made and some uncertainties that could be addressed. But that does not mean we scuttle the investment the state has made since 2010.
What do you think about intransigence and partisanship in politics today? It's so different than even the 1990s, when you were in the Legislature. How does one get anything done in this climate?
You need to be a governor who is going to listen to people, bring people together, get input and then make a decision and tell people what you're going to do. Look at somebody's record and the way they've handled themselves over their career. No one is going to tell you Jay Dardenne is a divider. He listens to your concerns. I've never been accused of being overly partisan, and I'm not going to handle the governor's office that way. It's not going to be a way for me to advance my career nationally. It's going to be a way for me to advance Louisiana.
How exactly do you bring people together? Give me an example.
I had an extensive career in the Legislature. I balanced budgets in good times and in bad times and made cuts that were difficult and allocated resources that were appropriate. We got teacher pay up to the southern average. We got higher education fully funded for a time. We took rural and urban funds out of the budget one year—the most cherished area for pet projects. That was not easy to do. But we did it because we worked together.
We passed term limits in the Senate. The bills for victim's rights—that was my constitutional amendment. The bill to create the community and technical college system was mine. The motion picture tax credits—there were three bills, I handled two of them. That was a whole new industry we created in a meaningful kind of way.
When a candidate says, 'I have an ability to bring people together,' that statement ought to be challenged by asking other people if they believe this person has the ability to bring people together. … I offer myself and my record. I have brought people together to get things done.
When did you decide you wanted to be governor?
I always feel like if there is a leadership opportunity I want to get involved. I got my start by volunteering. I tell young people if you have political aspirations you need to get your hands dirty. That prepared me. I didn't decide to run for governor until after I was elected lieutenant governor. I had lots of opportunities to run for Congress or the Senate. People encouraged me to run for Richard Baker's seat … but I wasn't interested in doing that. I wasn't interested in going to Washington. I love my life in Baton Rouge.
Suppose you're not successful. Then what?
I'm not going to run for mayor of Baton Rouge, as many of my opponents have suggested. I am not interested in running for anything else. I'll figure out something to do. I'll be 61 years old. This would be the end of my political career. There is nothing else I'd want to do beyond this.
Related stories: