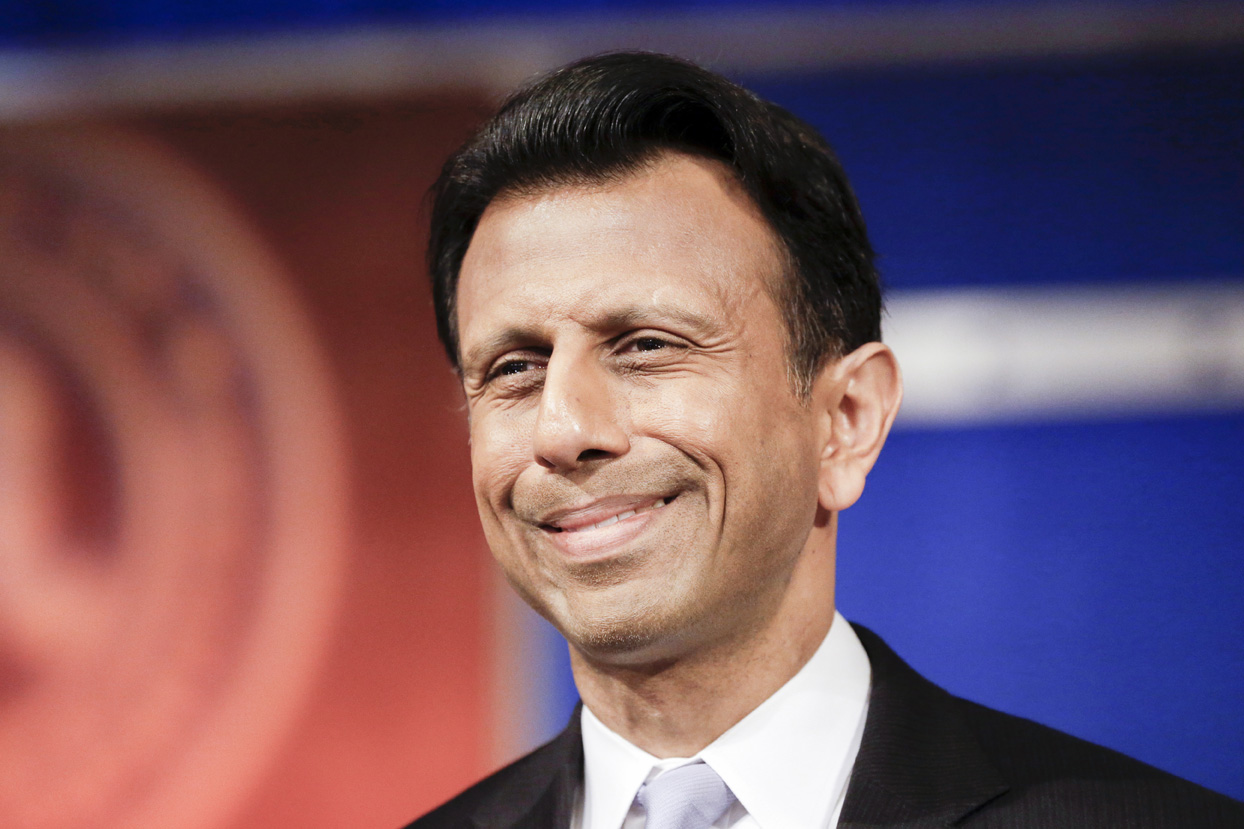 (Photography by The Associated Press: Gov. Bobby Jindal)
Bobby Jindal made history when he was elected governor of Louisiana in 2007, becoming not only the state's youngest governor but also the country's first Indian-American governor, and he immediately impressed both local supporters and political observers on the national scene with his razor-sharp intelligence and ambitious reform agenda. But Jindal lost a lot of support and credibility during the latter half of his second term, when his ultimately failed bid for the Republican presidential nomination seemingly dictated his policies and decisions, and distracted him from the problems of the cash-strapped state. Though he leaves office with a looming fiscal crisis, Jindal says he has no regrets about the choices he made and is proud of his accomplishments in office, particularly in the area of education reform.
What are you most looking forward to about private life?
Our kids were 5, 3 and 1 when we moved into the mansion, and the boys, especially, are very excited about the ability to live in a neighborhood, to go play with friends after school, to ride their bikes around the block. They are very grateful for the opportunity they've had these last eight years, but they are also excited about the new neighborhood.
And you?
I am looking forward to being able to have a more predictable schedule, to have more time with the kids, taking the boys to soccer practice or taking Selia, our eldest daughter, to school every day. I'll be in the carpool line, and I'm looking forward to those 30 minutes in the morning just talking to her. So there are little things you don't think about that I think are going to be exciting for us as a family. The boys were even asking me, "So you're going to come with us to baseball practice now?" My kids are now at an age where they're able to do a lot of travel sports and so I will be going with them on weekends, whether they're playing in Alexandria or Mississippi, or taking them to baseball or soccer tournaments.
What will you miss most about being governor?
I used to drive Supriya crazy. Every night I'd come home and say, "This is the greatest job in the world." On a good day I'd say it. On a bad day. It didn't matter. I really meant it. It was amazing to get up every day and work on issues that are critical to this state. As a private citizen I will continue to do whatever I can to improve my state. But when you are governor you get to be at the center of so many issues, and for me that is incredibly rewarding. Being governor has been a great way to try to give something back and to try to improve the state. I think what I'll miss most is that ability to work on issues that impact the entire state.
What are you most proud of as governor?
The one that stands out for me is education reform. We reformed the way we reward our good teachers. It used to be in the old system that 98% of our teachers got positive rankings, based on longevity as opposed to performance. We gave more school choice so now we have a scholarship program where parents can choose where their children are educated, where the dollars follow the child instead of the child following the dollars. We increased the number of charter schools. We did course choice, where children can start their day and take other courses provided by employers or universities. We have more than 100,000 students now in choice-based programs, and I think as a result education is getting better in charter schools, public schools, private schools and online programs. Graduation rates were dropping in '07. Now they're higher than before. Retention rates are higher. The number of failing schools has been cut in half. Across the board, you've seen dramatic progress.
Do you worry the incoming administration will undo some of those reforms?
I asked John Bel, on education in particular, to meet with parents and meet with the students—those participating in the scholarship and these choice programs—before he made any final decisions, and he agreed to do that. I think it would be a mistake for the state to go backward. I think the results speak for themselves, and my hope is that folks who see these results will continue to support these reforms. Look, change is tough. A lot of people don't like making changes. There are still battle scars from making changes. But it would be a mistake to go backwards, and I believe as folks see those results they'll see why we need to continue these reforms.
You got so much heat in this state for running for president and spending so much time on the road, even from those who had been big supporters of yours. Do you regret it?
No. It was a great privilege. Look, it would have been very easy going into my last six months as governor to coast. You see a lot of lame-duck governors go around and do press conferences and cut ribbons. The reason I ran for governor in the first place was that when I was looking around I saw more and more of my friends leave the state. We wanted to raise our kids here. We wanted to be part of the solution. I thought my state was headed in the wrong direction so I ran for governor. I saw the same thing in my country. I feel my country is on the wrong path under President Obama's policies. I felt like I had something to contribute, so I'm grateful for the opportunity.
Do you have any regrets?
I always told my staff, "I'm not going to regret anything we tried and didn't succeed." I'm going to regret what we didn't try. I'm not a person who has regrets. There were a couple of things we tried that didn't work, but I'm glad we tried them and I think they were the right thing to do and if we hadn't tried them I would have been walking around after I was no longer governor, saying, "Why didn't I try this?" One of those we tried to get rid of was the state income tax in 2013. A lot of people thought it was too ambitious. We were trying to get rid of a lot of the credits. Now, a lot of people disagreed with this. A lot of legislators told us, "We'll vote for this if you raise taxes, and we said, "That's not what we're about." Louisiana would be a better place if we didn't have an income tax. If we didn't have a lot of these credits. I'm glad we tried to do it. I still think it was the right thing to try to do. In 2011 we tried to combine UNO and SUNO. To me that just made sense. You have two schools next to each other. How many times have you heard people say, "Well, we've got all these universities close to each other, why don't we have more coordination?" To me it just made sense. Others disagreed, but if we hadn't tried it I'd be walking around thinking, why in the world didn't I try? It was the right thing to do. Those are the kinds of big things we took on. That's what Louisiana needed. It's easier to follow the opinion polls. It's easier to do the easy stuff, but that is not what I think Louisiana needed. I think Louisiana was looking for big change, and I think that's what I was elected to do.
Are you done with politics? What's next for Bobby Jindal?
I'm 44 years old. There are hopefully many more ways for me to make a contribution. My next step will be in the private sector. I'll start looking more seriously after Jan. 11. I'm going to take my time and make sure it's the right step. I'm not going to just rush into the first thing, but it will be the right thing.
Related stories