JR Ball: The brutal Baton Rouge truth according to Jim Bernhard

---
God bless Jim Bernhard for having some serious chutzpah.
The driving force behind Shaw Group becoming a Fortune 500 company and the guy launching another upper deck financial grand slam with Bernard Capital Partners has never had a problem speaking his mind. It's just that he rarely does so in public, at least not with the media within earshot.
Normally, speaking truth isn't cause for celebration. But this is Baton Rouge, a place where the powerful and ruling establishment pride themselves on ceaselessly proclaiming we've achieved great American city status no matter the reality. In other words, our movers and shakers are like the Kevin Bacon character at the end of "Animal House," frantically screaming "All is well! All is well!" to parade goers even as all manner of Delta Tau Chi hell is breaking out around them.
Which is why it was so fabulous that at a power breakfast conclave last week—where leaders across the Baton Rouge business, political and community spectrum were basking in the tax-cutting, regulatory-slashing glow of a morning in Donald Trump's America—that Bernhard didn't give a damn who was around.
Moments after Rep. Garret Graves and uber-economist Loren Scott celebrated the joy that is 1) Trump and Congressional Republicans giving big business and the bigly wealthy a massive tax cut and 2) a possible Louisiana economic miracle thanks to the Trump administration slashing business, environmental and workplace safety regulations at an unprecedented rate, Bernhard ambled to the mike and dropped a sobering 10-pound bag of counterprogramming.
The celebration was over. Now, with Bernhard's booming voice rifling through the Crowne Plaza ballroom, it was a call to action.
We've got problems, people, he told the audience, before rattling off a list of cities—such as Phoenix, Austin, Nashville, Atlanta and Raleigh—that share the common bond of being a state capital with a flagship university and a major, driving force industry. All ingredients, he believes, to be that proverbial great American city.
"The sad truth is that we don't stack up. That's a fact," he said bluntly. "So where are the missing links, and how do we do better?"
His three-pronged solution? Invest in K-12 and higher education, pump money into improving the region's crumbling and inadequate infrastructure, and get serious about a crime problem in a city that last year had more than 100 homicides.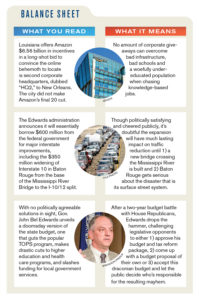 Bernhard made it clear, he wasn't talking about some major expansion of government, declaring the private sector must invest in the solutions. For maximum effect, he listed all the ways the University of Alabama is kicking LSU's butt in areas other than the football field.
"If you're an LSU fan—like I am—that should get your attention," he said. "We must do better, and we can't just wait for state legislative funding."
He then challenged those in the room to rally behind an increase in the gasoline tax to fund projects for our "woefully behind" infrastructure, warning Louisiana risks not being able to meet a federal match if Congress later this year passes a major infrastructure bill.
And then he threw down the gauntlet, pleading for Baton Rouge to unify behind the cause of getting its alarming crime problem under control.
"We have all the building blocks," Bernhard said in his closing remarks. "We have the right pieces. We truly do have the opportunity to be a great city. But we must do more to invest in the areas I outlined today."
Seven years earlier, at this same Business Report Power Breakfast event, Bernhard chastised an overflow crowd for so easily accepting mediocrity. When, he forcefully wondered, will this state quit chasing southern regional averages and aim for being a national leader? Why, he sarcastically lamented, are the people of Louisiana tolerant of crappy rankings in everything that matters as long as we're ahead of Mississippi? What's wrong, he demanded, with pursuing excellence?
It was great. It was necessary. And the crowd, just as they did last week, broke into applause, vowing to do better.
How's that working out?
Maybe this time we'll heed Bernhard's words of truth—maybe.