Baton Rouge St. Patrick's Day parade postponed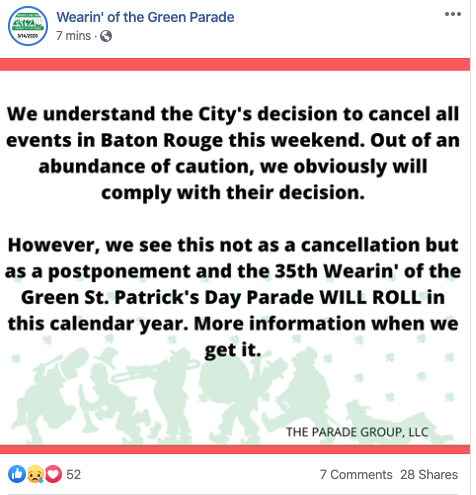 Mayor Sharon Weston Broome's office has asked weekend event organizers to postpone events amid a state health emergency due to the novel coronavirus outbreak. 
The mayor's order impacts the 35th annual Wearin' of the Green Parade, which has been postponed until later this year. Organizers say the parade will roll as soon as the health situation is cleared and vow to host the wildly popular parade within the calendar year, WBRZ-TV reports.  
The mayor's order comes amid public gathering bans involving sports teams—the NBA postponed its season and collegiate sporting groups, including the SEC, instituted rules keeping fans from sporting events. 
Broome announced that she will make a Facebook Live announcement on the city of Baton Rouge page during the 10 a.m. hour about preparations to help prevent the spread of COVID-19 in East Baton Rouge Parish. Watch the announcement here. See a Vox article about how canceling events can save lives here.