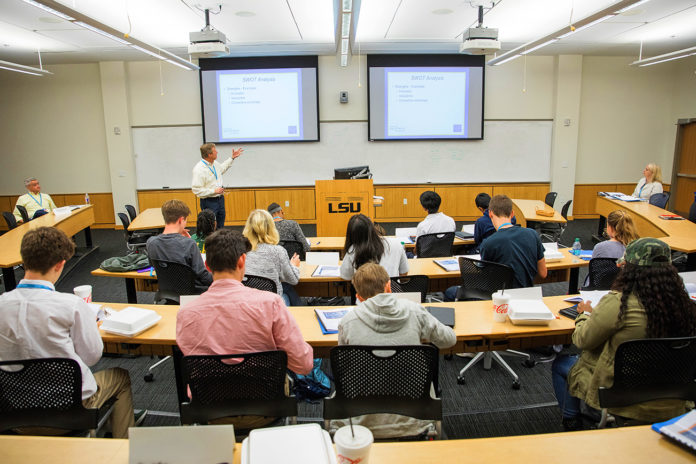 YOUNG LEADERS: The inaugural Young Entrepreneurs Academy Baton Rouge features a class of 25 area students who attend weekly classes at LSU's E.J. Ourso College of Business. (Photo by Collin Richie)
---
When Deborah Sternberg, the former Starmount Life Insurance president, footed the $13,000 bill to establish a Baton Rouge affiliate of the national Young Entrepreneurs Academy, she did not know that as many as 25 Louisiana businesses could come out of the investment.
Entrepreneurship—and betting on an idea—are hardly foreign concepts to Sternberg, whose family owned Gouchaux's and Maison Blanche department stores for decades and, in the 1990s, founded Starmount, which they sold to benefits giant Unum in 2016.
The idea of creating a Baton Rouge-based academy focusing on cultivating entrepreneurship among youth—culminating with students registering their businesses with the Secretary of State's office—is an idea Sternberg had been toying with for six years. It all started when she watched her then-fourth grade son participate in a Shark Tank-type experience at school, featuring a panel including exiting LSU Innovation Park Executive Director Charlie D'Agostino. After the panel, her son asked D'Agostino if he had a business card, saying he had a lot of ideas but didn't want to share them with the whole room.
"Charlie [D'Agostino] and I said, 'Why are we waiting for kids to go to college or even get out before teaching them the fundamentals of business?'" Sternberg recalls.
Her chance to act upon the idea came in January, when she announced her retirement from her longtime role as president of the life insurance company. D'Agostino introduced her to the Young Entrepreneurs Academy concept, often shortened as YEA, in Rochester, New York.
YEA, founded in 2004 at the University of Rochester, is a national nonprofit that aims to give high school students an experience-based entrepreneurship program, teaching them how to transform their ideas into enterprises with social and economic value. In Baton Rouge, the program seeks to foster an entrepreneurial mindset among local youth.
Joining her was Sarah Munson, a former Starmount coworker who now serves as the YEA BR steering committee's vice-chair. Though she majored in entrepreneurship at Louisiana Tech, Munson believes students should receive exposure to the process earlier on in their academic careers.
"We keep telling them, 'You'll be CEO of your company before you even graduate from high school,'" Munson says. "And it's definitely a hope that we will see many of them five, ten years from now growing these businesses."
"Charlie [D'Agostino] and I said, 'Why are we waiting for kids to go to college or even get out before teaching them the fundamentals of business?'" 

DEBORAH STERNBERG, founder, Young Entrepreneurs Academy Baton Rouge
SOMETHING FOR EVERYONE
Collecting the first class of participants proved a selective process, though program administrators rounded up a diverse group in terms of age, school, race and gender. And, just over two months in, they're all getting different things out of the experience.
The steering committee combed through some 40 applicants, ultimately accepting 26 who attend middle and high school in East Baton Rouge, West Feliciana and Livingston parishes. Today, 25 are participating. They range in age from 13 to 18 and represent 15 Capital Region schools.
One of those participants is Mary Elizabeth Barrow, a senior at West Feliciana High School who has already applied for entrepreneurship fellowships at several colleges. She thinks a fellowship would pair nicely with the bachelor's degree in engineering she already plans to pursue.
While taking those entrepreneurship classes in college, Barrow also wants to learn how to build and market an engineering-related product. Which is why she applied to the YEA BR program after one of her friends was accepted.
"I sort of had an idea about what I wanted my product to be and then, once I really got into the program, I started thinking, 'OK, this is going to be hard to execute,'" says Barrow, 18. "The program has helped me focus on one certain aspect of my idea."
Participants meet every Wednesday from 5 to 8 p.m. in a classroom within the Business Education Complex at LSU's E.J. Ourso College of Business.
Three lead instructors—Franz Lohrke, Sonja D. Wiley and Kevin Lyle—use a national curriculum to guide students as they generate business ideas, write business plans, pitch to an investor panel and launch companies. LSU Innovation Park team members Kenny Anderson and Jason Boudreaux also lend their expertise to the program.
Sternberg recruited a friend of her son's, 13-year-old Akshay Basireddy, an eighth grader at Episcopal who is the local program's youngest participant.
Despite his age, Basireddy says it's never too early to start beefing up his portfolio and linking up with area contacts who can give him a foot in the door.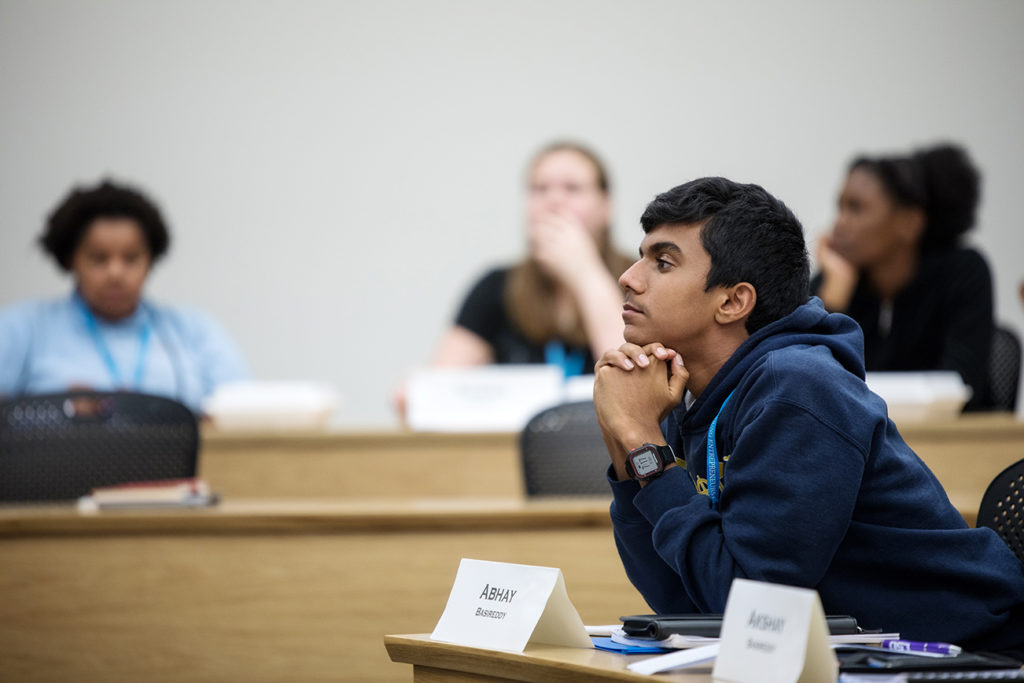 "I thought it would be better to start earlier before I get pounded with senior homework. It offers a more advanced curriculum…than most classes you would take in junior high."

AKSHAY BASIREDDY, eighth grader, YEA BR's youngest participant
The program's field trips help with that. Students have already ventured to the Louisiana Tech Park to network with entrepreneurs like MasteryPrep founder Craig Gehring, and they've met with Brandon Landry, founder and CEO of Walk-On's. During their first session, they talked to Ryan and Laney King, the Baton Rouge couple who co-created the Crawfish App.
"I thought it would be better to start earlier before I get pounded with senior homework," Basireddy says. "It offers a more advanced curriculum … than most classes you would take in junior high."
Catholic High junior Roland Michael Toups, 16, says he's been coming up with ideas since he was in sixth grade. But a sixth grader can only go so far with an idea; as an eleventh-grader, he says, he could join YEA BR.
He's filled his notebook with key points raised each session and is excited about learning how to file legal documents, create an LLC and handle legal management over the next several months.
Toups' biggest takeaway from the program: Don't simply write off an idea as bad. Instead, focus on perfecting one specific thing, and take a chance. At least, that's the advice he's planning to follow as he launches his photography-inspired service.
"People thought Raising Cane's was a bad idea … they were told, 'All you do is sell chicken fingers?'" Toups says. "Some ideas that were thought to be bad are actually pretty good ones."