ONE OF A KIND: Woman's Hospital has expanded its cancer treatment services with the opening of the $19 million Breast and GYN Cancer Pavilion. (Photo by Don Kadair)
---
In May, Woman's Hospital made good on a longtime goal of expanding its cancer treatment services with the opening of the new Breast and GYN Cancer Pavilion, a $19 million facility that offers comprehensive diagnostic, treatment and integrated health services for breast and gynecological, or GYN, cancers.
The facility's one-stop shop treatment model, and its focus on both breast and GYN cancers, makes it the only of its kind in the Gulf South and one of few in the nation, says Teri Fontenot, president and CEO of Woman's Hospital. It promises to further position Woman's—already a health care destination because of its neonatal intensive care unit and other services—as a regional cancer treatment hub for women suffering from breast and GYN cancers throughout Louisiana and parts of the Gulf South.
"We've always provided care for women with cancer, but it wasn't real visible, it was departmentalized," Fontenot says.
Historically, Woman's has performed 45,000 breast procedures a year and is one of the largest breast centers in the country, offering broad diagnostic services and surgery, says Fontenot.
"The goal [of the new pavilion] is to put the patient in the center of the planning table," says Fontenot. "We want all the services to come to the patient."
Located within the Woman's Hospital main building, the Cancer Pavilion is partnership between Woman's and Mary Bird Perkins-Our Lady of the Lake Cancer Center.
"We took a strategic look at everything from diagnosis to detection and survivorship, and we looked at the expertise and strengths of each partner," says Fontenot.
Previously, Woman's did not offer radiation therapy—a major component of cancer treatment—to patients. The new pavilion features the two main types of radiation therapies, a linear accelerator—which shoots precise beams of radiation at cancer cells—and brachytherapy, the process of surgically implanting radioactive material directly into affected tissue. Brachytherapy is effective in vaginal and cervical cancers.
"About half of all cancer patients will seek some form of radiation as part of their treatment," says Jonas Fontenot, chief of physics and chief operating officer, radiation oncology, at Mary Bird Perkins-Our Lady of the Lake Cancer Center, which has a management contract with Woman's to operate the radiation therapy services.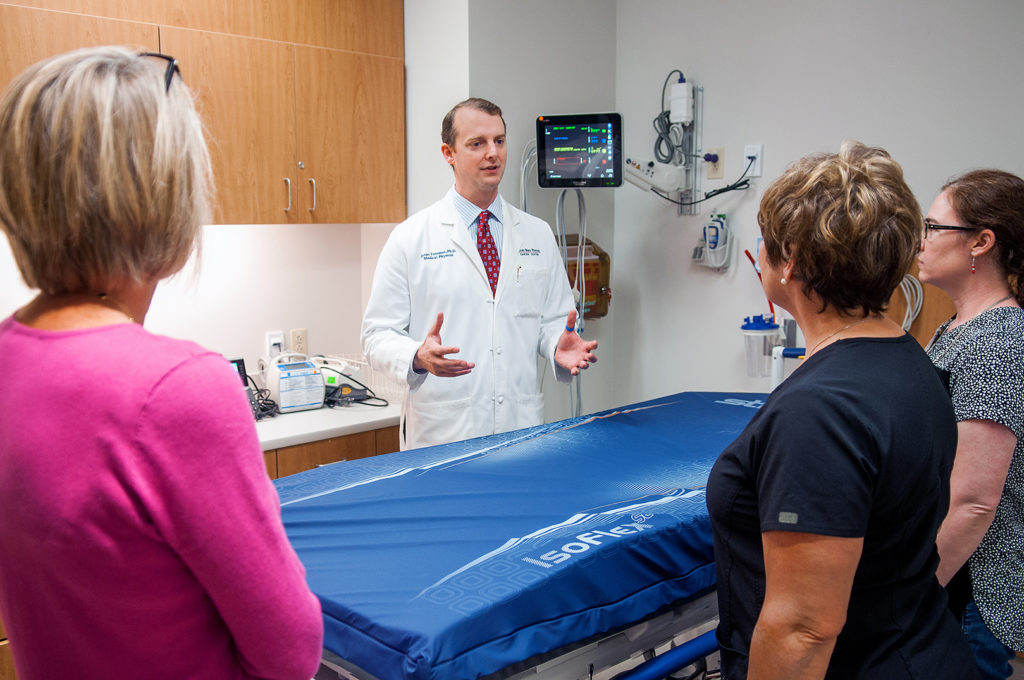 ---
Jonas Fontenot says goal of radiation therapy is to deliver treatment as precisely as possible so that healthy tissue is spared. Woman's new linear accelerator and its supporting technologies are capable of custom shaping a beam of radiation so that it targets only the affected tissues and cells. Moreover, a tumor tracking system called the Catalyst HD System can adjust and realign the beam if tissue happens to move during treatment. This is common in breast tissue because of its fat content, Fontenot says.
The pavilion also includes a 16-bay infusion center for chemotherapy treatments. The chemotherapy wing is supported by an onsite clinical pharmacy that compounds chemotherapy drugs as soon as an oncologist orders them. The infusion center is owned and operated by Mary Bird Perkins-Our Lady of the Lake, which will be leasing the space from Woman's.
"We know from lots of different studies that the number one thing that's important to patients is having services under one roof, because when you've been diagnosed with cancer, the last thing you want to have to do is to navigate different systems," says Linda Lee, Mary Bird Perkins-Our Lady of the Lake Cancer Center administrator. "Our patients are going to go through one door and get the benefit of these three partners in one building, with the level of expertise that each partner brings."
Patients, however, won't notice that different health care providers are behind the new venture. Wayfinding signs have been designed to look consistent, Lee says.
The complex also features advanced imaging for diagnostic mammography, stereotactic breast biopsy, MRI, breast ultrasound and other sophisticated technologies for diagnosing breast cancer. The pavilion also has the capability of blending PET and CT imaging through its GE Discovery IQ Technology, which can shorten treatment duration because of better imaging.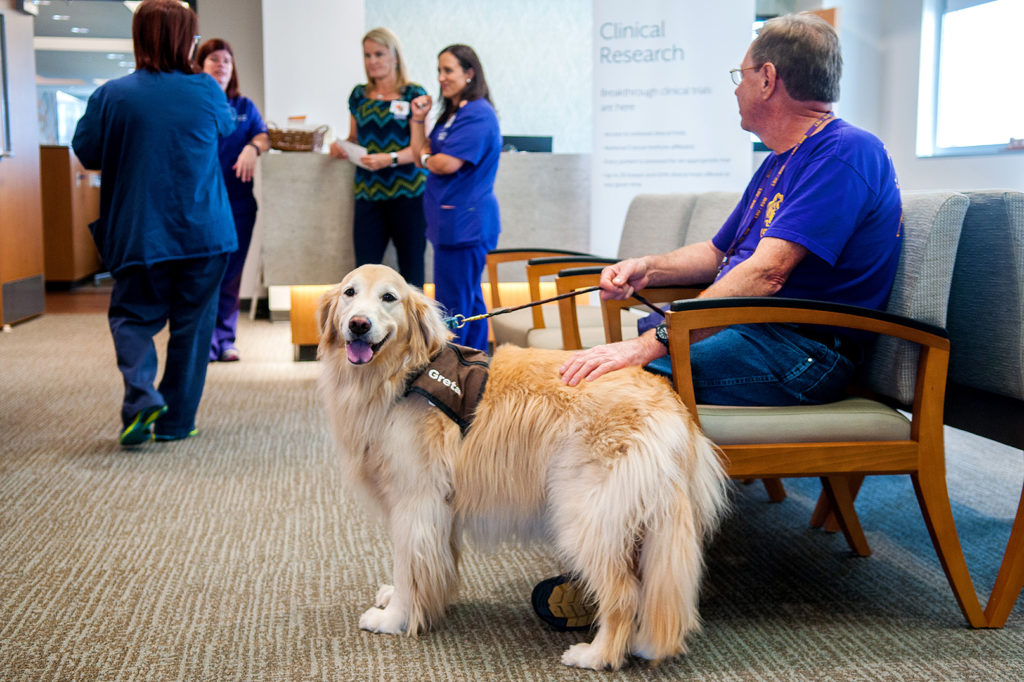 ---
Fontenot says increasing the hospital's capacity to treat more patients with top notch therapies will mean more opportunities for clinical trials for breast and GYN cancers, including studies for prevention, screening, treatment and survivorship.
Ensuring the treatment experience is as positive as possible for each patient was a big part of the planning process, says Lee. A couple of days a week, pet therapists will roam waiting rooms with golden retrievers and other dogs that have been trained to help patients reduce anxiety. Other forms of integrated medicine are also available, including physical and occupational therapy, massage therapy, nutrition, healing arts, yoga and support groups.
Complex breast and GYN cancer cases can be reviewed in a conference room designed for multidisciplinary collaboration. Teams of medical and radiation oncologists, surgeons, pathologists, nurses and others meet regularly to review cases, examine images and work collaboratively to come up with the best possible treatment plan for each patient.
Teri Fontenot says the Woman's Hospital Foundation is raising $700,000 to build out a top floor area for meditation and reflection. Filled with natural light and artwork, the space is intended to help patients minimize stress and prepare for treatment.
With cancer patients likely coming from throughout Louisiana and southern Mississippi to use the pavilion's services, the mixed-use development underway elsewhere on the hospital campus could further enhance a visiting patient's experience, says Fontenot. Called Materra, the development will include residential, commercial and retail space, including services like restaurants, a pharmacy and other support services that could be useful to patients, employees and residents.