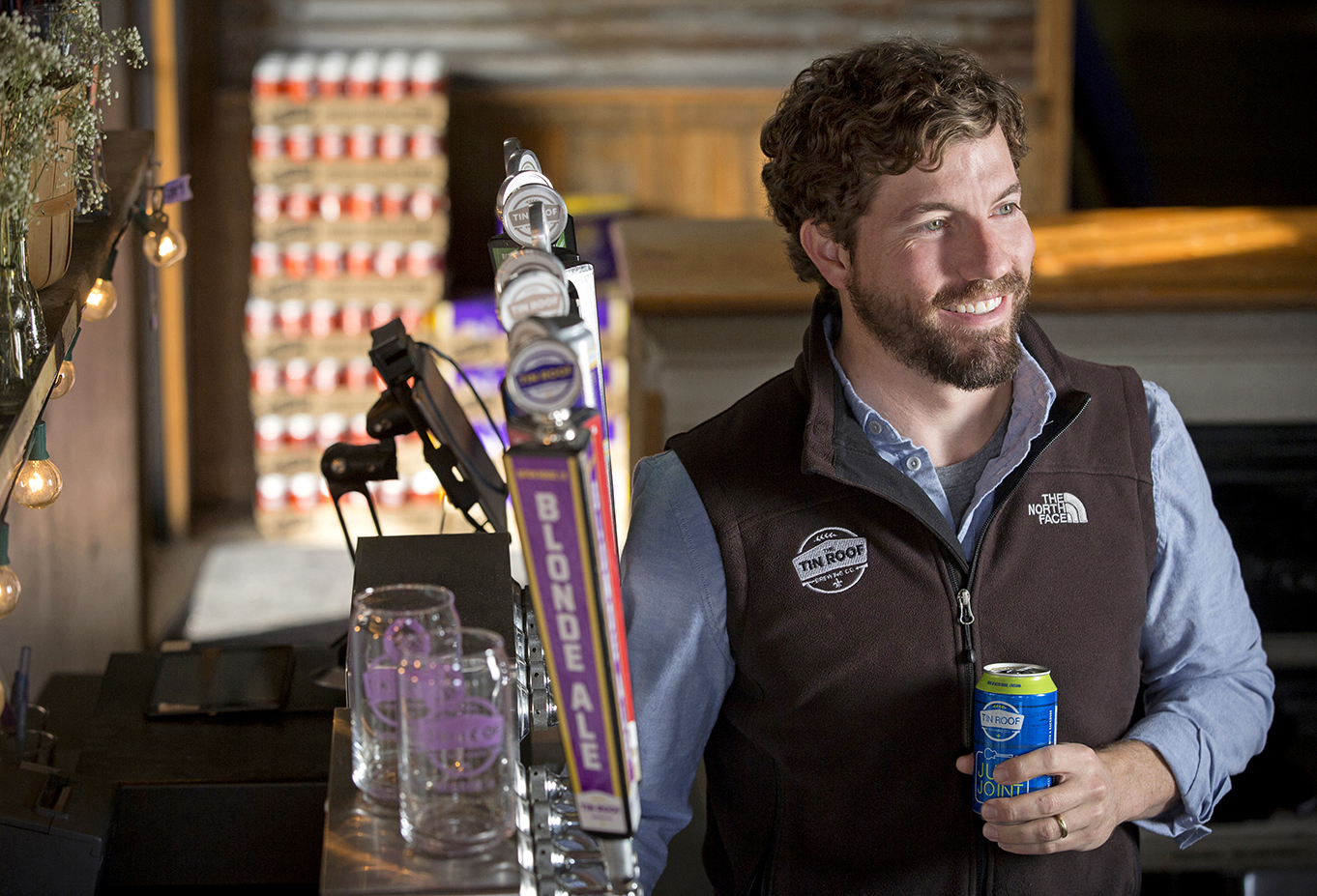 Photography by Marie Constantin
---
2017 Baton Rouge Business Awards and Hall of Fame
YOUNG BUSINESSPERSON OF THE YEAR • WILLIAM McGEHEE
---
William McGehee was in his late 20s when he and childhood friend Charles Caldwell ditched their careers in law and banking to start a Baton Rouge beer brewing venture. They were young—both without kids yet—and although they didn't have much experience crafting brews, the timing felt right.
"If we're going to fail," McGehee recalls thinking, "let's fail now."
And it did take some failing. When McGehee and Caldwell first took their business plan to a bank, they weren't able to get a loan, even though they had personal ties on the board of directors. It didn't stop them. Their dream was to start a brewery, so they were undeterred—and maybe not quite old enough to fully recognize the risk they were taking. 
"The blind optimism of youth definitely helped a lot," McGehee says with a laugh.
Sitting in the tap room at Tin Roof Brewing Co., McGehee, now 35 and CEO of Baton Rouge's first local brewery, recalls their relentless determination in those early days. The company got its start at the Louisiana Business and Technology Center, a small-business incubator at LSU.
After years of working to perfect their brewing techniques, McGehee and Caldwell marked the first of many milestones in November 2010, when they brewed their first batch of beer for commercial consumption. Today, Tin Roof can be found in six states: Louisiana, Mississippi, Alabama, Florida, Arkansas and Tennessee. The brewery has six core brews, five seasonal and three special single-batch beers.
The business grew by 11.8% in 2016, which also included a major milestone when Tin Roof finally reached an agreement with LSU to release an officially licensed beer for the university. McGehee and Caldwell had first discussed the idea with LSU officials in 2012.
Bayou Bengal lager was lauched just before the start of the 2016 football season, and Tin Roof expects even greater growth this year with the LSU brew in its lineup. Tin Roof has a tap room at its brewery off Nicholson Drive between LSU and downtown Baton Rouge, and plans for additional satellite locations in new markets are on the horizon, McGehee says.
In Baton Rouge and surrounding cities, seeing Tin Roof Blonde on tap at a local bar or a six-pack of Voodoo Bengal in a nearby gas station has become commonplace. But for McGehee, it's a constant reminder of how far his young business has come.
"The coolest thing was to be able to go to The Bulldog and see our tap on the wall and people ordering the beer that we made, the brand we made," McGehee says.
After the company started canning beer in 2011, Tin Roof expanded to gas stations, grocery stores and other retailers—and not only locally, but nationally. McGehee says he was so stuck in the grind of everyday operations back then that the accomplishment didn't fully register until he saw his beer on the shelves of a local Albertsons.
"That's when it was like, 'Oh, wow. This is real,'" he says.
With his close ties to Baton Rouge and deep affinity for the city, it's surprising McGehee isn't a native. He grew up in Natchez, Mississippi, and later attended Millsaps College in Jackson to play football. But it wasn't what he hoped it would be, so in 2002 he moved to Baton Rouge and transferred to LSU, where he began pursuing a law degree.
It was during that time that Caldwell—who had returned to Natchez and a job in the banking industry after a stint in Colorado working as a ranchhand—began visiting McGehee in Baton Rouge. Caldwell had fallen in love with craft beers while in Colorado, where microbreweries abound, and McGehee had developed a taste for them after spending a summer in Europe as part of a study abroad program.
Though Caldwell and McGehee were disapointed with the relative dearth of craft brews in Baton Rouge, they also spotted an opportunity.
And while it meant abandoning the career paths they were already pretty far along on, the two decided to take a chance on launching their own brewery.
In 2009 they developed a business plan, and the following fall they launched their first beer. The next few years were spent marketing the fledgling Tin Roof brand and getting its brews into local bars. By 2012, the first batches of Tin Roof had hit the New Orleans and Northshore markets, and McGehee and Caldwell began eyeing their native Mississippi for further expansion.
The following year they added 6,000 square feet of space to the 9,000-square-foot brewery to make way for the tap room, and in 2014 they made their way into the Mississippi market.
McGehee and Baton Rouge share a special bond, and he says he doesn't ever plan to leave. As his brewery was taking off, so was Baton Rouge. And as the city continues to grow, so does Tin Roof. It was the first brewery to hit Baton Rouge at a time when people here didn't know much about craft beer, McGehee says, so Tin Roof introduced them to it by brewing it right in their hometown.
The craft beer industry and McGehee's business have evolved since those early days. Competition back then wasn't as tough as it is now—Baton Rouge has even become home to a second brewery, Southern Craft Brewing Co.—and McGehee has learned just how cutthroat the beer industry can be.
"You look at tap space in a restaurant or bar and shelf space in a store as real estate. There's only so much real estate, and everyone is fighting for those same taps," he says. "You wake up in the middle of the night worrying if you lost a tap."
On top of that, running a brewery means dealing with a lot of heavy equipment that's prone to breaking down, and McGehee says there are always fires to put out. But he knew the job required hard work from the get-go. When it was just McGehee and Caldwell in the beginning, if there were 200 kegs to wash, one or both would stay at the brewery until 2 a.m. washing them, McGehee says. But knowing that they were doing it for themselves—chasing their dream and not someone else's—was a gratifying feeling, he's quick to add.
Today their dream has been adopted by a team of about 20 employees. McGehee says those who work for Tin Roof care about the company just as much as he does. And that support extends even beyond his employees into the Baton Rouge community.
Tin Roof's tap room and brewery is more than just a local watering hole. It's become a popular spot for charity events, private parties and functions. Tin Roof often hosts local musicians, fundraisers, yoga on the lawn, trivia nights and release parties for specialty beers. In its own way, the brewery brings Baton Rougeans together for the sake of good beer, a good time and, often, a good cause. McGehee says that's one of his biggest accomplishments.
"It's about creating something people want to be a part of," he says. "When we have events, we see hundreds of people show up to our place to support the charity we're supporting or a young chef who's trying to get his name out. We try to be a big part of the community."
Outside of Tin Roof, McGehee dedicates much of his time to his family: His wife of seven years, Cammy, and his 1 1/2-year-old son, William McGehee IV. In addition, McGehee can often be found running the LSU lakes when he needs to clear his mind, and his wife says he has a secret creative side. He dabbles in writing, music and—not so secretly—sports.
Cammy McGehee says her husband has a specific trait that explains his success as business owner, husband and father.
"Doing his job well, being an amazing father and good husband all come back to his best quality: His kindness," she says. "He is just plain good down to his core, and people gravitate towards that."