The plight of tackling blighted properties

An abandoned and blighted building across the street from Costco. (Photo by Don Kadair)
---
A consortium of local officials met early this year to tackle an issue that has been increasingly in public view—both literally and figuratively—for months: blight.
At first blush, eliminating the piles of junk, trash and debris, the overgrown grass and vegetation, standing water and unkempt swimming pools throughout the city, appears to be an valiant, yet limited, endeavor. After all, the city is simultaneously grappling with its highest-ever murder rate, an opioid epidemic, exceedingly worn-down and congested roads and efforts to bring economic development to parts of the parish that desperately need it. Given all these other problems, should cleaning up homes and neighborhoods be at the top of the city's priority list, eliciting one of the first targeted meetings of local officials of the new year?
A survey of the attendees of the Metro Council Blight Committee, however, suggests the issue has a larger reach than aesthetics. A representative from the Baton Rouge Area Chamber showed up, spurring talk of economic development through quality of place. Jonny Dunnam of the Baton Rouge Police Department discussed the link between blighted properties and criminal activity. The District Attorney's office, Mayor Sharon Weston Broome's administration, Congressman Garret Graves' office, the Downtown Development District and a host of others were represented. Business owners, real estate professionals and concerned citizens gathered alongside the council members holding the meeting, asking—pleading—for a fix to the city's blight problem.
Greetings from Blight Rouge stories:
"My frustration has been that there's been a lot of isolated initiatives to deal with blight, but mostly it's too little, too late and the dots are not connected," says Councilwoman Tara Wicker, who helped lead the blight committee. "We may deal with vacant property, we may deal with tires, trash and litter, fines, but there's no holistic approach as it relates to blight, police, investment, transportation."
Ostensibly, that's what this new effort does.
Such an expansive group of officials turning in a concerted effort to take on the issue indicates the city is finally getting serious, and results—in theory—should follow. Besides the blight committee that held its first meeting in early February, Broome has convened a "Blight Strike Team" to both take a hard look at the process of cleaning up East Baton Rouge Parish as well as recommend administrative changes. This comes on top of recently-increased fines for blight, up to $5,000 a day for a third offense.
But this year's quest is eerily similar to past crusades against Baton Rouge's junk, trash and debris. In the late '90s, local officials worked in concert with law enforcement during Operation Takedown to identify crime-ridden areas of blight. In the early 2000s, just before Kip Holden took over, former Mayor Bobby Simpson's administration revamped the city-parish's blight processes, convening an equally-expansive group of law enforcement, neighborhood groups and elected officials.
How will today's group ensure the city-parish won't be having the same conversations in another 15 years?
Several ideas are in the works. Chris Tyson, head of the East Baton Rouge Redevelopment Authority, points to his agency's recently-expanded role, and new infusion of local and federal cash.
"I think what's different from 15 years ago is that we have a redevelopment authority that is functioning, and that the city has invested in and placed confidence in," Tyson says. "When you look at the models of cities who have done effective code enforcement and blight remediation and neighborhood stabilization, you find that there is some coordinated redevelopment effort."
And blight remediation shouldn't be confined to ridding specific properties of trash, Tyson says. Instead, it should be part of a broader effort to stabilize neighborhoods and make them healthier.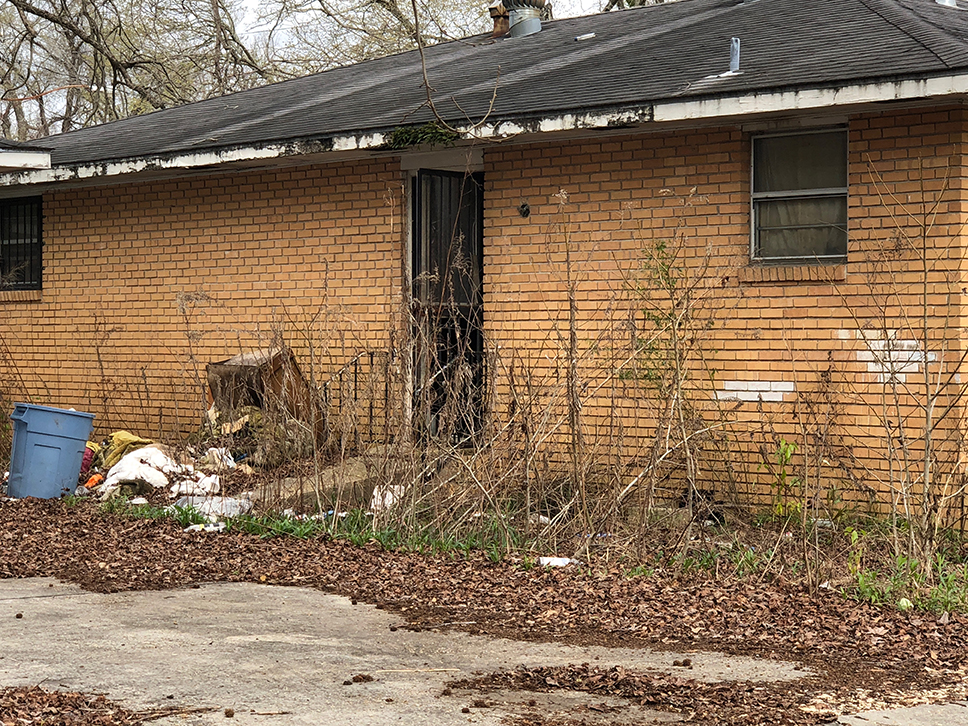 ---
Talks are also underway to bring in private companies to help the city's blight enforcement process, which currently is primarily handled by a staff of 13 in the Department of Public Works. Councilman Matt Watson, who led the Metro Council Blight Committee along with Wicker, says it's too early to discuss specifics, but he's looking outside the box for answers.
"I'm trying to work outside the normal realm of budget allocation to try to bring private partnerships in to remedy this problem," he says. "We don't need to be asking taxpayers to pay more money."
Watson was one of the council members who recently upped the stakes for violating blight codes, but he concedes a big problem remains. Many of the people cited by DPW for blight violations don't even show up to blight court in the first place, and council members are already discussing the possibility of moving the blight process to District Court, where jail time hangs over the heads of offenders.
Meanwhile, the Metro Council in February got hung up on a debris-hauling contract, ultimately failing to pick a firm to handle the rubble left behind demolished buildings. Demolitions are tangential—but connected—to the official blight process, and more importantly, DPW using resources to haul the debris simply slows everything else down.
Whatever creative ideas come from the Metro Council committee, and whatever "administrative changes" spawn from the mayor's team, the solution is rooted in one of the most contentious quandaries in local policy: money.
"That's the million dollar question," says Carey Chauvin, director of DPW's Department of Development. "How much are we going to agree to commit toward blight?"
Regardless of whether Baton Rouge keeps blight enforcement in house or hires private companies to handle it, reducing blight costs money. The efforts to take on the issue will inevitably run into the same problems as recent efforts to revamp infrastructure, or build a mental health facility or raise police salaries. How do you pay for it? For now, no one seems to have the answer.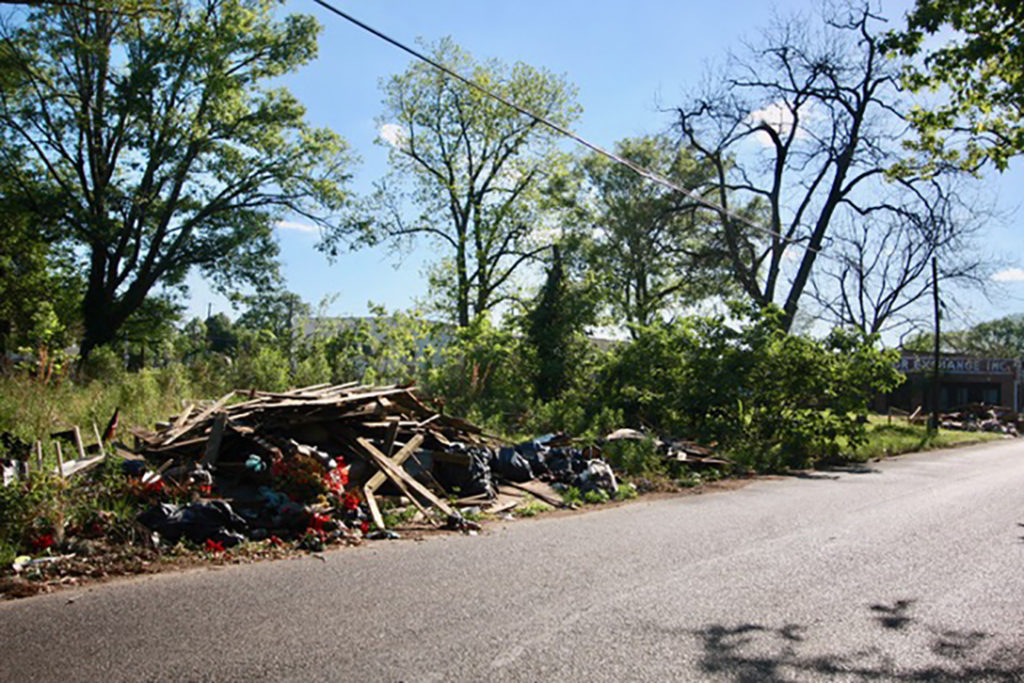 ---
Baton Rouge operates under what Chauvin calls a "reactive" blight enforcement process. DPW doesn't turn its attention toward blight until someone calls in with a complaint. Once they do, a staff member goes out to take a look and start the lengthy and time-consuming process of eliminating blight. At the end of that process, if the offender doesn't fix the issue, the city will clean it up itself, billing the property owner against a lien on the property.
A "proactive" blight program, on the other hand, would involve the city actively riding the streets, surveying neighborhoods and documenting—and citing—blight-ridden properties. This is not particularly common in other cities.
What is common in cities that effectively handle blight is a larger pool of resources, Chauvin says.
As city-parish officials wade through the challenges, and come up with solutions, the issue continues to irk people from all walks of life. Realtors and property owners complain about the effect on property values; neighbors and police complain about prostitution and drug use in blighted homes. Claire Major, who owns an art shop near downtown, says blight is one of the many reasons she plans to move her store to Jefferson Highway.
"If you're in a blighted area, then ironically, the city doesn't pay much attention to it, because it's already blighted. Blight breeds blight," she says. "When there's trash out here, they're not going to rush over here even if a resident calls."