After selling the family insurance business earlier this year for $127 million, Donna and Hans Sternberg are launching another company in an entirely new field

Donna and Hans Sternberg have a long history of building businesses together, and they're showing no signs of slowing down at the helm of their new company, Highflyer Human Resources. Photography by Brian Baiamonte
---
By the age of 82, most people are slowing down, if they're still in the game at all. Hans Sternberg, who celebrated his 82nd birthday in July, has just launched a new company—his third such venture in a decades-long career that began in 1960, when he joined the department store business his parents founded in Baton Rouge shortly after fleeing Nazi Germany.
Sternberg's new company is called Highflyer Human Resources, and it sells Human Capital Management software and service, which means it fuses payroll, benefits and HR systems into a single, customized, cloud-based platform for small and midsized companies.
It's a highly technical company in a rapidly evolving industry—in other words, it's not the kind of business most octogenarians would jump into. But then, Sternberg isn't like most people.
"Why would I ever retire? I enjoy doing things and watching things grow. I've done it all my life.
My family's anchors in the business community go back to 1739. That's what we do.
I've never had a member of my family retire."

—Hans Sternberg
Most people would have retired at 57, which is the age Sternberg was in 1992, when he sold his family's legendary department store chain, Goudchaux's/Maison Blanche, to a national retailer for $277 million. Instead, he and his wife, Donna, created Starmount Life Insurance/AlwaysCare Benefits and spent the next 25 years growing the company into a national insurance carrier with $180 million in annualized premiums and 940,000 covered lives.
Most people would have retired, as Sternberg could have earlier this year, when he and his family sold Starmount for $127 million to national insurance giant Unum. Instead, Sternberg delved headfirst into the increasingly competitive field of HCM sales and service, and is now promising to grow Highflyer into a national player in the market.
To Sternberg, it's all unremarkable. He doesn't know what he would do if he retired. He doesn't play golf. In fact, he doesn't really play—at all. Work is his passion, and Highflyer isn't really any different than his retail or insurance businesses. It's just the latest chapter in a long and fruitful career that has been defined by discipline and hard work, devotion to family and a focus on customer service.
"Why would I ever retire?" he says. "I enjoy doing things and watching things grow. I've done it all my life. My family's anchors in the business community go back to 1739. That's what we do. I've never had a member of my family retire."
TOUGH BUT FAIR
The story of Sternberg's family history is well known in the Baton Rouge business community. His parents fled Nazi Germany in 1936, when he was just 18 months old. Two years later, they bought Goudchaux's on Main Street, and Hans and his older brother, Josef Sternberg, grew up in the family business, eventually taking over the store in 1965. Together, they grew the company into a thriving department store chain until Josef's sudden death from a heart attack in 1990.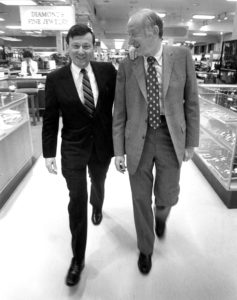 Sternberg sold the company two years later and almost immediately embarked on his second career with Starmount Life/Always Care. As at the department store, Donna worked by his side, and, later, two of the couple's four grown children, Erich and Deborah Sternberg, joined the family business.
It's also well known in local business circles that Hans Sternberg is a classic workaholic and Type A personality. He bristles at the thought of being unproductive and still lifts weights daily to stay in shape.
Bob Greer, chairman of the Business First Bank Board of Directors and a longtime member of the Starmount board, says Sternberg puts in more hours at the office than anyone he has ever known.
"When the rest of us are going to play golf, he's going to work," Greer says.
Lifelong friend Richard Lipsey describes him as always organized and on top of everything.
"Hans is a very, very smart guy," Lipsey says. "He's always been very focused on his businesses. He always comes up with new ideas."
Ralph Bender, who has known Sternberg for years through business associations and their synagogue, Congregation B'nai Israel, says Hans "is not a laid-back, easy going person, but I have the highest regard for his business acumen and ethics. He is tough, but fair."
Perhaps it's just the way he's hardwired. Deborah remembers accompanying her father on jogs when she was growing up. The father-daughter time was not spent on idle chatter about typical teenage concerns but, instead, on doing mental math.
"He would quiz me on equations when we were running," she recalls. "He is always looking for an opportunity to teach and to learn."
Others attribute Sternberg's disciplined demeanor to his upbringing in an immigrant family that faced difficult odds and overcame them.
"They work hard, and they expect everyone else to work hard," Bender says. "It's that old German work ethic. There's no other way to say it."
Those traits have served Sternberg well over the years in business, though they don't always work to his advantage in the broader community. He has a reputation for being stern and aloof. But those who know him well say he is genuine and generous.
"He is very charitable and has been very active in the Jewish community," Lipsey says. "He hasn't been involved with things like the chamber or the United Way, but he and his company are very generous to his church and the causes that are important to him."
COLLABORATIVE NATURE
Perhaps less well known about Sternberg is the extent of his devotion to his family and the sense of fair play that dictates his dealings with them. It's an ethos that has defined his career, at least in later years, and helps explain his recent business moves.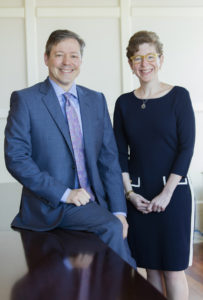 The Sternbergs are a close family, even by south Louisiana standards. Hans, Donna, Erich and Deborah have worked together for years, though that will change now that Hans and Donna are running Highflyer, and Erich and Deborah are staying with Starmount. They live near each other, too, and get together regularly for the grandchildren's sporting events and school-related activities. (Two other grown children, Julie and Mark, live in New York.)
It's a lot of togetherness, as they all willingly admit. Many families couldn't do it. Hans watched his father and brother frequently come to blows over issues at Goudchaux's. He understands how lines can blur and petty jealousies can fester into big problems when families live, work and play together. And he was determined not to let that happen with his children and his company, so early on he made them equal partners in the company. Erich and Deborah are also equal partners in Highflyer, though they are not involved in its day-to-day operations.
"I set up the structure so they would be equal partners, and that is the way we have always developed and always worked … and it has been successful," Hans says. "My brother and my father didn't have that arrangement, and they were constantly fighting each other. They got through it, but when I developed Starmount I decided I wasn't going to have that same friction."
Over the years, as Erich and Deborah worked their way up the Starmount corporate ladder, their roles and influence increased. Hans understood the importance of giving them a voice in shaping the company's future direction. He listened to what they had to say and respected their ideas. A lot of parents say they do that. Not many actually do.
"At the end of the day, there has to be a lot of give and take, and you can't have any one person in control because then the others feel that's a problem," Erich says. "Fortunately, we haven't had that problem. Dad is very collaborative and always sees the big picture. He has always been very open minded. I try to do the same."
DIFFICULT DECISION
Hans' collaborative and open-minded spirit was a key factor in the sale of Starmount to Unum earlier this year. Erich initially conceived the idea in 2015, not long after he'd been named CEO of the company, a duty he shared with Hans. From Erich's perspective, Starmount was growing and doing well. But the industry was changing and he believed that with greater industry consolidation and increased federal regulations like the Affordable Care Act, regional players like Starmount faced an increasingly uncertain future. He believed the company's best long-term strategy was to "partner" with a bigger company—in other words, to sell.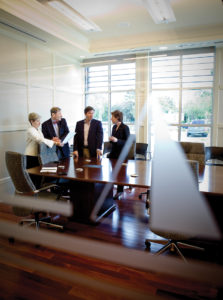 "There has been a tremendous amount of consolidation, and we were relatively small and didn't have a lot of scale," Erich says. "While we had strong market share in Louisiana and Mississippi, growing outside of those territories was really hard for us. We knew we could take this company to the $1 billion plus level, but the market was working against us in some respects and we needed a partner to help us get the business there."
The other three didn't see it that way, at least not initially. Hans and Donna wanted to keep local ownership and continue to grow the company as they had over the previous two decades, Hans says. Deborah, at first, agreed with her parents but gradually came to side with her brother. The family had a series of meetings and many difficult conversations.
"It was not an easy decision to come to," Deborah says. "This was not something any of us took lightly."
In the end they all agreed to sell, Hans acquiescing because Erich and Deborah wanted to do it.
"That is what changed my mind," he says. "We all discussed it and came to that decision. We don't act independently. As a family, we act as a unit."
They solicited bids from several potential buyers and quietly auctioned the company in a process that Erich describes as very competitive. Unum was the highest bidder with an offer of $127 million. The sale was announced in February and finalized in early August. Unum has said it will keep the Starmount brand name and use the Baton Rouge office as a hub for its dental and vision care division. Erich and Deborah will stay on in their current roles as CEO and president, respectively.
"It was a family decision with a lot of give and take inside the family to go forward with Unum," Hans says. "But it was the right decision. The Unum people are extraordinary."
A NEW SERVICE MODEL
While those difficult family discussions were underway, the Sternbergs were also busy creating a new company—Highflyer. They actually formed the company in August 2015, before they'd even started shopping Starmount around.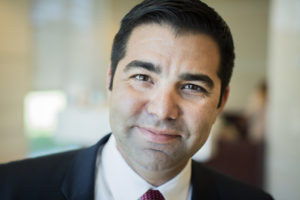 As with the decision to sell, the creation of Highflyer was Erich's idea. Originally, he thought there would be some natural synergies between the insurance company and a firm that specialized in HCM services.
"When we were looking at growth and opportunities and who our customers are, one of the things we realized was the Affordable Care Act was creating a need for employers to automate a lot of their functions," Erich recalls. "We felt Starmount was really in an ideal position to be able to provide those services, simply because we were working with those decision makers every day."
In theory, it seemed like a natural fit. In reality, it wasn't that simple. After operating Highflyer under the Starmount umbrella for several months, the family decided to spin off Highflyer from Starmount altogether.
"It was a challenge because the payroll business and everything that goes with it is so complicated. It was really a tough sell," Erich says. "I think Highflyer is in a better position to grow on its own than it would've under Starmount."
While Hans is chairman of Highflyer, Craig Broome is its president, the day-to-day operations guy. He has more than 20 years experience in HR and benefits administration, which he says gives him insight into the needs of his customers and prospective customers.
"I've sat on the other side of the desk, like our buyers, and I understand the problems they have," Broome says. "So that makes us that much more credible when we're trying to help them solve their problems."
Those problems can seem particularly insurmountable for small and midsized companies. Benefits administration is hopelessly complex, and some small companies can barely afford to hire one HR person, much less someone well versed in the ACA, new overtime regulations and the many competing software programs that promise to make things easier.
"[Hans] is the aggressor, ensuring we have the most robust security, the most robust operational efficiencies. He's the educator, making sure we meet the future needs in technology."

—Craig Broome, president, Highflyer Human Resources
That's where Highflyer comes in. The firm is targeting small and midsized businesses with between 50 and 1,500 employees that choose to outsource their HCM. While a lot of HCM software products are on the market, Hans says there aren't a lot of companies providing the kind of customization and service that Highflyer does.
"We're not just selling software," he says. "We sell our service model and a complete understanding to help organizations understand HR and benefits complexities that they're being faced with that a standalone piece of software cannot answer."
The software Highflyer uses is called iSolved HCM and comes from a North Carolina-based company by the same name. iSolved was created in 2011, and its selective dealers network was formed in 2014. So far, there are 91 dealers around the U.S. in the iSolved "ecosystem," as the company calls it, and some 55,000 users with nearly 2 million employees nationwide.
A handful of those users are Highflyer clients in Louisiana, Mississippi and Texas, though the company declines to say exactly how many. Another 50 or so potential deals are in the pipeline. Highflyer currently has 10 employees, including three sales associates who are on the road, knocking on doors. But Hans says the company isn't desperate for business and, in fact, has actually turned down potential customers.
"We don't accept everyone, and we have turned some away," he says. "If we don't see how we can make them more efficient and more profitable, we're not interested."
UNTAPPED POTENTIAL
If industry estimates are accurate, Highflyer will have the luxury of turning down business for some time to come. According to iSolved executives, the market for companies in the HCM business is potentially as large as $6 billion—and only about 15% of that market is tapped so far. While iSolved might have a vested interest in promoting such optimistic estimates, industry experts say it's all but inevitable that a growing number of small and midsized companies will turn to third-party providers to take care of their HCM needs.
"There's been a significant uptake of HCM systems across industries and sectors," says Tracey Rizzuto, associate director of LSU's human resource education and workforce development department in the College of Human Sciences and Education. "These systems offer the benefits of automation and integration with targeted focus on personnel processes such as payroll, sick leave and benefits—often empowering self-management of these tasks among employees."
"The more the company grows, the better the people who work in the company do,
the more fun I'm going to have. That's what I do. That's my golf game."

—Hans Sternberg
The advantages of HCM systems over more traditional software platforms are greater information availability, decision-making and control over personnel matters by employees with lesser demand for staffing to manage these functions, Rizzuto says.
Sternberg believes the opportunities are tremendous, and plans to grow the company gradually until it's a national player in the market. The iSolved dealer network is not limited geographically, and companies that belong to it are encouraged to grow as aggressively as possible.
"The network is the growth engine for our product, so for us to grow our partners have to grow," says Justin Raniszeski, iSolved's chief commercial officer. "We don't want to limit the growth of our partners in any way because we can't predict where the market will go, so there are no rules and no territory."
If it sounds like a daunting challenge, it is. But Sternberg is up for it. He's constantly reading up on his new industry and researching best practices in the field. There's a lot of new technology and regulatory jargon to keep up with, but Broome says Sternberg is the one pushing the pace.
"He is the aggressor, ensuring we have the most robust security, the most robust operational efficiencies," Broome says. "He's the educator, making sure we meet the future needs in technology."
For Sternberg, it's just business as usual, the latest chapter in a storied and varied career that has been consistent in its focus on a few basic principles.
"The more the company grows, the better the people who work in the company do, the more fun I'm going to have," he says. "That's what I do. That's my golf game."
RELATED